How the African American History Museum Is Curating "Black Lives Matter"
Photographs, posters and other artifacts documenting the protests find a home at the new Smithsonian museum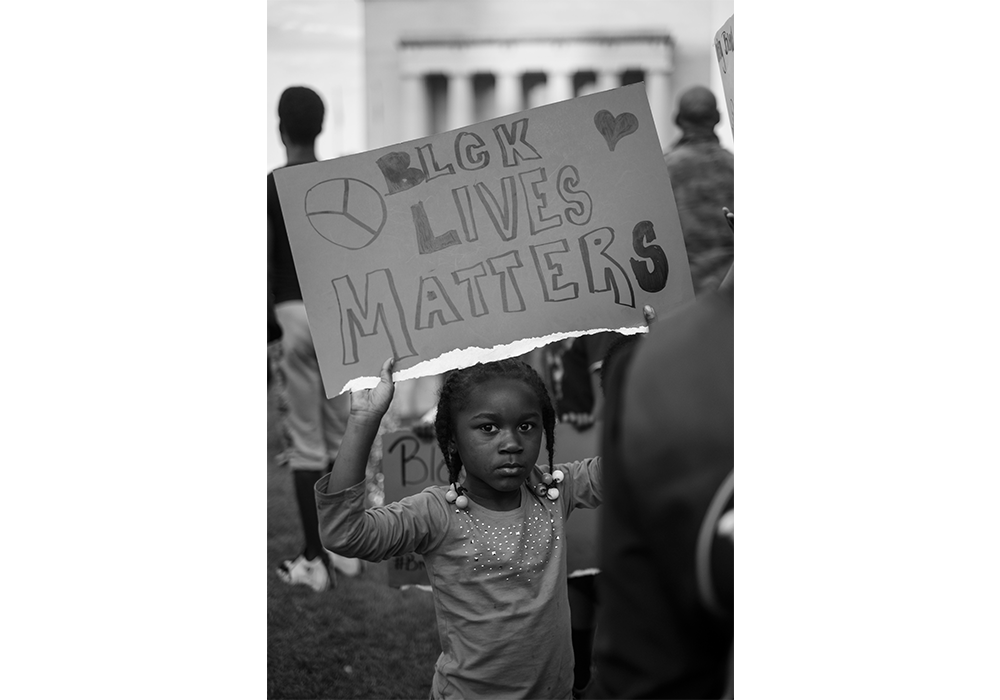 Three weeks ago the City of Chicago released dash camera footage of police shooting Laquan McDonald 16 times, killing him. In Baltimore the first trial is underway in the death of Freddie Gray, a 25-year-old who died after suffering a spinal injury while in police custody. Sandra Bland was found dead in her Texas jail cell after she was arrested for a minor traffic violation. Eric Garner said, "I can't breathe" 11 times as New York police held him in an illegal chokehold; he was declared dead an hour later. A police officer fatally shot 12-year-old Tamir Rice in a Cleveland park when he allegedly mistook Rice's toy gun for the real thing. Walter Scott died in North Charleston when a police officer shot him as he ran away during a traffic stop for a broken taillight.
Other black Americans killed by police in the past two years include: John Crawford III in Dayton, Ohio, Ezell Ford in Florence, California, Rekia Boyd in Chicago, Illinois; Akai Gurley in Brooklyn, New York, Tanisha Anderson in Cleveland, Ohio and the list goes on.

Last fall after the grand jury's decision not to indict Darren Wilson in the killing of 18-year-old Michael Brown in Ferguson, Missouri, Lonnie Bunch, the director of the National Museum of African American History and Culture, assembled his staff.
How should the museum respond, he asked. Recognizing the historical and cultural significance of these incidents of police brutality and the public's unapologetic response to them, Bunch charged the museum's curators and specialists with the task of documenting the Black Lives Matter movement. They needed to collect artifacts and ephemera of the campaign, which was founded online by three black women in 2012. 
Just two months after Brown's death in Ferguson, police in the Shaw neighborhood of St. Louis shot and killed VonDerrit Myers Jr., also an 18-year-old black youth, sparking another wave of outrage and protest in the grieving community. Powered by the enduring energy from the demonstrations in Ferguson, activists in St. Louis quickly organized events in response to Myers' murder, including a rally, which attracted several thousand attendees.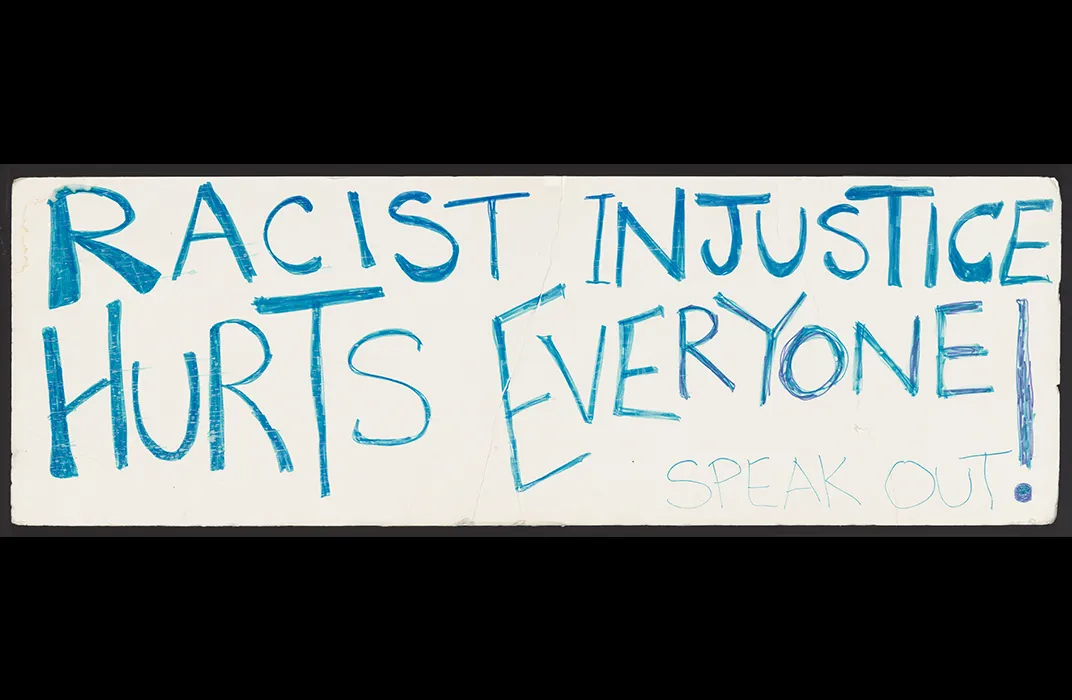 Darian Wigfall, a native of St. Louis who joined protest organizers in Ferguson, helped lead the response to Myers' murder. Inspired by his father, an activist in the Civil Rights Movement in the 1960s and his own unfavorable interactions with police, Wigfall became heavily involved in St. Louis' activist circle about five years ago.
"Knowing that racism is intertwined in the fabric of our American society, I feel like if we're not working to change that, we're not doing ourselves justice if we're really trying to have a 'more perfect Union' as the constitution says," explains Wigfall.
And working to change that is just what Wigfall was doing on October 19, 2014, when he joined his friend Sarah Griesbach at a small protest led by a Unitarian church in a mostly white area in South City. He remembers experiencing more resistance at this protest than at the ones in Ferguson where, he says, there were more people reacting in solidarity with the protesters. In spite of the hostility they experienced, Wigfall and Griesbach stood firm holding a three-foot-wide Styrofoam poster. The poster's message, boldly penned with a teal Sharpie marker in uppercase block letters, is clear —"Racist Injustice Hurts Everyone. Speak Out!"  It now resides among the 40,000 artifacts held by the African American History Museum.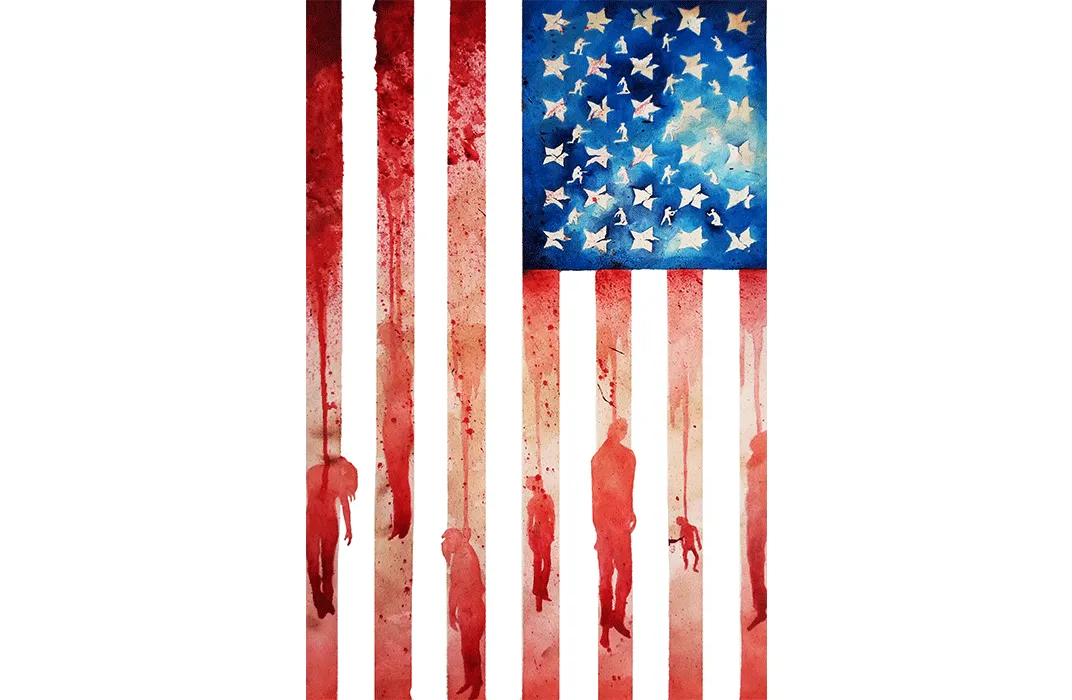 The harsh scrawl of the letters on the placard at the museum speaks to this watershed moment in American race relations. How it came to reside in a Smithsonian museum provides testimony to the new chapter in the on-going history of the fight for racial equality.
In addition to the poster, Wigfall also donated a 20-foot wide banner that says, "When injustice becomes law, resistance becomes a duty." He hopes that his donation to the museum will further discussion about the current state of race relations in the country.
"I hope people reflect on the fact that racism dehumanizes the people that it's targeted at and the people that are using it as a weapon," he says.  "And so they can see that even though it only seems to be hurting one side, it's reflecting both sides."
In April, Aaron Bryant, a curator of photography at the museum, and his colleague Tulani Salahu-Din, who is working on the museum's new Black Lives Matter collecting initiative, attended the protests in Baltimore that were provoked by the death of Freddie Gray. While there, Bryant met with photographers and even captured his own images and videos, some of which he has donated to the museum. Salahu-Din, a museum specialist, focused on the collection of the three-dimensional objects of the movement and has acquired a gas mask from Ferguson.
"Their voices had not been heard for so long; their concerns had not been considered for so long. And it erupted," says Bryant. "People were responding to decades, centuries of structural violence and oppression," he says of the unrest of the past year.
Bryant, who grew up in Baltimore and has a background in the history of social movements, recognized that the pressure of centuries of systemic oppression were bound to erupt. Both he and Salahu-Din, a former director of the National Great Blacks in Wax Museum, recognized, as they marched alongside protesters in Baltimore, that this year of unrest was just the beginning of a continuous movement.
"I had the feeling that this wasn't just a one, two, three time event, but that there would be sustained community based organization as a result of all these killings," says Salahu-Din. "This says that we have to really begin to mobilize and to work at all levels to begin to achieve racial equality and justice in this country."
As incidents of police brutality continue to make headlines and Black Lives Matter gains momentum, the museum will become dependent on organizers and activists like Wigfall in the quest to document and archive this moment in America's relationship with race.
"I think we want to start thinking strategically about key relationships we need to develop and embrace and how we can partner with people who are part of the movements," says Bryant.
Beyond the posters and banners from protests, the collection currently includes photography from Devin Allen, a Baltimore-based photographer whose photos from the Baltimore protests made the cover of TIME, and Patrick Campbell's watercolor New Age of Slavery, which went viral on social media for his striking use of silhouettes of lynched bodies on the blood red stripes of the American flag.
Salahu-Din stresses the importance of including art in documenting social movements because, as she says, "in the historical continuum of black social movements there's always some sort of artistic response in terms of the visual, literary and performing arts."
Though mainstream media has no trouble reporting on the despair and sorrow that prompt and flow through these demonstrations, when the protests fizzle out and the cameramen move on to the next breaking news, there is still a story to be told about the communities that remain. The African American History Museum aims to tell that story through its collected artifacts.
"We're taking a comprehensive approach to documenting these Black Lives Matter events," says Salahu-Din. "We're looking not just at the killings and uprisings but also how the communities are coming together to clean up their community." In the aftermath of the Freddie Gray protests, Baltimore's Department of Public Works distributed brooms and rakes to local organizations invested in the clean up efforts in their communities. A church on Baltimore's Pennsylvania Avenue donated both a rake and a broom to the museum. These otherwise mundane objects represent the hope of and perseverance of communities so extensively impacted by police brutality. 
Though there is not currently an exhibition in the museum dedicated solely to Black Lives Matter, some of the artifacts acquired through this collecting initiative will likely be found in "1968 and Beyond: A Changing America," one of 11 inaugural exhibitions.
No matter where the artifacts end up within the museum's collections, their existence is bound to get people talking and that's not a bad thing.
"I hope it gives people a place to start a conversation," says Wigfall. "That's the most powerful tool we have moving forward."
The National Museum of African American History and Culture is scheduled to open Fall 2016.