Acclaimed Musicians Sting and J. Ralph Spread Social Justice Through Song
The Smithsonian honors two composers whose work and philanthropy are inextricably linked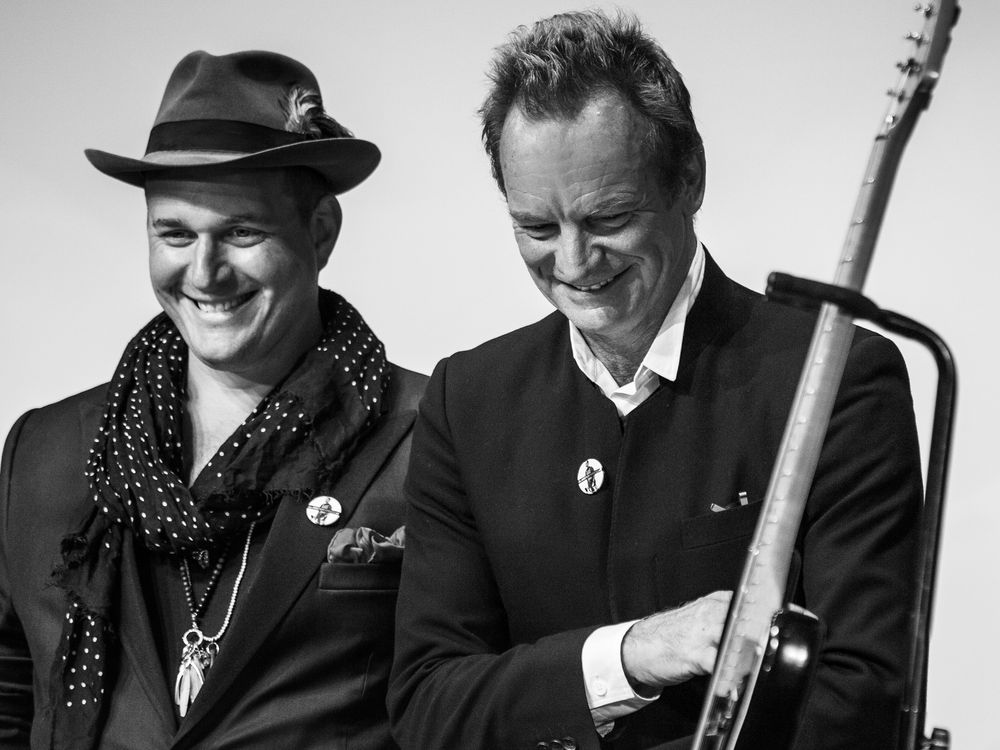 At first glance, the pair of musicians honored jointly at the National Museum of American History this past Friday could not have appeared more different. J. Ralph, the Big Apple-born composer and producer responsible for the haunting scores of such documentary films as Man on Wire and The Cove, had on a jaunty fedora, polka dot scarf, navy blazer, and ample wrist wear. Sting, the legendary British rocker behind such modern classics as "Roxanne" and "Desert Rose," was magisterial in a trim black suit—one could almost picture him in his former role as a schoolteacher.
What soon became clear to everyone assembled, however, is that the two outwardly contrasting men share a deep philosophical bond: their mission revolves around the notion of music as a vehicle for ideas, and a means of positively shaping the world for future generations.
The first portion of the festivities was devoted to the artists' generous donations to the Smithsonian's permanent collection. J. Ralph formally ceded eight annotated sheet music compositions, including "Evolocean," an experimental full-orchestra composition which would make its world debut later on in the evening, and "Empty Chair," his collaboration with Sting for the 2016 documentary film Jim: The James Foley Story.
Sting, for his part, relinquished possession of his prized black 1978 Fender Stratocaster, which he played at a 1981 Amnesty International event, toured with that same year, and recorded a number of his most famous songs on—among them "Message in A Bottle."
David Skorton, secretary of the Smithsonian Institution, opened proceedings by asserting that the embrace of music, and the arts more broadly, is at the core of the American History Museum's ethos, "vital for the preservation and celebration of our nation's history." Assuring his audience that "music is a very important and growing part of what we do," Skorton spoke to the power of music to capture and immortalize aspects of our ephemeral humanity. He saw this message embodied aptly in a Sting lyric: "Like tears from a star / On and on the rain will say / How fragile we are."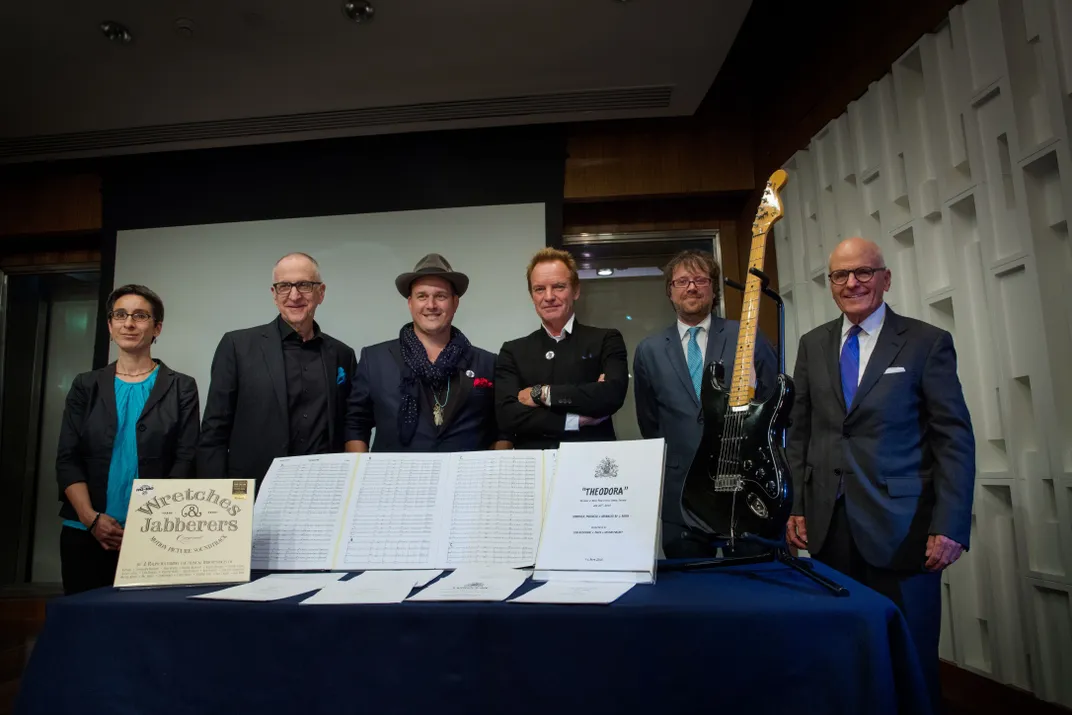 Following this heartfelt introduction, John Troutman, curator of American music for the museum, pivoted to the two honorees, emphasizing their dedication to philanthropy, and to increasing public awareness of vital social issues. Troutman reminded the crowd that the "Smithsonian was the result of philanthropy," and that the diffusion of knowledge—one of its founding ideals—would not be possible without the creativity and spirt of individuals like Sting and J. Ralph. To Troutman, their work constitutes "the finest art of all humanity: the giving art."
After signing his name on the dotted line of the donation paperwork, J. Ralph reflected on his and Sting's work across the years. "It's marvelous when something as simple as paper and pen can change the world," he said. On Sting—who was introduced to him by French high wire artist Philippe Petit, the subject of Man on Wire—Ralph was effusive. "I've never met an artist that's more selfless," he said.
Sting was in a wistful frame of mind. He recalled purchasing the black Stratocaster at Manny's Music on 48th Street in New York—for between $200 and $250. With a laugh in his voice, he speculated that it would likely be worth a good deal more today. He remembers fondly the concert he put on in 1981 for Amnesty International, which he terms the "most civilized organization in the world." Categorizing himself as "a social activist, but first and foremost an entertainer," Sting called attention to a valuable lesson he had learned while training to become a schoolmaster. "You could never teach anyone anything unless you entertained them first," he said. Raising awareness of important issues through the medium of entertainment is Sting's stock-in-trade.
Following the donation ceremony, the audience broke for a reception, and J. Ralph and Sting spoke in a more intimate setting on the nature of their collaborative work.
Jim: The James Foley Story is a living memorial to the title American journalist, who put himself in harm's way time and time again to bring humanitarian reporting to viewers everywhere, and who was tragically executed by ISIL kidnappers in Syria in 2014. J. Ralph recalls discussing with the director of the film the concept of a "spiritual" of sorts, a "hymn" that would tie together the emotional undercurrents of Foley's narrative and embed itself in the consciousness of those watching. They wanted to "focus more on [Foley's] compassion and his bravery and his selflessness, rather than the loss." Ralph thought that Sting would be the perfect man to bring aboard.
"Because it required majesty and sensitivity and frailty, but also intelligence," Ralph said. "And he was going to be handling the lyrics."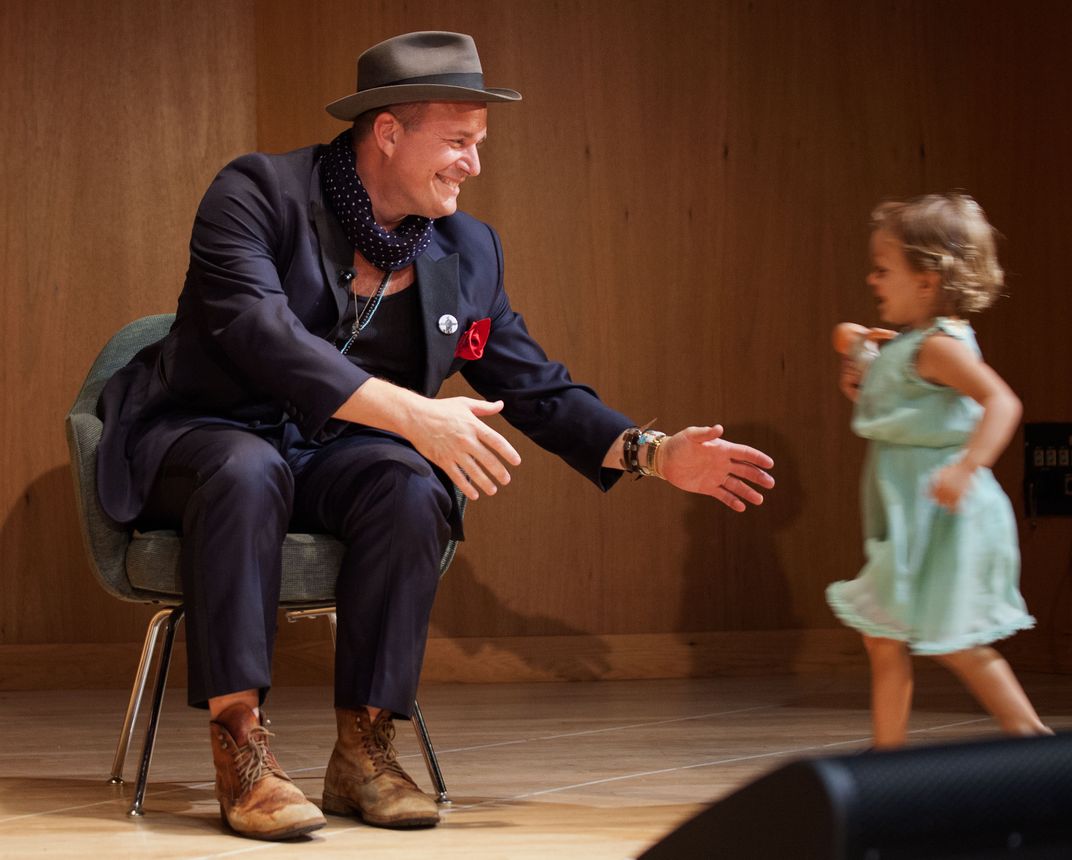 Sting says he was lured to Ralph's Chinatown studio under "false pretenses," to check out the building and Ralph's eclectic collection of music industry memorabilia. "I marveled at the studio," Sting recalls. "And then [Ralph] said, 'I want you to watch a movie.' I said, 'What is it?' And he said, 'Oh, it's the Jim Foley story.' So I said, 'Okay, I'll watch it.' Watched the film, was devastated by it," Sting recalls, his voice still heavy now. "Then he laid it on me. He said, 'Will you write the song?'"
Sting's first reaction was that it was a hopelessly daunting proposition. "I said, 'No. Can't do it.' I simply can't do it. I'm too emotionally charged, and I couldn't think of anything that wouldn't be mawkish." Ralph wasn't so sure, though. "I knew he could do it," he says with a smile. "But I had to let him go through his process."
When Sting returned to his wife that night, the image that would anchor the song—that of an empty chair left out by a family in case their absent son should ever walk back through their door—came to him, and he decided he might be equal to the task after all. "Until you find a metaphor," he says, "there's no song—it doesn't exist." With the concept of the empty chair in place, though, he agreed to move forward with Ralph on the composition.
The two wound up situating the vocals outside of Sting's traditional range—the deep, throaty words of "The Empty Chair" stand in stark contrast to the 17-time Grammy winner's usual airy strains. "I wanted it to be Jim's voice rather than my own," Sting said. "We disappear to a certain extent."
The final portion of the evening featured a moderated onstage discussion with the two artists followed by a pair of auditory delights: J. Ralph's churning "Evolocean," recorded by the London Symphony Orchestra and making its world premiere, and "The Empty Chair," which Sting performed acoustically to a standing ovation.
J. Ralph spoke on "Evolocean" before it was played, pointing to the inherently surprising and experimental nature of the piece. In the parlance of professional musicians, the composition is "aleatoric," meaning that performers are not merely interpreting rigid sheet music, but are often deciding for themselves what notes to play and when based on written instructions from the composer and organic cues from their colleagues. The piece transitions through six distinct phases—with sprawling themes like "birth," "extinction" and "rebirth"—but the exact implementation of Ralph's vision is, in many ways, left to chance.
Ralph even included his six-month-old daughter Theodora in the recording; her semi-random, emotional vocalizations lend the piece an eerie, driving undercurrent. True to its name—a portmanteau of "evolution" and "ocean"—Ralph's creation is ever-changing, and it captures the majesty and vastness of Earth's oceans in just the way its composer hoped it would.
Sting, meanwhile, in addition to musing on the creative process—he likened the task of coming up with a new idea to that of tracking an "elusive beast" through the wilderness—shared his thoughts on the intersectionality of the major social issues at play in the modern world. In Sting's view, the environmental issues his Rainforest Foundation Fund concerns itself with are intimately tied up with the ocean advocacy J. Ralph is promoting via his new composition, and both are linked to broader questions of human rights and fairness. There is a fundamental commonness to the questions we are facing, he says. They are universal in their humanity.
As far as that sleek 1978 Fender guitar is concerned, Sting hopes it will be allowed to breathe. "You can't just stick a guitar on a shelf and not play it—it will die. They are organic things that need to be touched." In just the same way, the philanthropic philosophy that Sting and J. Ralph have been advocating across their artistic lives cannot simply be read about on placards—it must come to life through the active engagement of museum-goers.
We "wanted to have something that could create discussion," J. Ralph says, "provoke thought, and keep the conversation alive."