Georges Adéagbo's French is animated and colloquial; he speaks at length, but his translator is precise with his wording.
"Lincoln was destined like Moses. He had his mission to save the children of Israel who became slaves of Egyptian pharaohs," the translator explains. "Georges is fascinated by strong destinies even though it makes them sacrifice their personal lives. There are people who are strong enough to make decisions. The fact that Lincoln was assassinated, Georges sees parallels with Kennedy and Gandhi."
Students from Howard University are with the artist, helping to prepare his installation Create to Free Yourselves: Abraham Lincoln and the History of Freeing Slaves in America, in the rooms throughout President Lincoln's Cottage.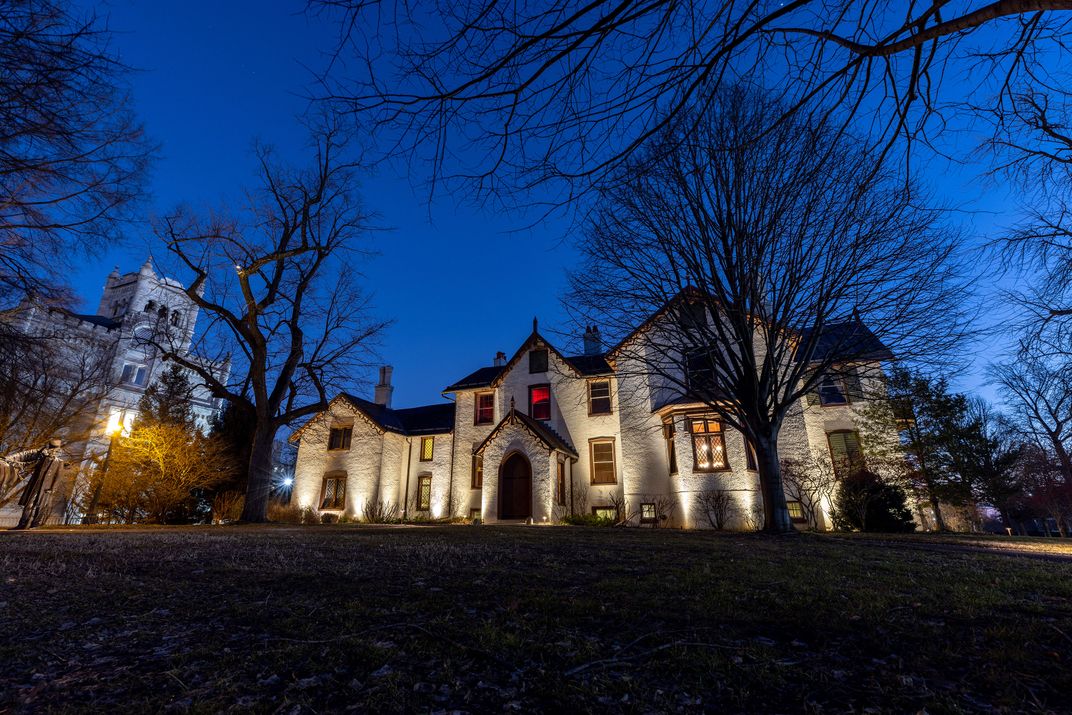 The modest home is nestled into a 250-acre grassy campus not far from a busy section of Washington, D.C. After traveling along nearby North Capitol Street, one of the city's main thoroughfares, it's surprising to pull up to the gate and be transported to an earlier time in Washington's history. This place proved sanctuary for a troubled president during troubled times; entering the rural-gothic-style cottage where the 16th president of the United States wrote the Emancipation Proclamation proves to be profoundly moving. It feels like witnessing creation: Here, the legal shackles of bondage were lifted from Black Americans.
President Lincoln's Cottage is transformed
With the students attending to Adéagbo's requests, the spontaneity that characterizes his work begins to come alive. Boxes and posters meant to transform the entire cottage are strewn on the ground. It was just days ahead of the public opening and the students are busy with the tasks set out by the artist, cleaning, organizing and prepping the materials. Adéagbo's installations are always site specific, and the items that he places in them are all revered equally—a work of original art is equivalent to a reproduction. He usually finds items to include in his artwork on the streets around the sites where he is working—but the streets of Washington, the artist says, were too clean.
The graphic art and sculptures in the displays were crafted by a team of sign painters and carvers in Benin, who work at the artist's direction, says his long-time collaborator, the curator Stephan Köhler. The installation also incorporates found items— clothing, books and album covers—culled from local thrift stores and grouped along with lyrical texts that the artist wrote. Much is informed by research Adéagbo gathered on an artist fellowship he took up recently at the Smithsonian Institution.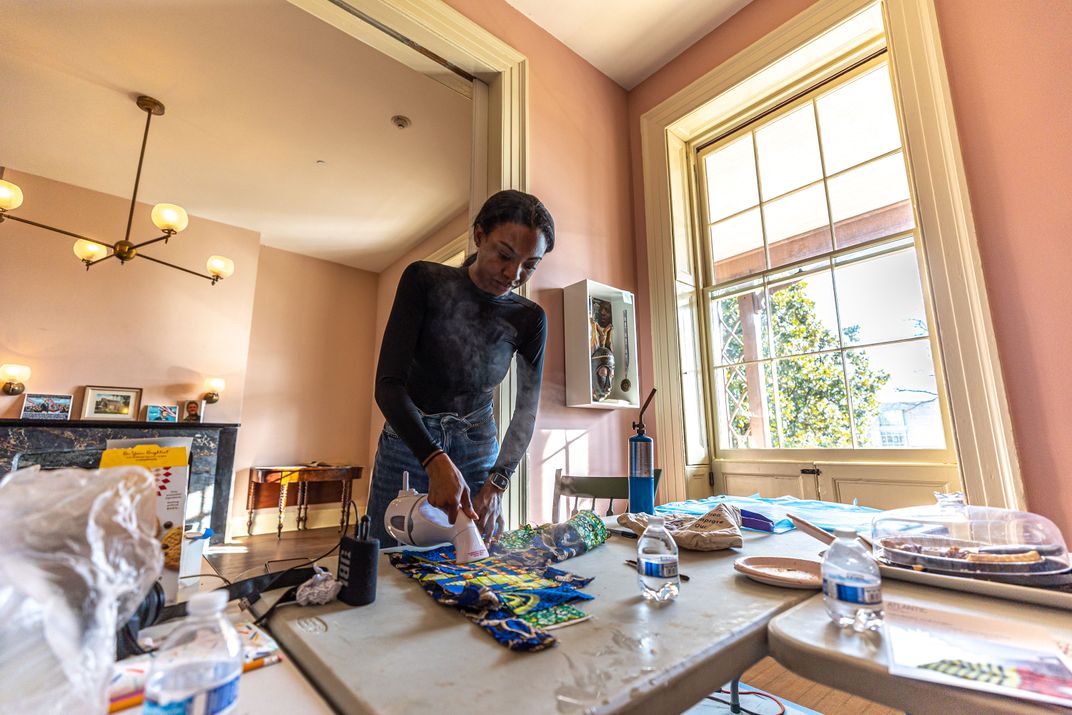 "Georges Adéagbo is one of the most significant artists alive today," says Karen Milbourne, a senior curator with the Smithsonian's National Museum of African Art, which collaborated with President Lincoln's Cottage on the exhibition.
"Experiencing the work of Adéagbo," she says, "is like traveling the map of another person's mind. He shares with us what he reads and sees, inviting us to join him on a journey of association and thought. And the journeys are always thoughtful, provocative and visually stunning." Milbourne says.
Why Lincoln fascinates the artist
Though Adéagbo is Beninese, the American president's legacy is present in the artist's psyche. As a global citizen, he sees himself as directly and indirectly impacted by Lincoln's policies and actions.
Adéagbo has already worked on several Lincoln-related projects, but he says he's still humbled by the opportunity to work at President Lincoln's Cottage. It was while he was on a Smithsonian fellowship in 2021 that Adéagbo first visited the historic site and expressed an interest in creating an installation in Washington, D.C., says Michael Atwood Mason, the executive director at President Lincoln's Cottage.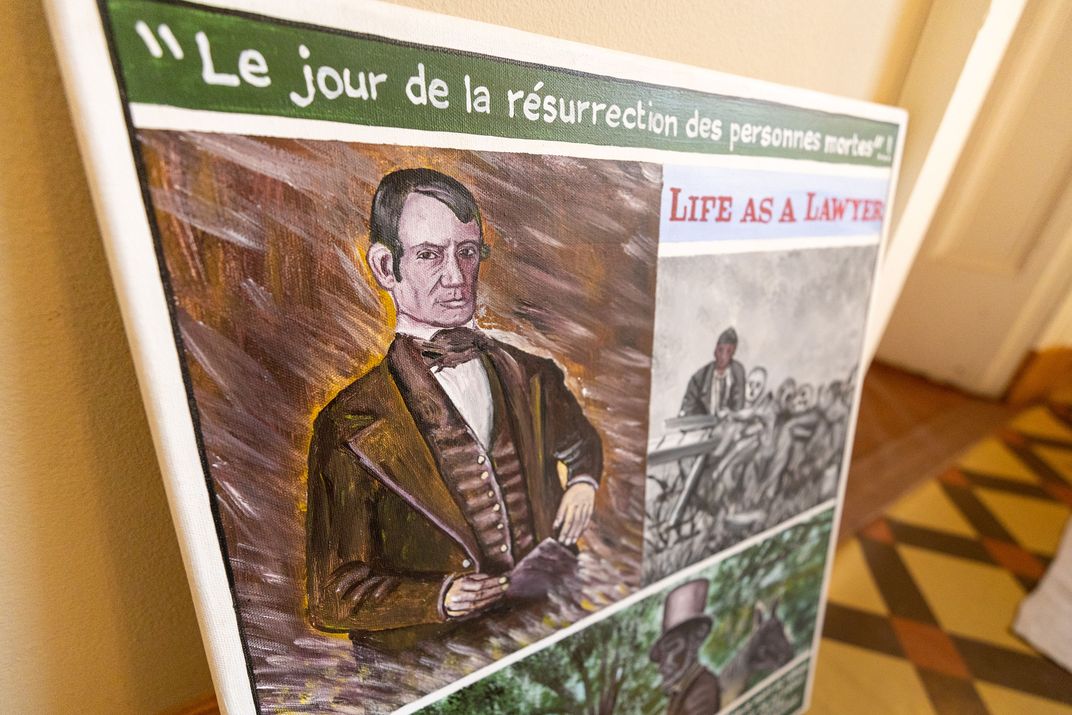 Mason invited him to do so at the historic site, which is now a museum and designated as a National Monument and National Historic Landmark.
"Lincoln's leadership as president looms large," he says, "because of all the time he's spending at the cottage with his wife and son in the middle of the Civil War. Ultimately, it's there at the cottage that he developed the Emancipation Proclamation. So, the themes of love, grief, emancipation and leadership really play out in our presentation of who the Lincolns are and in George's representation of Lincoln."
Historians will admit that Lincoln's legacy is complicated. Philip B. Kunhardt III, writing for Smithsonian magazine in 2009, pointed out that each decade following Lincoln's death, the man, who "shared in the racial prejudice of his day," has been revered in a different way. The abolitionist and African American social reformer Frederick Douglass, Kunhardt points out, changed his perspective of Lincoln over time. A few months after Lincoln's assassination, Douglass said that if the president were still alive the newly freed Black Southerners would have had "more hope of enfranchisement." But a few years later, he argued that Lincoln prioritized his white constituents and that Black Americans were "at best only his step-children."
Lincoln's fame as president of the U.S. is marked by three very transformative events in the country's history: the Emancipation Proclamation, the preservation of the Union and his assassination.
Fascinated by this history, Adéagbo presented Abraham—Friend of God at New York City's P.S. 1 Contemporary Art Center in 2000. The exhibition, which the New York Times critic Holland Cotter called "rich and deceptively quiet," was then shown in a new version at the Philadelphia Museum of Art in 2006, which later acquired the work.
In 2021, a National Museum of African Art staff member nominated the artist to apply for a Smithsonian research fellowship. Adéagbo proposed a research project about Abraham Lincoln. The fellowship gave him access to the collections and the archives at the National Museum of American History (NMAH) conducting his research with Nancy Bercaw, a curator in the political history division. "What's most impactful about working with Georges Adéagbo is that history is alive and with us," says Bercaw. "It's not something that needs to be remembered and brought into the future, or even brought into the present. It's with us every single day and working with him, that whole concept of how history is living through us, and amongst us, is something that was really powerful."
How Adéagbo found his calling
His story as an artist began in 1971, when Adéagbo was 29 years old. His family had called him home from his law and business administration studies in France after his father died, and because he was the eldest male child, he had to take care of domestic affairs. But Adéagbo began creating assemblages each day in the courtyard of his home in Benin—not vertical, but horizontal in the sand on the ground. His creations were an attempt to communicate to his family and neighbors why he needed to return to his studies. But that would never happen. For 23 years, he was considered a "madman" living on nearly nothing and creating his assemblages with objects he found on the streets.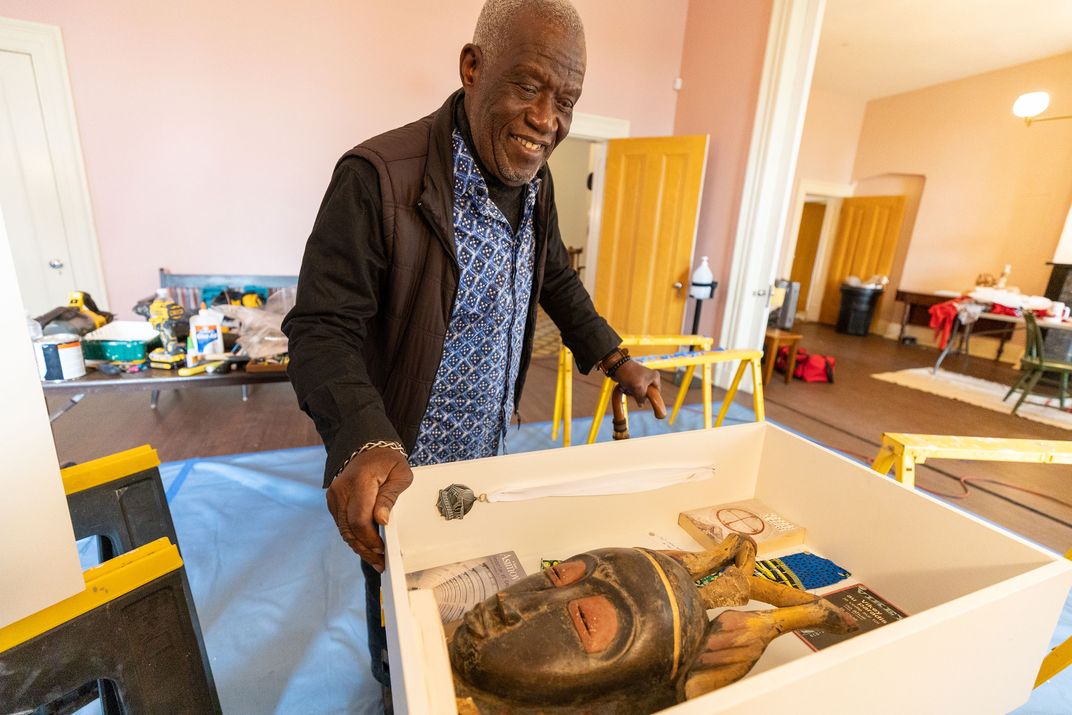 In 1993, curator Jean-Michel Rousset was conducting a search for an artist in the city where Adéagbo lived. A neighborhood child, thinking that curator was looking for Adéagbo, guided Rousset to the family compound where the artist was creating his daily installations. Adéagbo didn't consider himself an artist, but Rousset took pictures of the assemblages. Family and neighbors took note that a European saw value in the work of the "madman," and distain quickly became admiration. When Rousset returned to France, he showed his pictures to other curators of what he had found.
A year later, Rousset and another curator invited Adéagbo to present his work in an exhibition, "La Route de l'art sur la Route des esclaves," in Besançon, France. By 1999, Adéagbo was the first African artist to be honored with a jury prize at the Venice Biennale for his one-day installation Venise d'hier-Venise d'aujour d'hui (The Story of the Lion).
The sculptures Adéagbo creates are evidential assemblages of disparate objects, figures and text that come together in a space that offers room for making connections. His translator explains, "Georges often says his installations are like courtrooms where witnesses appear and present the information of what they have to say. So, he says these figures and objects and these texts are multiple voices, and it's not that he necessarily makes the final judgment." It is up to the viewer to make the connections, to come to conclusions and to offer the judgment.
"This intersection of relationships becomes the fertile ground for Adéagbo's unique messaging," according to a release from President Lincoln's Cottage. "The objects themselves cannot be understood outside of this web of meaning, a web that redefines the space and transforms it into a work of art. This process becomes an act of artistic self-liberation."
Adéagbo says through his translator that the former president was a "man who above all cared about reforging the union, not by force and repression, but by the warmth of his feelings and generosity of his heart." He describes Lincoln as someone who accepted his destiny and made sacrifices in line with other prominent figures like John F. Kennedy, Moses and Mahatma Gandhi.
Adéagbo, who is now in his 80s, seems to have a deep understanding of the experience of what bondage could be, and of emancipation. "Everybody thought he was insane, he was sick," explains his translator of the period when Adéagbo was called home to his family. "So, when this Frenchman came in 1993 and talked with Georges and took lots of pictures, then the neighbors' attitudes changed toward him, because if a foreigner takes pictures, it might not be so bad."
Create to Free Yourselves: Abraham Lincoln and the History of Freeing Slaves in America will be on view at President Lincoln's Cottage in Washington, D.C. through February 15.