"A world Lost…" Is the Stuff of Dreams and Nightmares
Rina Banerjee weaves personal and global history into her new Sackler Gallery installation, opening July 13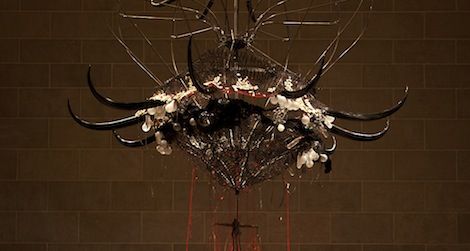 The full title of Rina Banerjee's latest work, now on view in the Sackler Gallery, is 71 words long: A world Lost: after the original island, single land mass fractured, after populations migrated, after pollution revealed itself and as cultural locations once separated merged, after the splitting of Adam and Eve, Shiva and Shakti, of race black and white, of culture East and West, after animals diminished, after seas' corals did exterminate, after this and at last imagine all water evaporated…this after Columbus found it we lost it imagine this. Since Monday, the artist has been assembling the work in public view in the Sackler Gallery pavilion. The site-specific installation, part of the gallery's tenth annual Perspectives series, consists of a horned, inverted dome suspended over a river of shells, coins and rope—an imagined world that reflects upon our own.
Bridging worlds both real and invented has always been an essential feature of Banerjee's work. The Indian-born, New York-based artist was a polymer chemist before she completed her MFA at Yale in 1995. Since then she has exhibited her work at the Whitney Museum, the Queensland Art Gallery and the Venice Biennale. Banerjee's sculptures combine many different materials—from feathers and skulls to lace and plastic wrap—with as many different cultural points of origin, challenging the divide between natural and synthetic, here and elsewhere. One of her most well-known works is a floating pink Taj Mahal.
Sackler curator Carol Huh was drawn to Banerjee's work because of her imaginative use of space and "attention to the dynamics of migration and cultural transformation." Huh adds, "The way she's also thinking about discovery and travel resonates with the museum.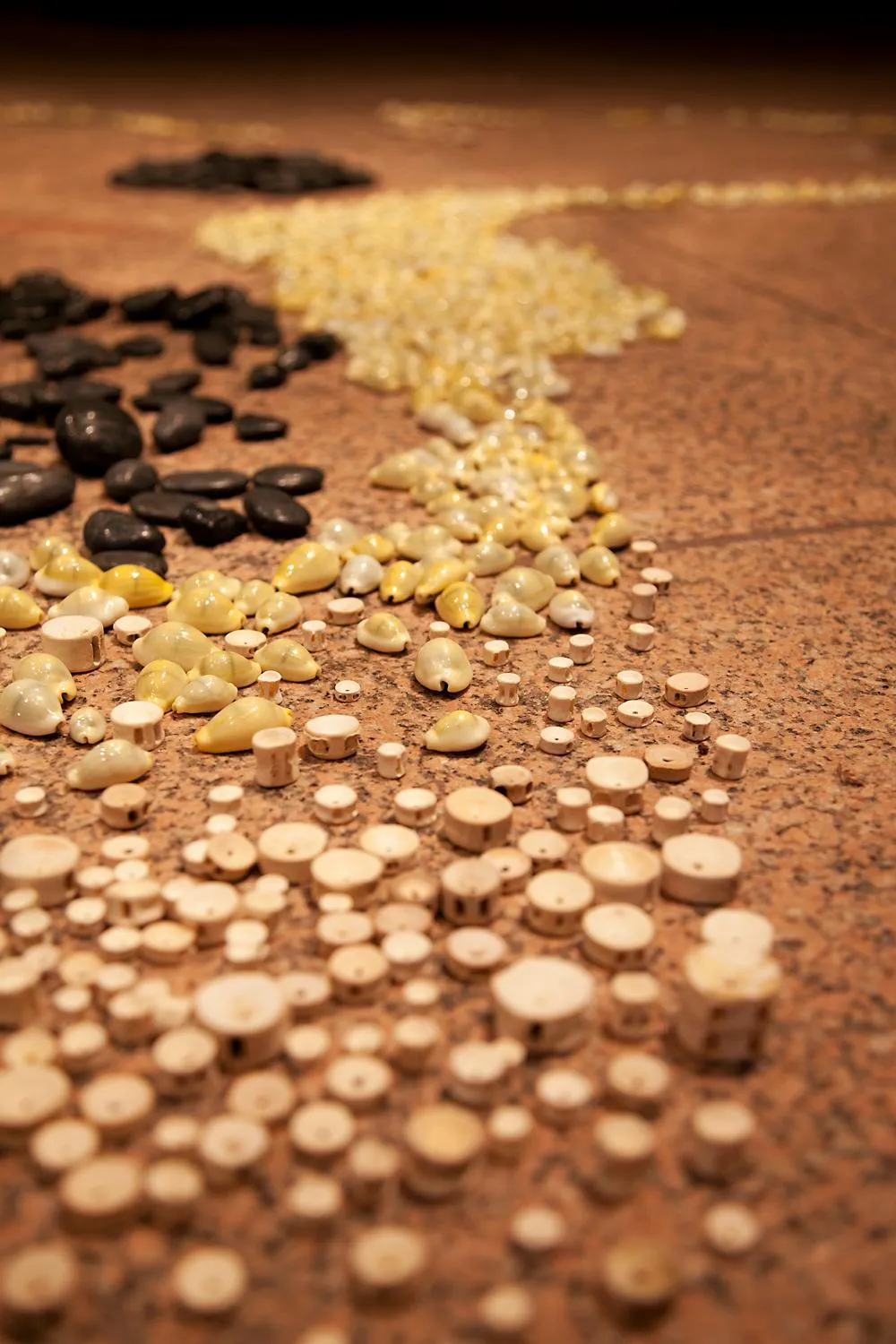 In A world Lost, Banerjee revels in allusion on a monumental scale. Originally inspired by the rivers and mountains of Asia, the work has since taken on a constellation of references that span the globe. African feathers, a Chinese temple and the horns of an American buffalo adorn the central dome—itself a twist on the Flemish inverted funnel, a symbol of madness. Figurines enmeshed in the river on the floor were found on Germany and India's eBay pages. The goal was "not to divulge to you what is China, what is Africa," Banerjee says, "but what parts of those worlds interest me. It's a kind of fabrication, invention and creation of…individual identity."
Banerjee's own experience of Hurricane Sandy played an important role in the development of A world Lost. She was evacuated from her Brooklyn home for nine days. "We could see the sea coming in towards the high rises," she says. "In that moment it was very clear the connections we have to the rest of the world, which is this water that surrounds every place."
A world Lost also has its dark side. Sharp black horns and a mangled wire frame give the dome a sinister aspect, and splashes of red on the (real) ostrich eggs convey death as well as fertility. Light bulbs, vials, coins and plastic cups coexist with the sculpture's organic forms, but as the flotsam of human civilization they also represent the exploitation and destruction of nature. This duality of meaning is suggested by the work's elaborate title, which Banerjee describes as an "access point" that has changed and evolved alongside the work itself.
Banerjee did not create a drawing of A world Lost before she began installing it on Monday. "When you're making larger works, your body only allows you to see the space in which you are making it, and then to see the whole is very hard," she says. "Instead of fighting that, I really rejoice in the ability to be participating in the sculpture, so to speak, because you're not in control of all of it. You're somehow part of it."
Today is the last day to view the work in progress before it debuts on Saturday, July 13.