'A Wild Hare' Leaps on Screen and Into History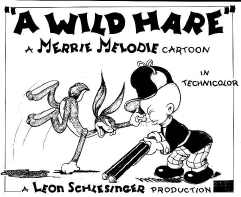 Today marks the anniversary of Bugs Bunny's first starring role in "A Wild Hare." An early version of the "wascally wabbit" had appeared in 1938's "Porky's Hare Hunt," but it wasn't until this 1940 short film that his character was fully designed and delivered the immortal line "What's up, Doc?" to his nemesis Elmer Fudd.
Since then this long-eared actor hasn't looked back, sharing the screen with Michael Jordan and co-starring in the Oscar-winning film, Who Framed Roger Rabbit? In 2002, he topped TV Guide's list of greatest cartoon characters.
Bugs Bunny's contributions to entertainment and pop culture haven't been overlooked by the Smithsonian Institution. In the National Museum of American History's "Thanks for the Memories" exhibition, animation cells of Bugs and other Looney Tunes are displayed right around the corner from the ruby slippers worn by Judy Garland in the 1939 film "Wizard of Oz." All of the cells were donated by Mel Blanc, the actor who gave Bugs his Brooklyn/Bronx voice.
So, if you're on the mall today, be sure to stop by the American History Museum and pay homage to Bugs.