A Visual Biography of Gertrude Stein at the Portrait Gallery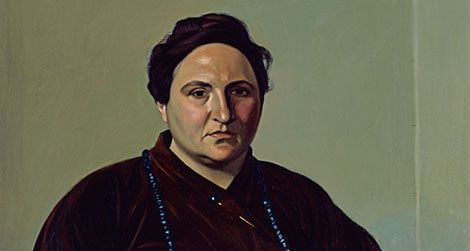 As a pioneer of the modernist movement, Gertrude Stein's taste for literature, painting, opera and dance mattered. She became an early collector of Pablo Picasso paintings and Henri Matisse, and with both artists, and writers Ernest Hemingway and F. Scott Fitzgerald, discussed the merits of art at Saturday evening salons at her Parisian home.
Stein was a one-woman promoter, marketer and fan club for the literary literati of her time. She wrote about artists and helped them line up exhibitions to show their work. She was an arbiter in the art world, and artists cast her as such in their paintings, photographs and sculptures.
"She is probably the only 20th-century author that sat for 25 different artists," says Stanford University's Wanda Corn, a leading authority on Stein. "She never refused anyone. And, she never paid for them ."
Some of these portraits, as well as childhood photographs, make up the first "story" in "Seeing Gertrude Stein: Five Stories," which opened this weekend at the National Portrait Gallery and runs through January 22. As guest curator, Corn says she wanted to start by giving visitors to the National Portrait Gallery what they expected—portraits. Stein was not a passive subject, in that she was constantly constructing her image, whether by donning custom-made clothing or trimming her hair into a short, Julius Caesar-type cut.
But the rest of the exhibition, in small galleries off of the main hall, uses other artifacts, from paintings, sculpture and photography to clothing, books and the writer's personal belongings, to together create a visual biography of Stein and her life-time companion Alice B. Toklas. "The premise is that material objects, whether fine art, household artifacts, or curious possessions, highbrow or lowbrow, that belonged to Stein and Toklas could, if read closely, yield fresh insights about them and their universe," writes Corn in the exhibition catalog.
In the second story, "Domestic Stein," for instance, visitors can see two of Stein's elaborately designed waistcoats, probably made by Toklas. Corn has taken into account those vests that still exist, as well as others that Stein wears in photographs, and estimates that the writer probably owned some 20 vests. The exhibition also touts a large swatch of pale blue wallpaper with doves, of the same pattern that was in Stein's home. A small poodle made of white yarn and wire and placed in a frame, is a likeness of Stein and Toklas's pet poodle, Basket, hangs on the gallery wall. Picasso had given it to Stein as a gift after his own dog had attacked Basket on a visit. Together, the charming objects almost transport visitors back to Stein's bohemian outpost at 27 rue de Fleurus.
Two abstract portraits—Marsden Hartley's One Portrait of One Woman and Charles Demuth's Love, Love, Love, Homage to Gertrude Stein—are included in the third story, "Art of Friendship." Corn calls them "referential portraits" because  Stein's visage does not appear in them, but they are meant to represent her. Stein's word portraits, describing artists, worked in a similar way. "Artists were learning from literary experimentation and trying to do the same thing," says Corn.
In the fourth story, "Celebrity Stein," a copy of Stein's most successful book, The Autobiography of Alice B. Toklas, is prominently displayed in a glass case. The popularity of the book prompted Stein to come to America for a lecture tour in 1934 and '35, and the exhibition includes a photographic journey of the trip, which made Stein a household name in the U.S.
The next gallery has a life-size sculpture of Stein by Jo Davidson, an American sculptor who lived in Paris when Stein did. Two word portraits written by Stein are printed on the gallery's walls. An audio recording of Stein reading the word portraits echoes throughout the room. "Her voice is more like Eleanor Roosevelt's than I'm ready for," says Corn.
The final story, "Legacies," honors the influence Stein has had on artists from Andy Warhol to contemporary artists today. Among several pieces in the room is an impressive work by artist Devorah Sperber. She pays homage to Pablo Picasso's Portrait of Gertrude Stein with an upside-down recreation of it made from 5,024 spools of different colored threads. When visitors look through a clear acrylic viewing sphere placed in front of it, the image flips and focuses to show the face of Stein.
Many are familiar with Stein's pre-World War I salon years, and so Corn intentionally focuses the exhibition on the years between 1915 and 1946, during which Stein settled down with her partner, Alice B. Toklas, befriended a group of young, gay artists, toured America and gained celebrity status.
Martin E. Sullivan, director of the National Portrait Gallery, considers the exhibition to be one of the first that goes beyond the portrayal of Stein as a salonnière and "knits together her many identities—literary celebrity, lifelong partner of Alice B. Toklas, arts networker, whose famous friendships included some of the most prominent artists and writers of her time, Jewish American expatriate, and muse to artists of several generations."
"We see these as the fresh stories," says Corn.