A Thomas Moran Masterpiece Returns to American Art
Thomas Moran's 1893-1901 canvas, "The Grand Canyon of the Yellowstone," is impressive not only in terms of its masterful execution and sheer size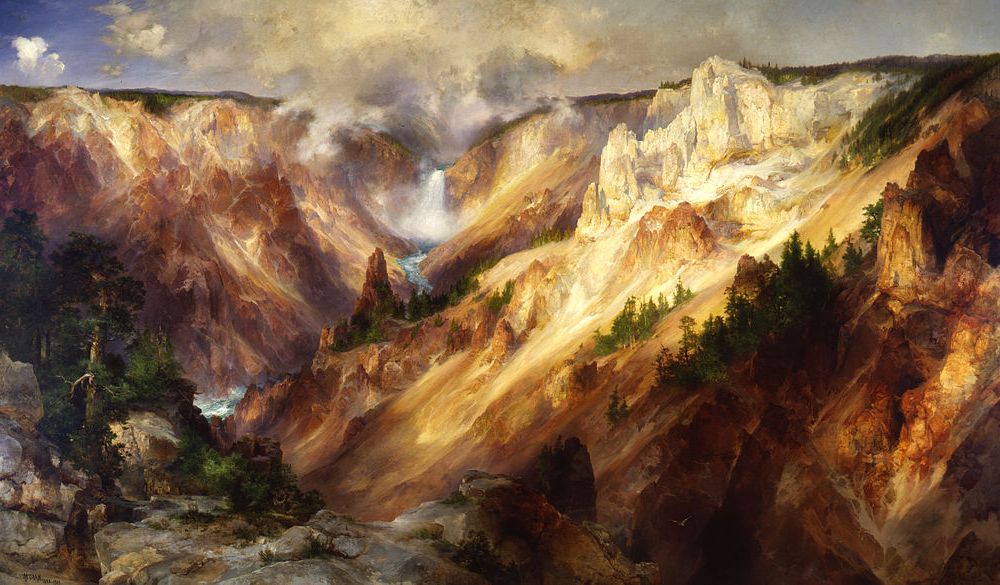 Recently, the Smithsonian American Art Museum welcomed home a seminal work of landscape painting after a four-month vacation at the Whitney Gallery of Western Art, located at the Buffalo Bill Historical Center in Cody, Wyoming.
Thomas Moran's 1893-1901 canvas, "The Grand Canyon of the Yellowstone," is impressive not only in terms of its masterful execution and sheer size—14 feet by 8 feet—but in terms of how it codified images of the United States' natural wonders of the West in the minds of Americans.
Thomas Moran was born in England in 1837 but his father soon uprooted his family to the United States, settling in Pennsylvania. Although he initially trained to be an engraver, Moran decided to study painting and drew inspiration from Pennsylvania's forests. His love of literature and fascination with nature imbued his landscapes with fantasy-like qualities.
In the summer of 1871, Moran made his first journey to Yellowstone, known as "the place where hell bubbled up." Easterners had at best only a vague idea of how this alien landscape actually looked. Having been asked to provide illustrations for a magazine piece on Yellowstone, Moran joined geologist Ferdinand Hayden, leader of the first government-sponsored survey of the region, on his expedition. During this two-month trip, Moran produced numerous watercolor sketches, which would not only become the first images of Yellowstone to be seen by Easterners, but they would also be used by Hayden (and others) to persuade Congress to designate Yellowstone as a national park. This came to pass in 1872.
To move the painting from the Smithsonian to a museum out west was nothing short of an elaborate feat. But former senator Allen Simpson of Wyoming asked if it would be possible to borrow the giant picture of the Grand Canyon that Moran painted after a second journey to Yellowstone in 1892. Simpson said the painting was a necessary element for the 100-year anniversary of Park County—which contains the majority of Yellowstone National Park—and the 50th anniversary of the Whitney Gallery.
Eleanor Harvey, the Smithsonian American Art Museum's chief curator, started negotiating with Simpson and recalls him saying, "You figure out how much it's going to cost to get it off the walls, in a travel frame, in a truck, out here, and we're good for it." The Center raised excitement about the painting and generated the money for the move, rolled out the red carpet when it arrived, and made a huge fuss over it while it was out there, according to Harvey.
Harvey went with her family to Yellowstone in August. "I gave a lecture on it while I was over there and they had advertising on the walls outside of the building that said, 'Come see a masterpiece from the Smithsonian.'"
Harvey notes that 200,000 people came through that small museum in Wyoming in a six-month period of time in part to come see Moran's painting. From her stand point, moving the painting was expensive, it was time consuming, it was complicated, and it was worth it. The people of Wyoming treated it like a visiting celebrity and they "really made it count." Harvey reflects. "It was one of those win-win stories that warms your heart."
For visitors who come to see the painting, Harvey offers the following thoughts on Moran's work: "He reminds us why, in Ken Burns' words, the national parks were America's 'Best idea.' He has a way of creating a heroic landscape that is seductive and tantalizing and makes us want to be there. Every time I look at a Moran, I wish that I was standing on the South Rim of the Grand Canyon or wherever it is that he takes you."