A Reenactment of Civil War Era Reconnaissance Ballooning
See history retold at the Air and Space Museum this weekend and meet Abraham Lincoln and the balloonist Thaddeus Lowe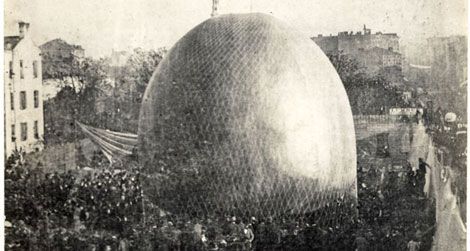 One hundred and fifty years ago on June 18, President Abraham Lincoln received a telegram from an unusual place: a gas balloon floating 500 feet above Washington, D.C. The message, sent through a cable connected to the ground, described the view of the capital city from high above. The Smithsonian Institution's first secretary Joseph Henry, an advisor to balloonist Thaddeus Lowe, and his daughter Mary Henry observed the balloon's controlled flight.
"About sundown he moved majestically along through the air to the President's grounds, the balloon drawn by a crowd of men and boys," Mary Henry wrote in her diary, describing the tethered balloon being pulled along the National Mall. "He seemed to be enjoying his ride greatly."
With this attention-grabbing stunt, Lowe was determined to prove to Lincoln that balloons would be valuable military reconnaissance tools. He got what he wanted— in October 1861, the president created the Union Army Balloon Corps, which was used for surveillance throughout the Civil War.
This Saturday, the National Air and Space Museum commemorates the event on the National Mall by inflating a gas balloon similar to the ones used by Lowe, and allowing visitors to interact with Lincoln, Lowe and Mary Henry themselves (portrayed by actors, of course). There will also be presentations about ballooning and espionage during the war, and hands-on activities and tours inside the museum.
"We think it is really neat that an event of importance in the history of flight in America took place on the Mall just a few hundred feet in front of the present location of the museum, a building dedicated to the past, present and future of flight in America," said Tom Crouch, a senior curator at the museum and the man in charge of coordinating the event.
"It is a chance to remind visitors of the role that the Smithsonian has played in the history of flight," Crouch said, "from the time of Joseph Henry and T.S.C. Lowe, through the early advice and publications that helped provide the foundation for the Wright brothers, to the financial and publication assistance offered to Robert Hutchings Goddard, who not only explained the theoretical possibility of space flight, but built and flew the world's first liquid propellant rockets."
The event will take place from 10 a.m. to 3 p.m. on Saturday, June 11, on the Mall in front of the National Air and Space Museum. The museum will also be hosting a scholarly conference on Civil War ballooning on June 17, from 7:30 PM to 9:30 PM in its Lockheed Martin Theater.