A Quilt Crafted by Many Hands in Service to Community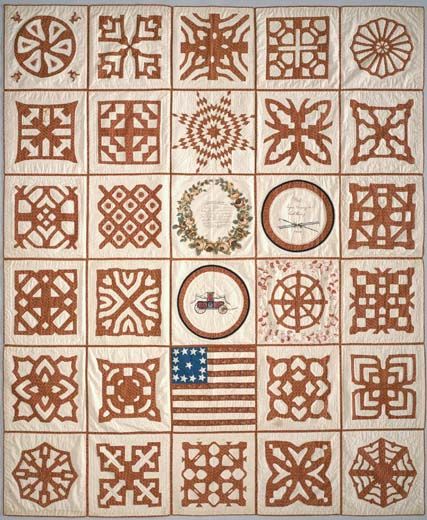 The task of designing, piecing together, appliquéing and then finally quilting an entire expanse of fabric is a joy and art form to many. But perhaps, there can be no other labor of love more noble than the crafting of a quilt by many hands to be raffled off or sold to the highest bidder for the benefit of community.
One very early example of this communal noblesse recently went on view in the central atrium display cases—the new Artifact Walls—at the National Museum of American History. It is dated 1853 and bears the inscription: "Ladies Donation to the Fireman's Fair/Yale Engine Co. No. 1/South Reading."
"The intricate details of the quilt stand as a testament of a group effort among family, friends and neighbors to provide for their town," said director Brent Glass.
The quilt was apparently made by a group of women in the then small, rural town of South Reading, Massachusetts (today's Wakefield, just 10 miles north of Boston), to raise funds for the Yale Engine Company, the museum speculates. At the time the quilt was crafted, the South Reading town records show that a "handsome new, double-decker fire-engine, resplendent in finish of rosewood and trimmings of polished brass," was purchased and named "Yale Engine, No. 1." And in 1853, South Reading became home to a new engine house.
The quilt is made of 30 blocks. All but five have geometric appliqués in fire engine red. The others contain embroidery, a star of Bethlehem, an American flag, a wreath cut from a floral print and glued to the background; and one contains a bright, shiny hook and ladder truck. It is labeled "Yale 1."
History shows that Yale 1 served its community well. An 1894 note in the town records says that the engine "distinguished herself in many fields, and saved much property from destruction." The engine was often pulled out in later years by veteran firefighters for parades and other celebrations. The quilt will be on view through the end of the year.