A Peek at Progress over at American History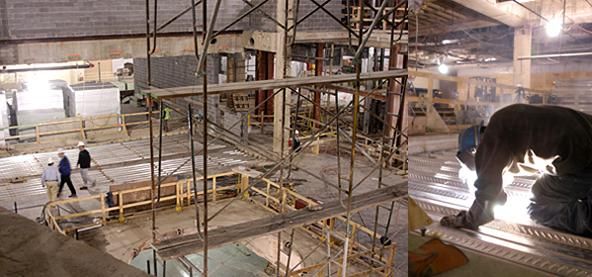 There was a sneak peek tour of the National Museum of American History last week. The press donned hard hats and clambered around amid the dust and noise, following behind the tour guide, aka director Brent D. Glass. "We are making great strides," he announced.​
The museum closed last fall for an $85-million renovation project that includes a drastically reorganized central atrium, which will house a grand staircase and a skylight that will bring natural light into the building's center. The first and second floors will also have floor-to-ceiling glass showcases for better display and rotation of the museum's three million artifacts.
The museum in its current state of demolition proved disorienting to those who knew it before. The familiar marble paneled walls were gone, along with the wall where the Star-Spangled Banner once hung. From the first floor, we could see all the way up to third floor. And everyone needed frequent orientation directions—where's the National Mall from here?
But under Glass's tutelage we begin imagining what was to come. The museum's state-of-the-art new Star-Spangled Banner gallery will be the first thing visitors encounter when they enter the building from the Mall. The lighting in the gallery, dimmed for preserving the 30-by-34-foot wool and cotton flag, will evoke the "dawn's early light" from the National Anthem, written by Francis Scott Key.
New exhibitions are planned for the reopening year, including the 8,000-square-foot "On the Water: Stories from Maritime America."
The museum plans to announce its opening day in February. Stay tuned.
(Photographs by Brendan McCabe)