A Holiday Proposal
An unlikely marriage proposal in the Museum of Natural History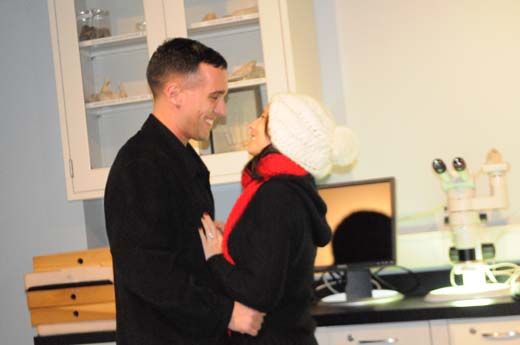 The forensics lab at the National Museum of Natural History was the scene of an event that I suspect hasn't happened in its history—a marriage proposal. Capt. Rob Plagmann, 30, a marine stationed in Quantico, Virginia, took his girlfriend of nine months Naomi Walski, 29, to the museum's "Written in Bone" exhibit last Monday. Walski, whose background is in forensic biology, was visiting Plagmann for the holidays; she's been living in Utsfunomiya, Japan, where she teaches English at a Japanese elementary school.
After viewing the exhibit, the two went to the anthropology department's forensic lab—a visit prearranged by Plagmann. There, while Walski was being distracted by an intern, Plagmann slipped a custom-made slide under a microscope. He beckoned his girlfriend over to the microscope, and she peered in to read, "Naomi, I will love you forever. Will you marry me?" Plagmann got down on one knee, and Walski said "YES!"
"She was paralyzed with shock at first and then just ecstatic," Plagmann says a day later.
He had started planning the behind-the-scenes proposal in October, having to special order the laser-engraved microscope slide from a scientific device company in Illinois. But the tough part, says Plagmann, was tearing Walski away from the exhibit.
Afterwards, Douglas Owsley, head of the museum's division of physical anthropology, gave the two a special tour of the museum's mummy room, chock full of sarcophagi and Egyptian and North American mummies, and showed them forensic cases he is working on but hasn't yet solved. (How romantic?)
"I just couldn't believe how willing everyone at the Smithsonian was to jump on board and help," says Plagmann. "It was unreal."
Plagmann and Walski have not set a date for the wedding but say it has been the subject of much holiday discussion.