A Centennial Birthday for the "First Lady Of Jazz"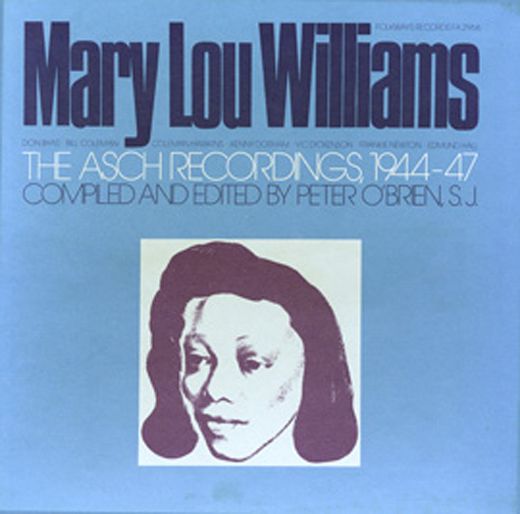 At an age when most children just begin to learn the piano, Mary Lou Williams already had a steady piano gig.
Born Mary Elfrieda Scruggs, Mary Lou was one of 11 children and began playing for parties when she was just six years old to help support her half-brothers and sisters. By age seven, she was known in the Pittsburgh area as "the little piano girl of East Liberty."
But Mary Lou knew more than just how to play—she knew how to bee-bop, and how to swing. And as we celebrate what would have been her 100th birthday this Saturday, May 8, Williams is known as one of the pioneers of jazz, making more than 100 records and holding her own as a woman in a field that had been dominated by men.
Mary Lou went on tour for first time in 1924, when she was 14, on the Orpheum Circuit. The next year, she played with Duke Ellington and his band, The Washingtonians. And in 1927, she married the saxophonist John Williams, who went on to feature her as a composer and arranger in his band. In 1930, she recorded the piano solos "Drag 'Em" and "Night Life," and soon afterward, her career took off.  Jazz great Benny Goodman contracted Mary Lou to write the theme song for his radio show, "Camel Hop," and tried to hire her to write for him exclusively. She declined, and continued to tirelessly freelance for other Jazz greats— including Duke Ellington, Louie Armstrong and Thelonious Monk—throughout her career.
In 1942, Mary Lou divorced her husband and returned to Pittsburgh, forming a six-piece band of her own with Art Blakey on drums and "Shorty" Baker on trumpet. After playing in Cleveland, Mary Lou went to New York and joined Duke Ellington's band, recording "Trumpets No End" (1946) and a new version of "Blue Skies."
A year later she was off again, this time to start her own radio program, "Mary Lou Williams' Piano Workshop." She spent her time mentoring younger be-bop artists, including Dizzy Gillespie and Thelonius Monk. It was here she created one of her best-known compositions, Zodiac Suite, with the New York Philharonic, which she recorded on the Folkways label (now owned by the Smithsonian). The suite created character sketches for each astrological sign—a mix of blues and boogie; solos and duets. "Aries," is said to be written for Ben Webster and Billie Holiday; "Libra" for Gillespie and Monk; "Taurus" for Ellington.
After playing in Europe in the early 1950s, Mary Lou took a break from performing. When she returned later that decade, she spent most of the rest of her career writing sacred music, including several hymns and masses she performed with youth choirs and at masses.
"I am praying through my fingers when I play," she told Time Magazine in 1961. "I get that good "soul sound," and I try to touch people's spirits.'
She also worked to further her legacy, setting up a charity in Harlem and serving as artist-in-residence at Duke University, where she taught a history of jazz course and directed the university's jazz ensemble. She performed across the country: At the Monterrey Jazz Festival in 1971;and at the White House and Benny Goodman's 40th anniversary concert at Carnegie Hall in 1978 (all while teaching at Duke). The year before she died of bladder cancer (in 1981), she founded the Mary Lou Williams foundation, created to advance an understanding of jazz, specifically for children and young adults.
To celebrate this weekend, listen to your own sign in the Zodiac Suite. (I'm listening to my sign, "Sagittarius," along with "Virgo.")
It will hold you over until July 23, when the Smithsonian Jazz Masterworks Orchestra performs a concert in Mary Lou's honor, "The Lady Who Swings the Band": The Mary Lou Williams Centennial Celebration.
Audio Courtesy of Smithsonian Folkways. For CDs or digital downloads please visit folkways.si.edu.