At 90, Ella Jenkins, the First Lady of Children's Music Has a New Album
Celebrate her birthday with her latest, a compilation of children's songs from around the world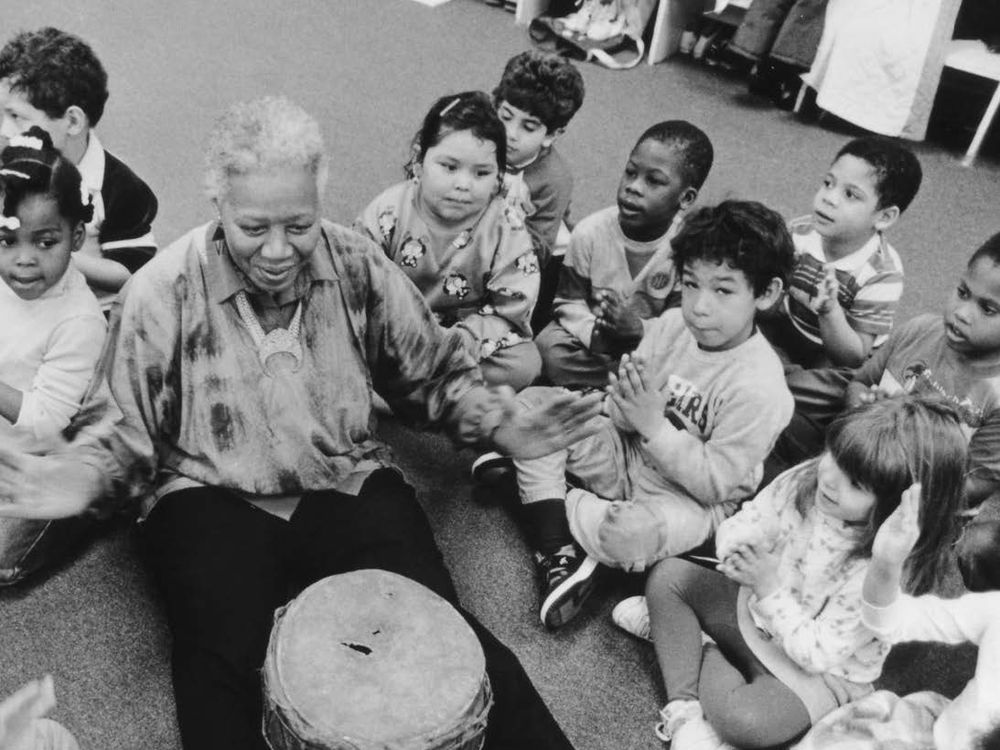 Today is children's music icon Ella Jenkins' 90th birthday, and she is celebrating with two birthday parties and a new album. "Even when I was a child, I always liked parties," she says. Her church threw her a surprise party last Sunday, but even while celebrating Jenkins, they put her to work performing. "If somebody asks me to sing a song or do something, I'm always willing to do so," she says.
To welcome Jenkins into her nonagenarian years, Smithsonian Folkways has released her 40th album, More Multicultural Children's Songs. The album features 20 tracks from her catalog with music from different cultures and locations, including Hawaii, Russia, Puerto Rico, China, Germany and Greece. It builds off of 1995's Multicultural Children's Songs, which is Folkways' bestselling album.
Musicians Cathy Fink and Marcy Marxer flew from Baltimore to Chicago to surprise Jenkins at the church on Sunday. "She looked great, she sounded great, she was happy as could be," Fink says. "Ella's got one of the purest hearts I've ever felt and she loves people."
Also there on Sunday was a film crew that is shooting a documentary on Jenkins' life. "She really approached making children's music in an intelligent way, which had never really been done before," says Tim Ferrin, the film's producer and director. That meant incorporating Americana and folk traditions and making them accessible for children. "She was really trailblazing."
Admirers refer to Jenkins as "The First Lady of Children's Music." She was born in St. Louis in 1924 and moved to Chicago, where she has spent most of her life. She began playing music with no formal training and got involved in the folk music scene, where she played the ukulele while everyone else had guitars and banjos.
Bill Harley, a musician who has met Jenkins, says he considers her and Pete Seeger the most influential children's musicians of all time. "I kind of look at Ella and Pete's stuff as the beginning of a vocabulary for what this was about," he says. "Ella's music was simple and straightforward, but she understood what was behind it."
Jenkins is the only children's musician to receive a Grammy Lifetime Achievement Award and the first woman and first children's musician to receive an ASCAP Foundation Lifetime Achievement Award. She is also one of the first African American women to host a TV show.
"It was just an easy way she had with the songs and just with who she was," says Raffi Cavoukian, who has covered Jenkins' music and recently released his first album in over a decade. "It's amazing she's still singing and I hope to be doing that when I reach 90."
"There's a certain, just, charisma and grace to what she does that I think just speaks so highly of the music she makes and how she goes about doing it," says Justin Roberts, another children's musician. "I don't think there would be a children's music genre without Ella Jenkins."
It's her love for music and children that has kept Jenkins going year after year. "There's a playground across the street from where I live and when I hear those voices in the morning or in the afternoon, it just makes my day," she says.
At 90 years old, Jenkins isn't surprised when people from three different generations tell her they grew up on her music. When she blows out her birthday candles at her second party tonight, she'll make the same wish she makes every year – for "peace to come to our world."