50th Kori Bustard Makes History
The Smithsonian National Zoo welcomed another member into the fold June 15, when the 50th Kori Bustard chick hatched in the Bird House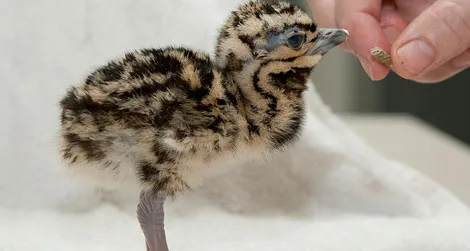 The National Zoo made a little history this month. On June 15, staff at the Bird House proudly watched a Kori Bustard chick poke through its shell.  After years of working to ensure that the numbers of this African bird would not plummet due to habitat loss and hunting, the moment the tiny bird hatched became a notable historic moment. The chick was the 50th Kori Bustard to be bred and hatched at the Zoo.
"While each hatching is special and rewarding, this chick is a little more special than the others. We've reached an important milestone, and I'm thrilled that the National Zoo continues to play a significant role in ensuring this species' survival in zoos and in the wild," said biologist Sara Hallager, according to reports. Hallager heads of the Association of Zoos and Aquariums' Species Survival Plan for Kori Bustards.
"I think it comes down to the fact that this is not the easiest species to breed in zoos," Hallager told ATM, "so hatching out 50 chicks is pretty special. It takes a lot of commitment from the Zoo to hatch and successfully raise 50 chicks and knowing that the Zoo continues to support the program makes me feel honored."
The Zoo began successfully breeding Kori Bustards in October of 1997, falling into the ranks of only four other zoos in the world to hatch the world's heaviest flying birds.
Weighing in at 40 pounds, the African giant eats both plants and animals, but it seems to prefer meat, often snacking on small mammals and lizards and snakes. The animals in two varieties, the Eastern and Southern subspecies, can be found from Ethiopia across Kenya and down into South Africa.
The 50th Kori chick is being hand-reared by the Bird House staff, as its predecessors were, to increase the likelihood that the chick will breed successfully upon reaching sexual maturity. Raising  the bird under the cautious care of its keepers also helps to eliminate any chance of injurious conflict between the precious chicks and other birds of prey also in residence at the Zoo.
The chick will not be put on exhibit until mid-August, but visitors can see the chick's parents at the current Kori Bustard exhibit outside the Bird House.
This post was updated on 6/22/ 2011 to include additional comments from biologist Sara Hallager.