30th Anniversary of the Miracle on Ice
The men's hockey team shocked the world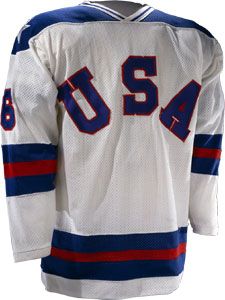 As athletes continue to create new Olympic moments (I'm still coming down from Shaun White's victory run), we here at ATM thought it a good time to reflect on a classic one of the past—the so-called "Miracle on Ice."
Thirty years ago today, the U.S. men's hockey team faced the Soviet Union in the semifinals of the 1980 Olympics in Lake Placid. A hockey juggernaut, and, of course, Cold War rival, the Soviet Union had taken home the last four Olympic golds and pummeled the U.S., 10-3, in an exhibition game just weeks before. The game was a nail biter, tied until the U.S. team's caption Mike Eruzione scored a goal with ten minutes of play to go. "Do you believe in miracles?" sportscaster Al Michaels famously asked in the last frenetic seconds of the game. "Yes!" The U.S. won 4-3.
The victory advanced the U.S. to the final, against Finland, where they ultimately snatched the gold. But it is the against-all-odds semifinal win that left the indelible mark in Olympic history. Sports Illustrated voted it the greatest sports moment of the 20th century.
As I suspected, the Smithsonian's National Museum of American History has a handful of related artifacts in its collection (but, unfortunately, not on display). According to Jane Rogers, associate curator in the division of music, sports and entertainment, the museum has an entire U.S. hockey uniform, the pieces worn by and collected from different players on the 1980 team. The ensemble includes forward Bill Baker's jersey and the skates worn by fellow forward Phil Verchota. The museum also has a stick, not used, but signed by the Miracle on Ice players, as well as photographs from the game, including one of the team celebrating in a pileup on the ice.