30 Years Later: The Anniversary of the Eruption of Mount St. Helens
When Mount St. Helens erupted, it spread approximately 540 million tons of ash over more than 22,000 square miles surrounding Washington state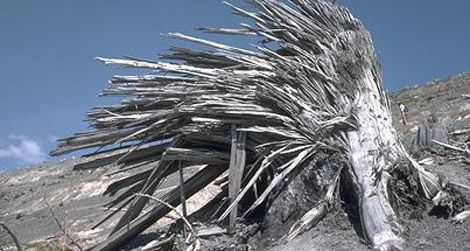 Thirty years ago today, Mount St. Helens erupted, spreading approximately 540 million tons of ash over more than 22,000 square miles surrounding Washington state. The May 18, 1980 event was the most deadly and economically destructive volcanic eruption in the history of the United States. Fifty-seven people were killed and 200 homes, 27 bridges, 15 miles of railway and 185 miles of highway were destroyed.
According to U.S. Geological Survey reports, at 8:32 a.m. Pacific Daylight Time, a magnitude 5.1 earthquake hit Skamania County, Washington. The tremors caused the external layer of Mount St. Helens to collapse in a gigantic rockslide, lowering the summit by 1,300 feet. The removal of the rocks and debris released pressure, triggering a massive lateral blast followed by an eruption of pumice and ash.
"Although I had moved to the Smithsonian from Washington State," recalls Lee Siebert, the director of the Institution's Global Volcanism Program, "and had climbed to the former summit of Mount St. Helens prior to the 1980 eruption, I was at my desk on May 18, a date ingrained in the minds of most volcanologists."
The eruptions continued for nine hours, flinging ash 12 to 15 miles in the air and moving outward at a rate of 60 miles an hour. By early May 19, the devastating explosions had stopped. Mount St. Helens had stood at 9,677 feet before the eruption of May 18.  After the landslide and blast, the volcano had lost approximately 1,313 feet of its height and had a one-mile wide horse-shoe shaped crater where its peak had been.
Today the eruption continues to have measurable impact, says Siebert. "Mount St. Helens was one of a select group of eruptions that greatly influenced the science of volcanology. It was the first eruption in the continental U.S. in the second half of the 20th century. It brought fresh awareness that there are indeed active volcanoes in the western U.S. and it revitalized volcanological research that has led to the development and application of monitoring techniques that have proven useful around the world in predicting eruptions and dealing with their hazards."
A collection of images from the Geology, Gems and Minerals division at the Natural History museum shows the drama of the volcano's devastating blast and destructive aftermath.
An article from the Smithsonian archives "Rising From the Ashes" by David B. Williams tells the story of  how quickly the wildlife in the area recovered from the eruption.