The World's Tallest Water Slide Is More Than 134 Feet Tall
Riders—who will descend in inflatable rafts of four rather than alone—will reach speeds of more than 65 miles per hour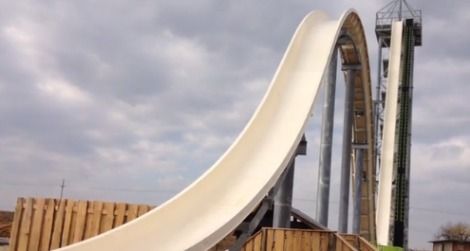 Beginning in May 2014, thrill-seekers will no longer have to travel to Brazil to experience the world's tallest water slide. A towering slide called Verrückt—the German word for "insane"—is currently under construction in Kansas City and aims to claim that world-record title.
The creators still haven't revealed just how high the slide will be, but they do guarantee it will be taller than the 134.5-foot tall Brazilian slide. Officials have tossed around "17 stories" as an estimate, though, meaning the slide could be upwards of 170 feet tall or more (building stories tend to measure between 10 to 15 feet tall).
The park where the slide will be installed, Schlitterbahn, hopes the ride will make it a destination attraction, the Kansas City Star reports. "We have always been family friendly, but this will attract those adrenaline junkies who are always looking for that next biggest, coolest thrill," a park director told the Star.
Brave souls seeking to take the Verrückt plunge will have to first climb 264 steps for that privilege, the Star says. The slide itself consists of a steep drop, followed by an approximately five-story hill. During that first drop, riders–who will descend in inflatable rafts of four rather than alone–will reach speeds of more than 65 miles per hour, officials say. 
More from Smithsonian.com:
Should We Go Back to Jurassic Park?  
Nearly 4,500 Kids Are Injured on Amusement Park Rides Each Year