New York Honors Shirley Chisholm, First Black Congresswoman in U.S. History, With New Statue
The firebrand politician once quipped that she would like to be remembered as a woman who 'had guts'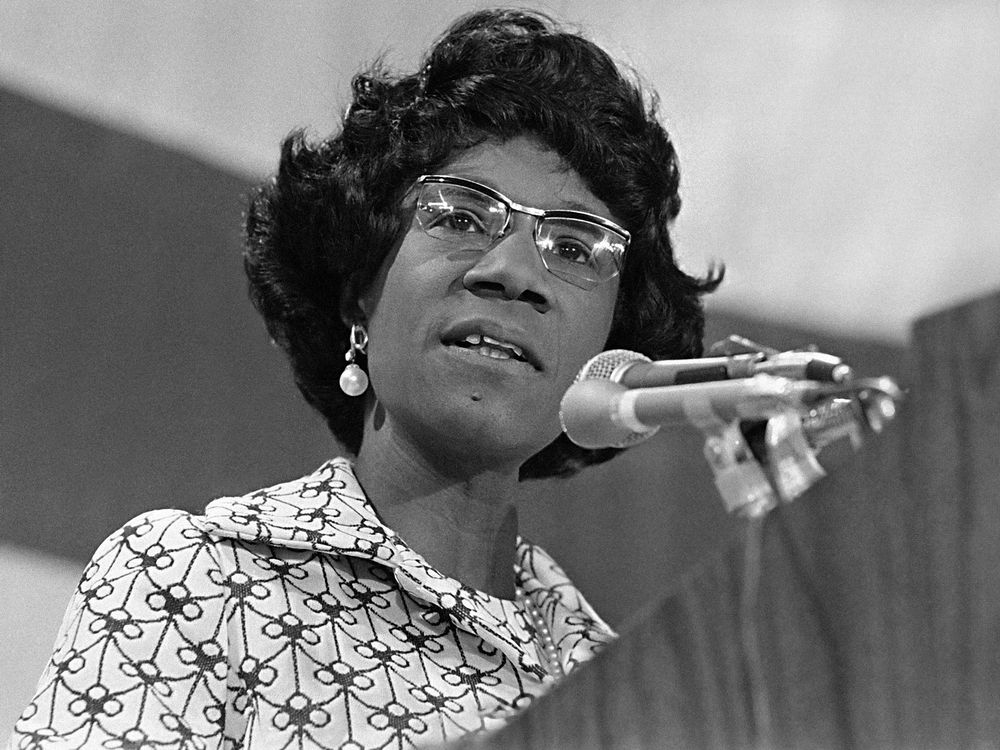 This past summer, New York City announced its plans to build a new monument to a woman who has made significant contributions to the city, and asked for the public's help in choosing a potential subject. After deliberating over a list of 1,812 names, officials have revealed their final selection: The upcoming statue will pay tribute to Shirley Chisholm, the firebrand politician who became the first black congresswoman in United States history.
Victoria Stapley-Brown of the Art Newspaper reports that the statue will mark the first project undertaken by She Built NYC, an initiative that seeks to correct the lopsided gender representation among New York's public monuments. According to Jake Offenhartz of Gothamist, at last count there were approximately 145 statues of historical male figures that stand in New York's five boroughs. The number of historical women represented is paltry by comparison; according to Offenhartz, only "Joan of Arc, Golda Meir, Gertrude Stein, Eleanor Roosevelt, and, most recently, Har­riet Tubman" have made the cut.
Chisholm, who died in 2005 at 80, spent her decades-long career battling for gender and racial equality, making her an apt choice for the subject of the new statue. An artist has not yet been selected to carry out the project, but the monument is expected to be completed in 2020. It will sit at one of the entrances to Prospect Park in Brooklyn, the borough where Chisholm was born in 1924.
The daughter of Caribbean immigrants—her mother was born in Christ Church, Barbados and her father was born in colonial British Guiana, now the independent nation of Guyana—she began her working life as a nursery school teacher, but eventually immersed herself in local chapters of activist groups like the League of Women Voters, the National Association for the Advancement of Colored People, and the Democratic Party Club in Bedford-Stuyvesant, Brooklyn. In 1964, she became the second African-American elected to the New York State Legislature. Four years later, she made history as the first black woman to earn a seat in Congress when she was elected to represent Brooklyn's 12th Congressional District.
True to her slogan "unbought and unbossed," Chisholm was never particularly worried about making friends in Washington. During her very first floor speech in March of 1969, for instance, she took the opportunity to candidly express her opposition to the Vietnam War. She also refused to accept her initial assignment to the Committee on Agriculture, pushing back against the decision until she was moved to the Veterans' Affairs Committee. "There are a lot more veterans in my district than trees," she once said.
Chisholm was a staunch advocate for education funding, guaranteed minimum incomes for families and women's advancement in politics; in 1971, she was a co-founder of the National Women's Political Caucus. The following year, Chisholm entered the presidential primaries as the first woman to ever seek the Democratic nomination. She did not expect to triumph, and in fact did not win a single primary. But she saw herself as the only candidate who represented the interests of African-Americans, and believed that her bid for the presidency, though unsuccessful, marked an important turning point.
"Some see my candidacy as an alternate and others as symbolic or a move to make other candidates start addressing themselves to real issues," Chisholm once said, according to her New York Times obituary.
In that same obituary, Chisholm is quoted as saying that she was not interested in being remembered as "the first black woman congressman."
"I'd like them to say that Shirley Chisholm had guts," she quipped. "That's how I'd like to be remembered."
Today, Chisholm's legacy as a bold pioneer endures. Chirlane McCray, first lady of New York City, tells Azi Paybarah of the New York Times that she "can't think about [Chisholm] and what she accomplished before and after her run and not think 'Oh, maybe I should do that too, you know?' She really set an example, for all of us."