The Oscars Are Held in a Mall
It takes two weeks to dress the venue (which is in a mall, remember) for the occasion each year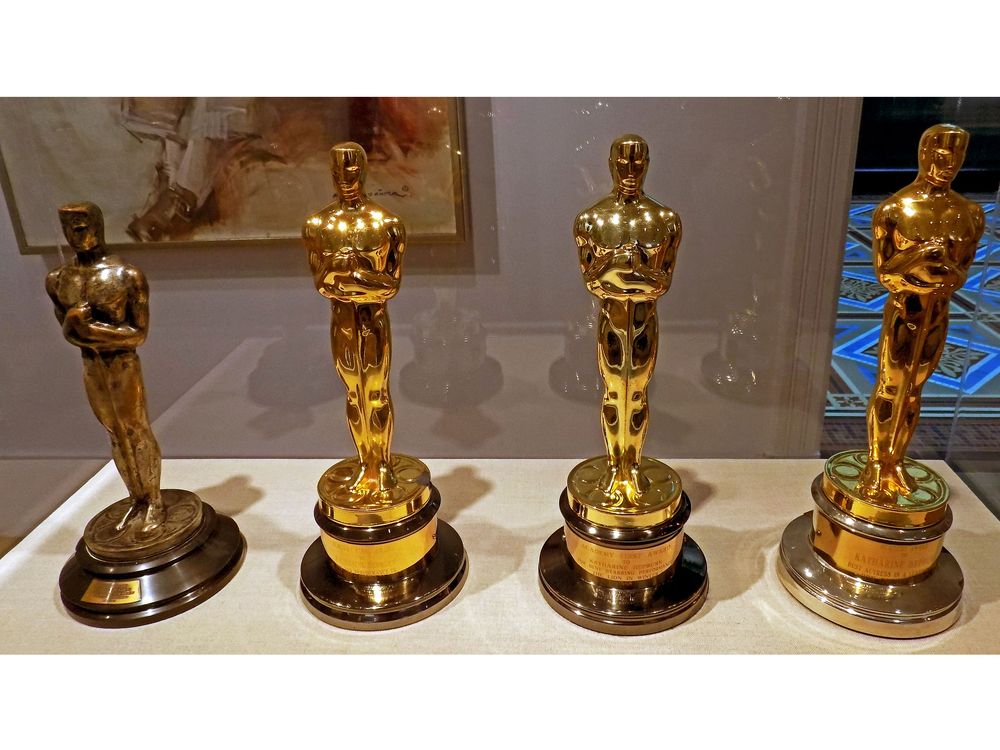 The Academy Awards are certainly the American movie industry's most-watched evening of the year, and one of its glitziest. But given all the glamorous clothing and red-carpet buzz, you might be surprised to learn more about the location where the coveted little gold men are handed out. Spoiler alert: it's a mall.
The Dolby Theatre was purpose-built for the Oscars, and has been the event's locale since 2002. It was first known as the Kodak Theatre, but the name was changed after Kodak filed for bankruptcy, according to CBS.
The theater is located in the Hollywood & Highland, which bills itself as "the entertainment center of Los Angeles for tourists and locals alike." Its name presumably refers to its location at the corner of Highland Avenue and Hollywood Boulevard—right beside the former Grauman's Chinese Theatre, where the awards were held at one point in the past. The renamed "TCL Chinese Theatre" is also part of the mall now.
The word "mall" isn't anywhere on the H&H's "Visitor Info" page, but rest assured, what you're looking at is a mall.  "Steeped in Hollywood history, this iconic destination ... features the Dolby Theatre, home of the Academy Awards® and over 70 brand-name retailers from Louis Vuitton, L'Occitane, Victoria's Secret and MAC to quintessential Californian stores like GAP, Hot Topic, Oakley, Skechers and Lucky Brand Jeans," the website reads. 
On a normal day, it looks like this: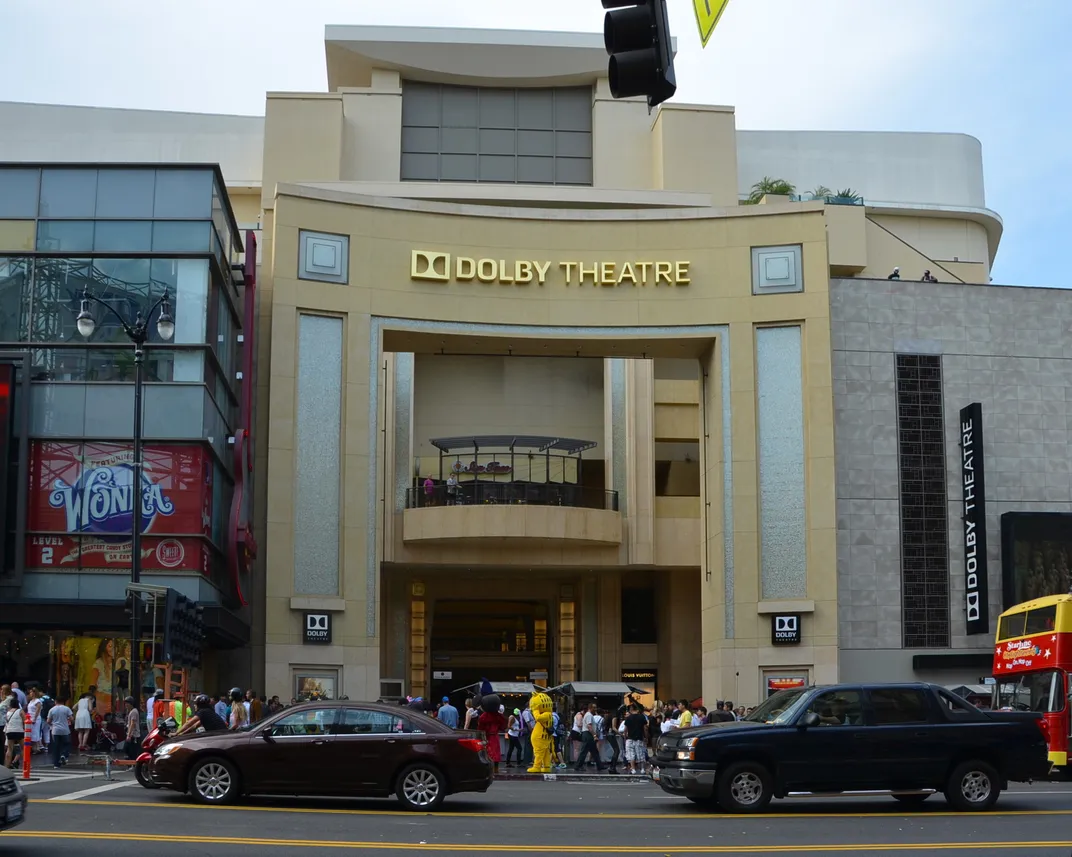 Now take a look at what the Oscars look like before night falls and the spotlights come on: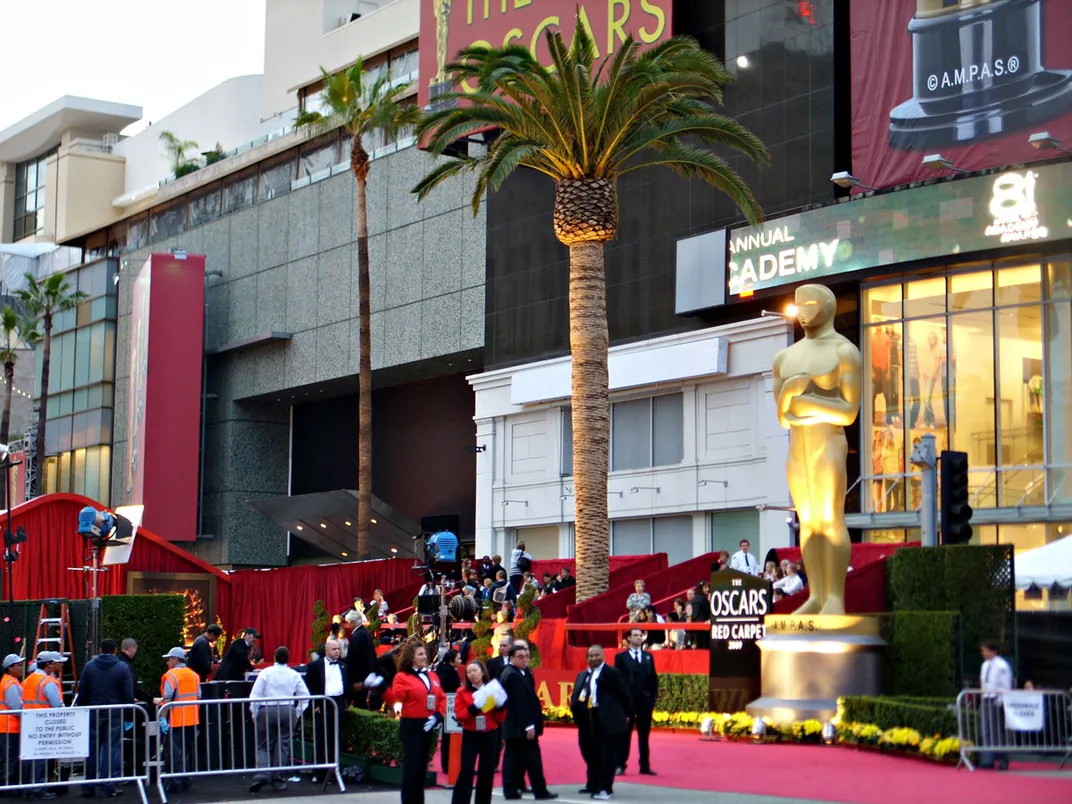 But between those two views is two weeks of construction and a labor force of 250, writes Rebecca Sun for The Hollywood Reporter. On Oscar Sunday, the entire mall shuts down, which is written into the lease agreements for every store. The street is closed.
To get the otherwise mall-looking theater dressed for its big night, she writes, crews dress it up with red carpet, build risers and stages, and "design elements such as the 38-by-40-foot gilded curtain draped across the entrance," she writes.
The inside of the Dolby Theatre is visually impressive, if extremely Hollywood. The lobby is five stories high. It has one of the largest stages in the country and has hosted the American Idol finals, a Cirque de Soleil show, and numerous other awards and performances, but it's best-known as the Oscars venue.
As you enjoy watching the Oscar wins (and losses) this weekend, just remember: outside this elegant room, and not very far outside, on a normal day Muzak is playing and teenagers are slurping on Frappucinos.
Really takes away some of the romance, doesn't it?