A Human Chain Helped a U.K. Bookshop Move to Its New Location
Some 250 volunteers transported more than 2,000 books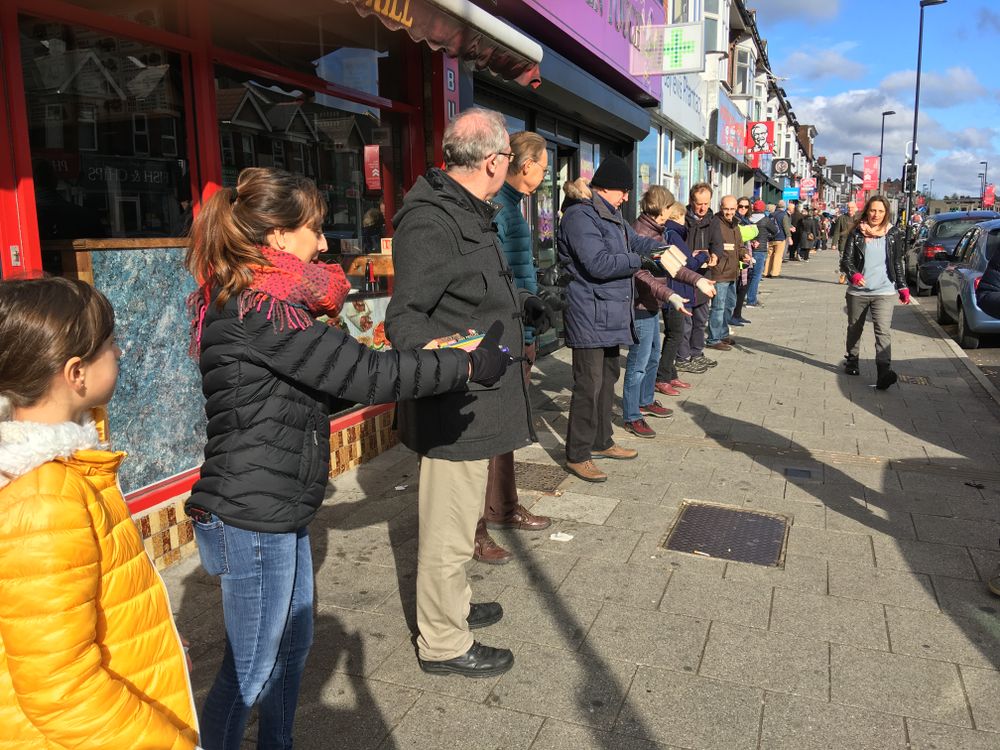 November is already shaping up to be a banner month for October Books, an independent bookshop and co-operative in the port city of Southampton, England. This weekend, the shop will open in its new location down the street of the storefront that it occupied for 15 years before being priced out of the address. But before the staff turned their attention to the grand opening, they had a problem to face: How would they manage to move all their stock to the new location?
As Kevin Rawlinson reports for the Guardian, they reached out to the community—and the community answered. Last Sunday, some 250 people formed a human chain between October Books' new and old locations, passing more than 2,000 books between them and emptying out an entire stockroom.
Founded in 1997, October Books bills itself as "a not-for-profit co-operative radical neighbourhood bookshop" that is in fact "more than just a bookshop." The store also sells organic food and fair trade products, and hosts events, including a Southampton radical reading group.
Last year, in the face of rising rents, members of the co-op began looking for a new space that October Books could call home. They found a former bank about 500 feet down the road that was available for purchase and, as Amy B. Wang of the Washington Post reports, a non-profit organization for the homeless agreed to go in with them on the new property. But the shop still needed to raise £510,000 (or about $650,000) in repayable loans and donations to make the purchase happen. Co-op members put out call for assistance, and in August, announced that they had just about met their goal. According to Rawlinson, they raised £487,800 (around $635,000).
When it came time to move, the community proved equally willing to help with the creative way October Books had come up to transport books from its old stockroom to the new one: "a human chain."
"We wanted something that was accessible for the whole family, for children and people who were older who wouldn't necessarily be able to paint or move heavy pieces, to help out," Jess Haynes, a co-op member who also works in the shop, tells Yonnette Joseph of the New York Times. "It was a lovely way of including everyone and get the whole community involved."
The shop said in its announcement that it would need around 150 people to lend a (literal) hand. About a hundred more volunteers showed up, getting the job done in an hour.
"It was a tremendous show of support and community and we're moved and incredibly touched by it," co-op member Clare Diaper tells the Guardian's Rawlinson. "We are of, and for, our community and it is truly heartening to see that reciprocated."