You Could Be Identified Through a Genealogy Database—Even If Your DNA Hasn't Been Tested
New study finds that approximately 60 percent of people of European-descent in the U.S. can be matched to a third cousin or closer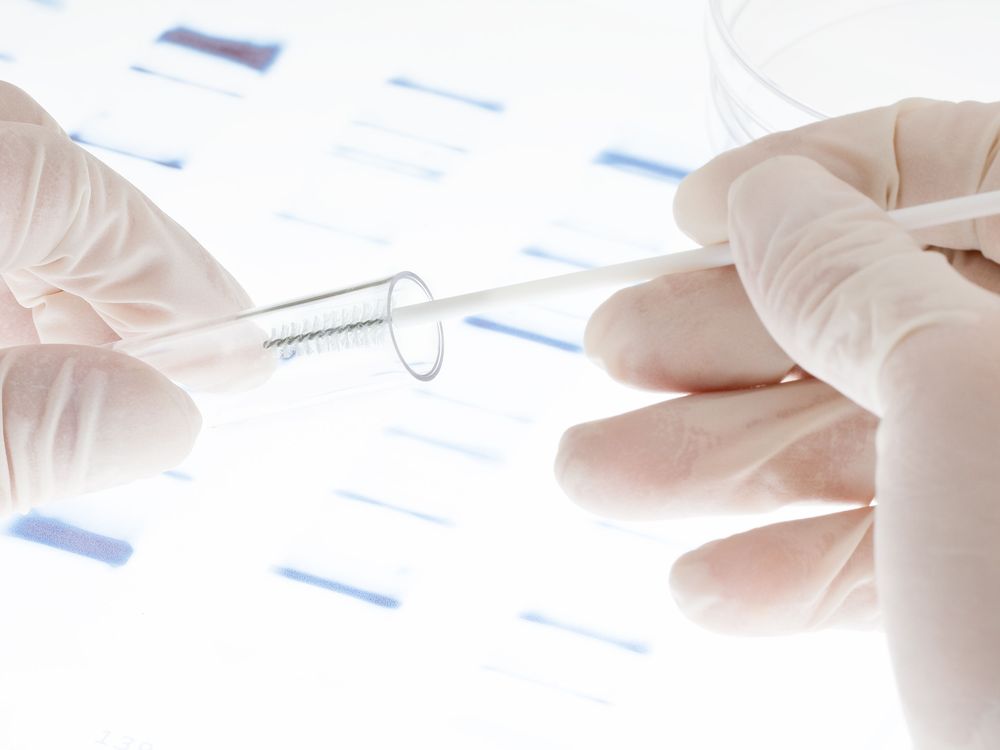 In hopes of learning more about their genetic makeup, some 15 million people have already submitted samples of their DNA to at-home testing services. As Susan Scutti reports for CNN, a new study suggests that this vast repository of genetic information will make it possible for most people of European-descent in the United States to find a third cousin or closer match—including those who have never undergone DNA testing.
Direct-to-consumer DNA testing services like 23andMe have risen in popularity of late because they offer an easy way to undergo genetic screening, without having to go through a doctor: Customers simply take a swab of their saliva and mail it in to the company. Many testing services also let their customers download files of their raw genetic information, which can then be uploaded to sites like GEDmatch. These third-party sites let users search their databases for relatives who might match their genetic profile.
But high-tech genealogical research isn't only of interest to people looking to track down their long-lost aunt. Recently, investigators have successfully relied on genetic databases to crack cold cases. Last spring, most notably, police in California used a genealogy service to apprehend the so-called "Golden State Killer," who had committed a series of rapes and murders in the 1970s and '80s. Police submitted DNA collected from crime scenes to a public genealogy database and hit upon the match of a distant relative. Eventually, they were able to follow the lead to 72-year-old former police officer Joseph James DeAngelo, who was charged with the decades-old crimes.
This case and others like it prompted Yaniv Erlich, chief science officer at the genetic ancestry website MyHeritage, to wonder how frequently people can be identified through the DNA of their distant relatives. So as part of a new study published in Science, he and a team of researchers analyzed 1.28 million anonymous genomes that had been submitted to MyHeritage and GEDmatch. Most of the genomes belonged to people of European descent, because this demographic is most likely to use genealogy sites.
The researchers projected that for Americans of European-descent, 60 percent of long-range searches will come up with a match with someone who was a third cousin or closer. For 15 percent, the searches will find a second cousin or closer.
By making connections between relatives, a good sleuth could construct a family tree and then conduct more targeted research that might lead to someone who had never submitted his or her DNA for testing, as was the case with the Golden State Killer.
"Think of your family like layers of an onion," Erlich tells Paul Raeburn of Scientific American, with each layer from the center of the onion representing increasingly distant relatives. "When you go to very distant relatives, chances of a link are much higher."
The researchers estimate that within two or three years, as more and more people submit their genetic data to genealogical databases, 90 percent of people who hail from European ancestry will be traceable in this way, reports the New York Times' Heather Murphy.
Why are these results disconcerting? In addition to eroding privacy, public genealogy databases could be used by "people seeking personal information about someone" for criminal purposes, writes Maggie Fox of NBC News. But CeCe Moore, a genetic genealogist at the forensic consulting firm Parabon, tells the Times' Murphy that this is easier said than done; building a family tree out of genetic information is no simple matter and requires expert skills.
And according to some scientists, there are benefits to learning about one's ancestry, even at a risk to personal privacy. As Robert Green, a medical geneticist at Harvard and Brigham and Women's Hospital, notes in an interview with Rebecca Robbins of STAT "we should keep in mind the personal and societal value that we believe that we are accruing as we make these large collections."