Write on the Walls at New Museum's New Exhibit
At Pawel Althamer's exhibit at the New Museum in New York City, visitors are invited to participate in the creative process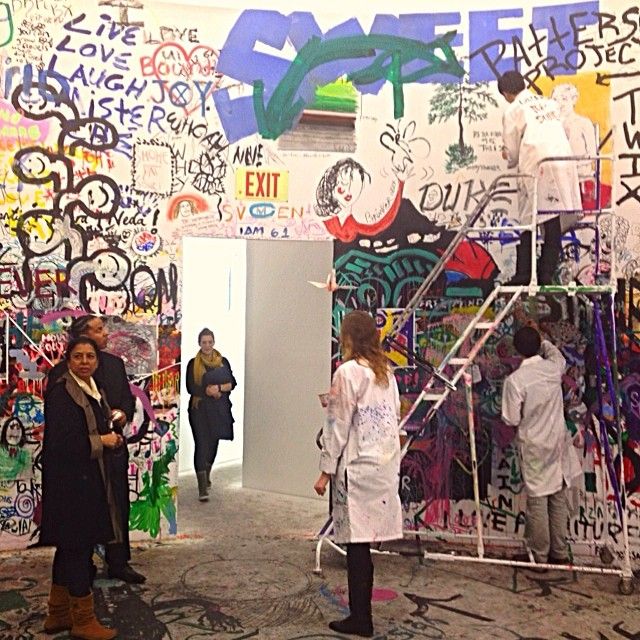 Most artwork in museums is in its final, finished state, but at the New Museum in New York City, visitors are invited to participate in the creative process. The exhibit, titled "The Neighbors," is Polish artist Pawel Althamer's American debut. It features many of his sculptures and video—exactly the sort of art you'd expect. But there's also a large space with blank white walls, where people are encouraged to express themselves.
Visitors can write on the walls, floor, or a canvas teepee. Althamer, the Daily Beast says, "takes pleasure in the work's collective ownership and the negotiations over space and content that the work engenders."
It does sound like fun. The Beast: 
"Marte and her classmates from the Lower East Side's New Design High School got first crack at the piece. They made quick work covering the walls with peace signs, vines, and hash tags (#Julieisawesome). Shaden Espinoza, 16, drew a grinning, over-lifesized woman's face and liked the freedom of it.

"At school, teachers tell you what to do," Espinoza said. "Here you get to do anything you want. You get to be free.

The absence of rules made for some heated moments in the work's Berlin iteration, where one visitor painted a swastika and another promptly inked it over."
Althamer will be at the exhibit, working on sculptures that will be added to the displays. He's also hired street musicians to play outside, with their music broadcast on the third floor of the museum. 
There's one more unique aspect to this exhibit—the price visitors pay for admission. From the museum description: 
"In many of his previous museum exhibitions, Althamer has used the visibility and resources of the organizing institution to benefit different local communities. For "The Neighbors," Althamer has initiated a coat drive for the Bowery Mission, the Museum's neighboring organization, which has been serving the homeless and hungry since 1879. Over the course of the exhibition, visitors who bring new or gently used men's coats to the New Museum will receive free entry. All the coats will be donated to the Bowery Mission."