World's Longest Sea Bridge Opens Amid Controversy
More than 275 workers were injured during the construction of the bridge, which connects Hong Kong, Macau and China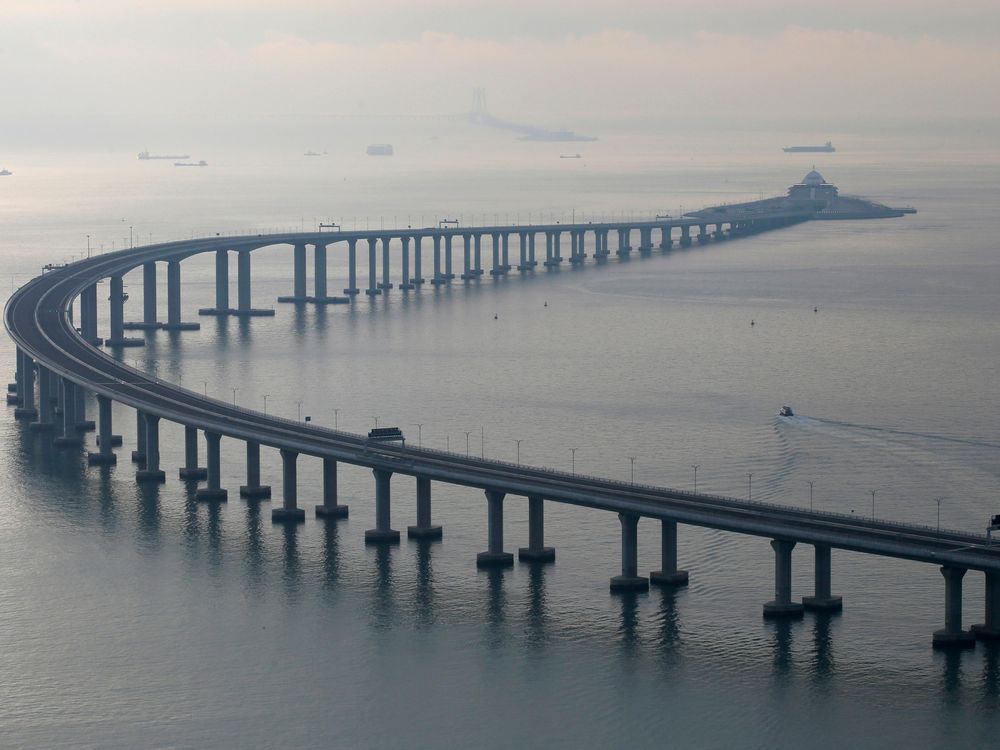 After nine years, $20 billion and a seemingly endless string of controversies, the world's longest sea crossing bridge between Zhuhai, China and the autonomous regions of Hong Kong and Macau, was officially opened today by Chinese President Xi Jinping.
According to James Griffiths and Sarah Lazarus of CNN, the 34-mile bridge, which spans the Pearl River Delta, may cut travel times between the three locations to as little as 30 minutes, down from three hours. The bridge will be accessible to traffic starting Wednesday, but private drivers will need a permit to be able to cross it. And as Hallie Detrick reports for Forbes, permits are not in abundant supply. Just 300 permanent permits are available for Hong Kong residents making the trip to Macau, and permits to mainland China are only granted to individuals who meet certain criteria, such as having donated to charities on the mainland or being employed at a "recognized high tech enterprise." Without proper documentation, drivers will have to switch to special shuttle buses that cost between $8 to $10 per trip, depending on the time of day.
The new structure is an impressive feat of engineering, encompassing not only a bridge, but also an underground tunnel strung between two artificial islands, which will help reduce disruptions to busy shipping routes. Some 400,000 tons of steel were used to build the bridge, which, as Violet Law of the Los Angeles Times puts into perspective, means that it "stretches longer than 14 Golden Gate Bridges lined up end to end." It is also reportedly strong enough to withstand an 8.0-magnitude earthquake, a typhoon and strikes by cargo vessels.
The bridge is a major part of the Chinese government's "Greater Bay Area" project, which aims to connect Hong Kong and Macau with nine major cities of the coastal mainland province of Guangdong. Officials hope to build the region into an economic and tech hub similar to Silicon Valley, and to make it easier for tourists to travel between the cities. Hong Kong and Macau, a gambling destination known as the "Las Vegas of Asia," are already popular vacation spots for travelers from mainland China. In the first half of the year, 23.7 million and 11.7 million mainland visitors traveled to Hong Kong and Macau respectively, reports Alice Yan of the South China Morning Post.
But there are fears the bridge will be used as a political tool in China's efforts to tighten its grip on Hong Kong. A former British colony, Hong Kong reverted to Chinese control in 1997, but it was granted semi-autonomous status. Though Beijing denies the charges, there is concern that the Chinese government intends to curtail Hong Kong's independence.
"[The bridge] links Hong Kong to China almost like an umbilical cord," Claudia Mo, a lawmaker who supports greater democracy in Hong Kong, told CNN's Lazarus in May. "You see it, and you know you're linked up to the motherland."
From the start, the ambitious project has been mired in several controversies. Seven people died while building the bridge, and another 275 were injured, according to Griffiths and Lazarus. Over the past year, six subcontractors have been fined for endangering workers' safety.
The Chinese white dolphin, an endangered species that was once most abundant in the Pearl River Delta region, has also been threatened by the construction of the new bridge and other development projects in the area. According to Law of the Los Angeles Times, "the constant burr of jackhammering and welding" is pushing the animals away and destroying their habitat. A government report revealed that only 47 dolphins were seen in Hong Kong waters between April 2017 and March 2018, down from 80 in 2012.
In response to environmentalists' concerns, the Hong Kong government established protected marine parks for the dolphins and other aquatic animals. But Heyman Mak of the Hong Kong Dolphin Conservation Society tells Law that officials "set up the conservation zones only after construction has begun — that's too late."
Hong Kong taxpayers were also on the hook to cover 60 percent of the cost to build the bridge. "I don't think people are too excited about it. It's been dragged on for so long and it's so expensive, and there are already means of going to the western side of the Pearl River Delta," Mee Kam Ng, a professor of geography at the Chinese University in Hong Kong, tells the Guardian's Lily Kuo.
And while there may be mainland interest in a speedier trip to Hong Kong and Macao, a new poll released today by Hong Kong's Lingnan University and Sun Yat-sen University in Guangzhou, reveals Hong Kong residents appear to have a much more muted interest in traversing the Greater Bay Area. Of 1,033 residents interviewed this summer, 4.7 percent reported they had traveled to the Greater Bay Area, excluding Hong Kong and Macao, more than once a month in the past year; 53.9 percent said they had not visited the nine mainland cities at all in that time.
Nevertheless, as Ng tells Kuo of the Guardian, the bridge's opening will certainly serve as "an interesting experiment," as it will link together three jurisdictions that span wide-ranging cultural histories, currencies and legal systems.