This Is the World's Largest Dump Truck
The mega Earth-mover is hard at work digging a coal mine in Russia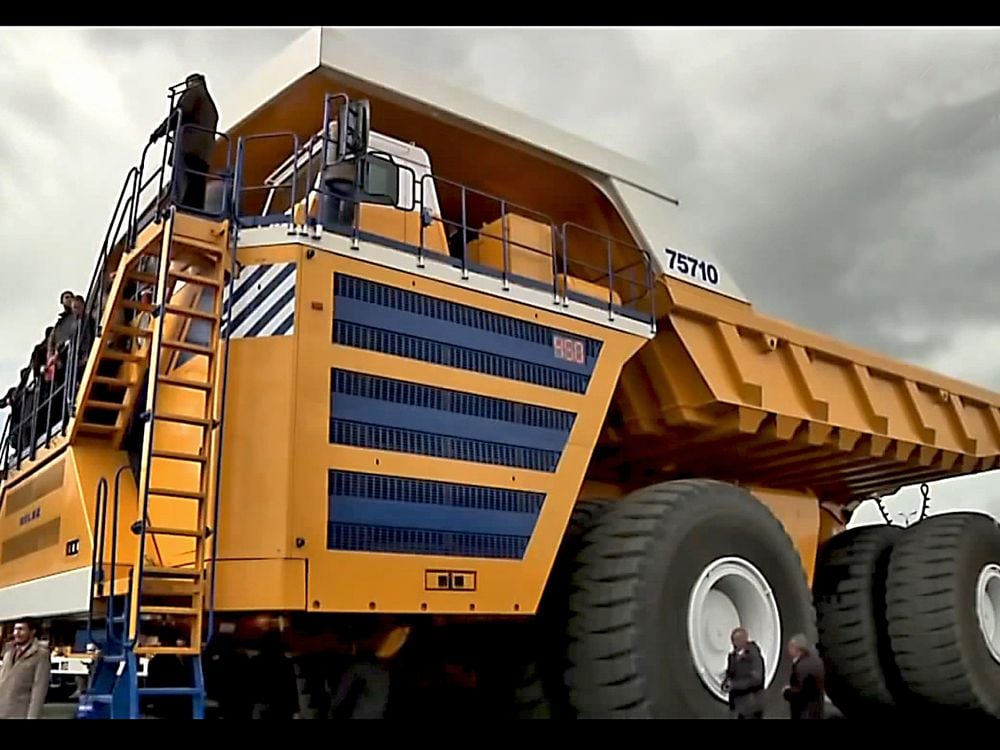 The world's largest dump truck has rumbled to life at a Siberian open-pit coal mine after just two years in development. The truck can carry 500 metric tons of dirt—the equivalent of "seven fueled and loaded Airbus A320-200 planes," the engineering company Siemens says—in its gargantuan bed.
The BelAZ 75710 dump truck, as it's known, tops out at about 40 miles per hour—when its bed is empty.  It runs on four 1,200-kilowatt electric engines, designed by Siemens, Europe's largest engineering company. (That's the equivalent of about 1,800 horsepower, for each engine.) A companion diesel engine works in tandem with the electrical motors to fuel the monster truck. 
Katherine Tweed of IEEE Spectrum explains that an electrical dump truck was not exactly the easiest option to pursue for the truck's creators:
Electric-powered vehicles have been around to do heavy lifting in mines for years, but those trucks, known as trolley trucks, received their electricity from overhead power lines. The Belarusian truck manufacturer BelAZ wanted the efficiency of the trolley trucks, but in a free-moving behemoth suitable for open pit mining.
BelAZ had also wanted a truck that would carry up to 25 percent more in weight—it wanted to move coal and iron ore—than the largest truck at the time. The company's aim was to reduce the cost per ton of moving materials, Melissa C. Lott writes at her blog, Plugged In.
Tweed notes that there's another big benefit to designing electrical dump trucks in an age of tightening regulations on emissions:
Reducing the reliance on diesel by improving efficiency is important for mining trucks because of environmental regulations and cost competition, according to Siemens. Mining companies want to run trucks as many hours of the day as possible while still meeting environmental rules.