World's Largest Digital Art Display Will Go Live This Fall in Chicago
Art deco landmark Merchandise Mart will be lit up across nearly 3 acres of its river-facing façade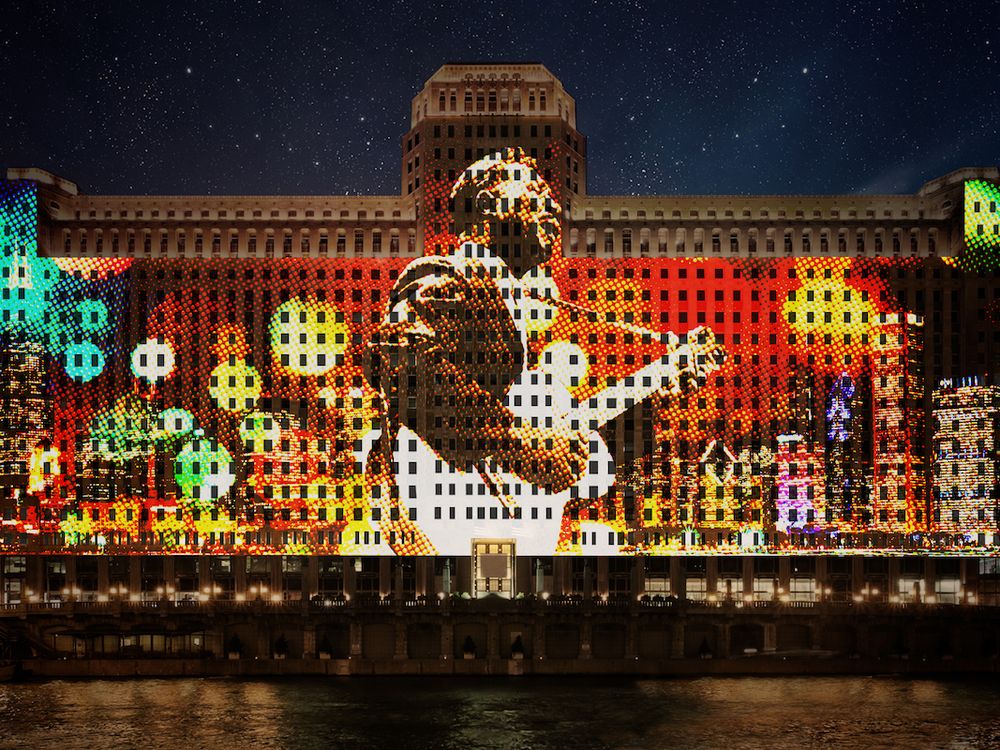 When Chicago's Merchandise Mart opened in 1930, commanding two-and-a-half city blocks in the city's downtown Loop, it was the world's largest building.
That title stood for more than ten years, until the art deco building was usurped by the Pentagon outside Washington, D.C., in 1943. Now, the historic space is poised to take on a new "world's-largest" mantle—this time for its art. A new initiative will turn its limestone exterior in the world's largest digital art display, reports Jay Koziarz for Curbed Chicago.
Called 'Art on theMart,' the permanent large-scale lighting installation will be a digital canvas spanning across nearly 3 acres of its river-facing façade. The project was announced Sunday by Chicago Mayor Mayor Rahm Emanuel, the city's department of cultural affairs and special events, and property owner Vornado Realty Trust, who will fund the large-scale installation.
The San Francisco-based Obscura Digital, which has created temporary video projects on the façades of the Guggenheim Museum, Sydney Opera House and the Vatican, will lead the project, in partnership with local architecture firm Valerio Dewalt Train Associates, Koziarz reports.
The display is expected to go live in October 2018 with 34 projects mounted above the riverwalk projecting images onto the Mart façade, according to Steve Johnson of The Chicago Tribune.
Jon Seidel at The Chicago Sun-Times reports that the project will only screen public art, not commercial or sponsored content. Artists will be allowed to submit their work for possible projection, and a board overseeing the curation of the display, which will include representatives from the Mart the city and the arts community, is currently in the works. 
While hours of display are still being worked out, the Mart's chief operating officer Myron Maurer tells Johnson that it could run for a couple of hours a night, five days a week.
The Merchandise Mart, originally designed to serve as a central marketplace for stocking retailers, and ​now the home of art galleries, tech incubators and wholesale decorating showrooms, alike, has changed quite a lot over the years. But it has remained a Chicago landmark—one that promises to be even more luminous come fall.