The World's Largest Cruise Ship Is Nearly 1,200 Feet Long
Scheduled to debut in January, the vessel can accommodate 5,600 guests and 2,350 crew members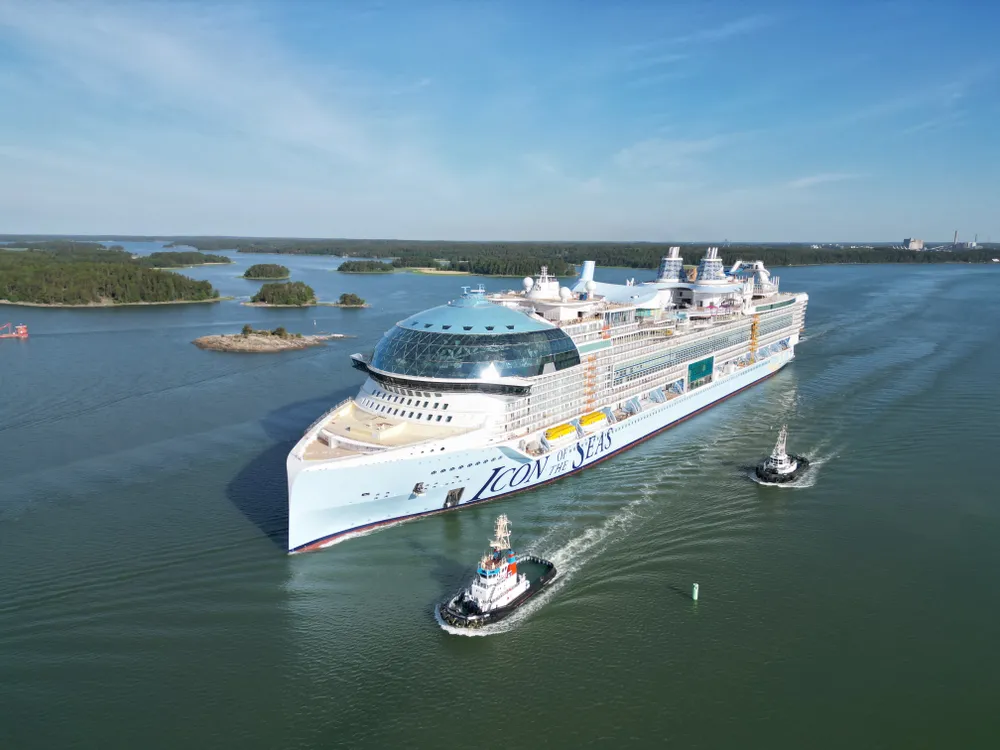 The world's largest cruise ship is almost ready to set sail.
Royal Caribbean's massive new ship, Icon of the Seas, passed its inaugural round of sea trials with flying colors, bringing it one step closer to hitting the open ocean with passengers, the cruise line announced late last month. If all goes as planned, the record-breaking vessel will begin sailing in the Caribbean in January 2024.
Just how big is Icon of the Seas? Really big. As Jalopnik's Ryan Erik King writes, it's the size of five Titantics. More specifically, Icon of the Seas measures 1,198 feet long—nearly a quarter of a mile—and has a gross tonnage of 250,800. All that space means it can accommodate 5,600 guests and 2,350 crew members.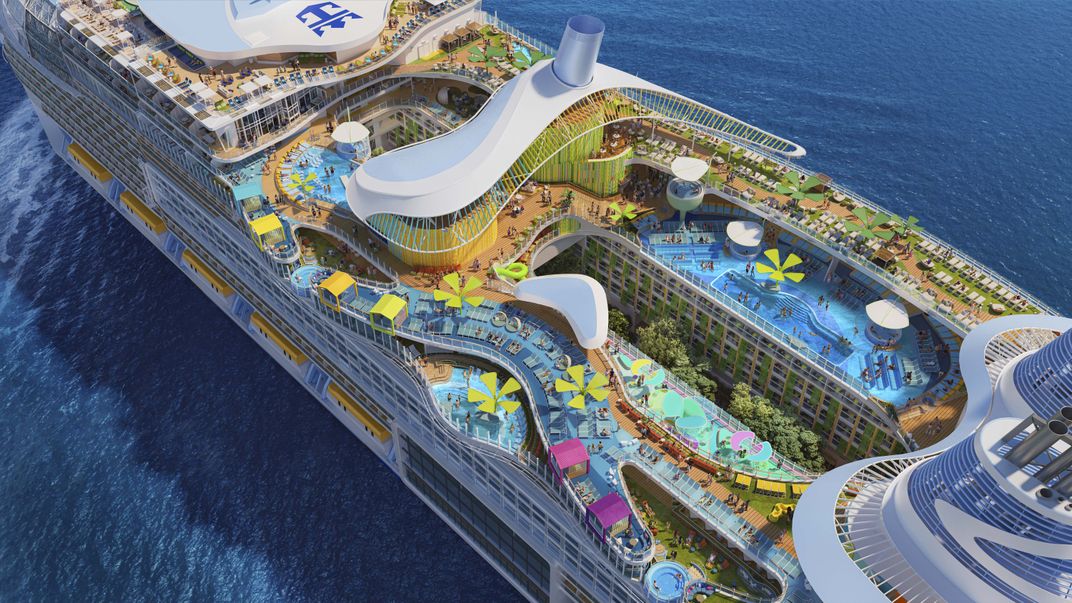 The cruise line is positioning the vessel as "the ultimate family vacation," as CEO Michael Bayley told reporters earlier this year, per CNN's Maureen O'Hare.
"When you step back and look at all the energy and time that has gone into creating this ship, it is mind-blowing," he added.
The previous world's largest cruise ship was also a Royal Caribbean vessel, Wonder of the Seas, which spanned 1,188 feet long and featured 18 decks.
Crews in Turku, Finland, began work on Icon of the Seas in 2021. Last month, the vessel sailed the open ocean for the first time, as staffers spent four days testing the main engines, hull, brakes, steering system and other components. They also measured noise and vibration levels.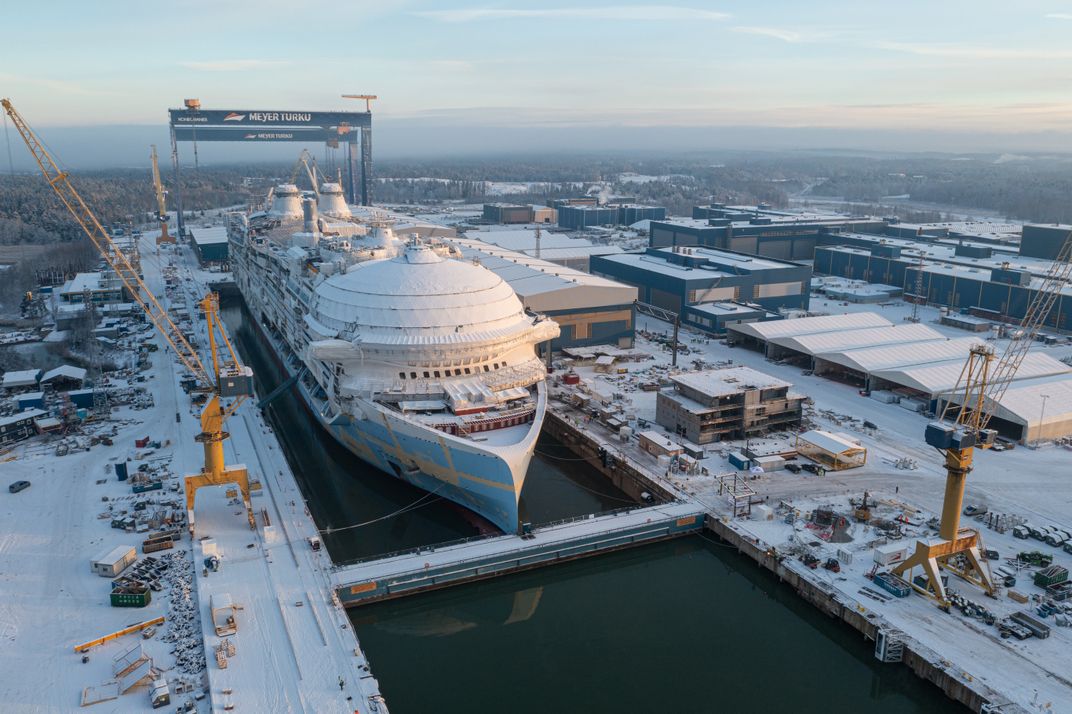 The vessel will undergo another round of sea trials later this year before officially launching in Miami early next year, according to Royal Caribbean. Icon of the Seas will primarily take cruisers to the islands of the eastern and western Caribbean on seven-night itineraries.
With progress on Icon of the Seas moving along, Royal Caribbean has already started building another large "icon class" ship. The cruise line expects that unnamed vessel to launch in 2025, per a statement.
Icon of the Seas has 20 total decks, 7 swimming pools and 8 "neighborhoods," or distinct areas with entertainment and dining. Another noteworthy feature is Category 6, which will be the largest waterpark at sea when Icon of the Seas sets sail.
The ship will be equipped with a special grooming robot that will clean the hull whenever it's in port to help reduce drag and improve fuel efficiency by 3 to 4 percent, reports TTG Media's Charlotte Cullinan.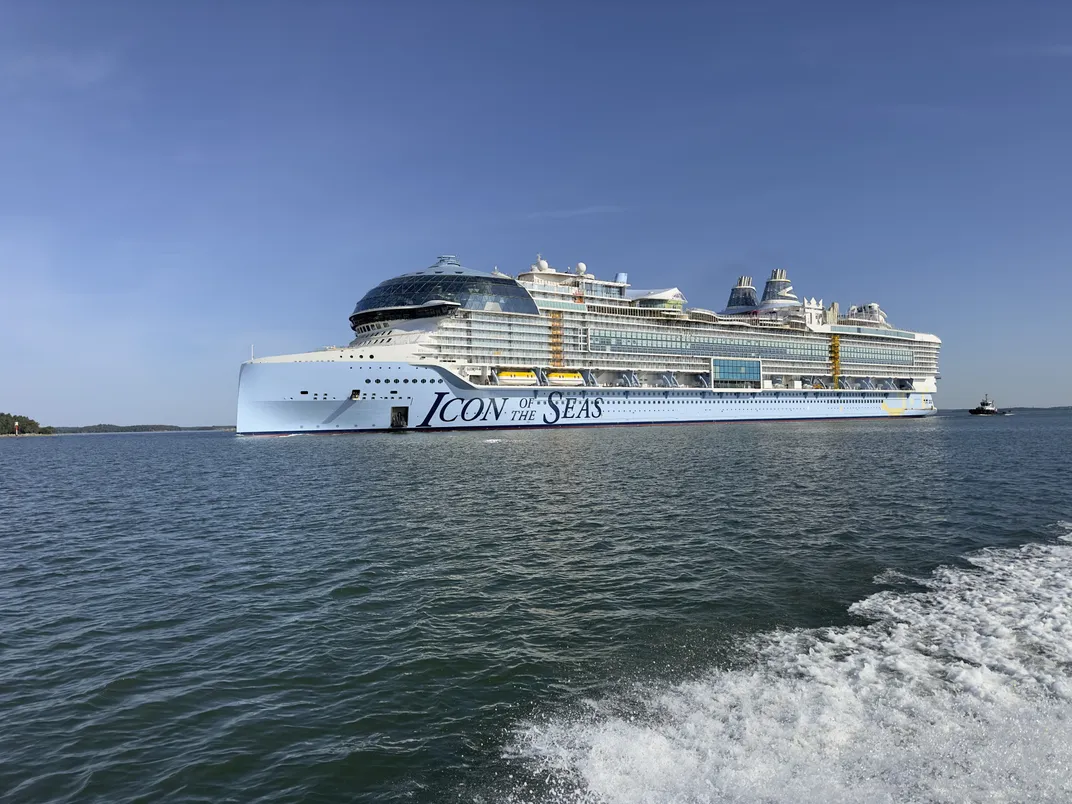 Icon of the Seas will also be the first ship in the cruise line's fleet to run on liquefied natural gas and fuel cells, which are similar to batteries but do not need to be recharged. Water is the main byproduct of fuel cells—which combine oxygen and hydrogen to produce energy—which should help the ship reduce its greenhouse gas emissions.
Liquefied natural gas, meanwhile, is a controversial energy source that involves cooling natural gas to a liquid state to make it easier to transport. The liquid version is "actually worse than ordinary gas," writes the Natural Resources Defense Council. "The energy required to chill, ship and regasify the fossil fuel makes it far more carbon-intensive and increases the potential for leakage of dangerous methane," according to the organization.
Royal Caribbean's leaders say they view liquified natural gas as a "transitional fuel," and that they hope to continue to reduce the environmental impact of their ships moving forward. 
"[Liquefied natural gas] is about 20-30 percent better for the environment [than heavy fuel oil], but it's still not going to be the solution," Bayley tells TTG Media. "We don't know the answer, but the whole industry is working towards the answer."