The World's First Motel Was a Luxury Establishment, Not a Dive
The first motel was supposed to turn into a chain, but it was quickly overtaken by cheaper competitors.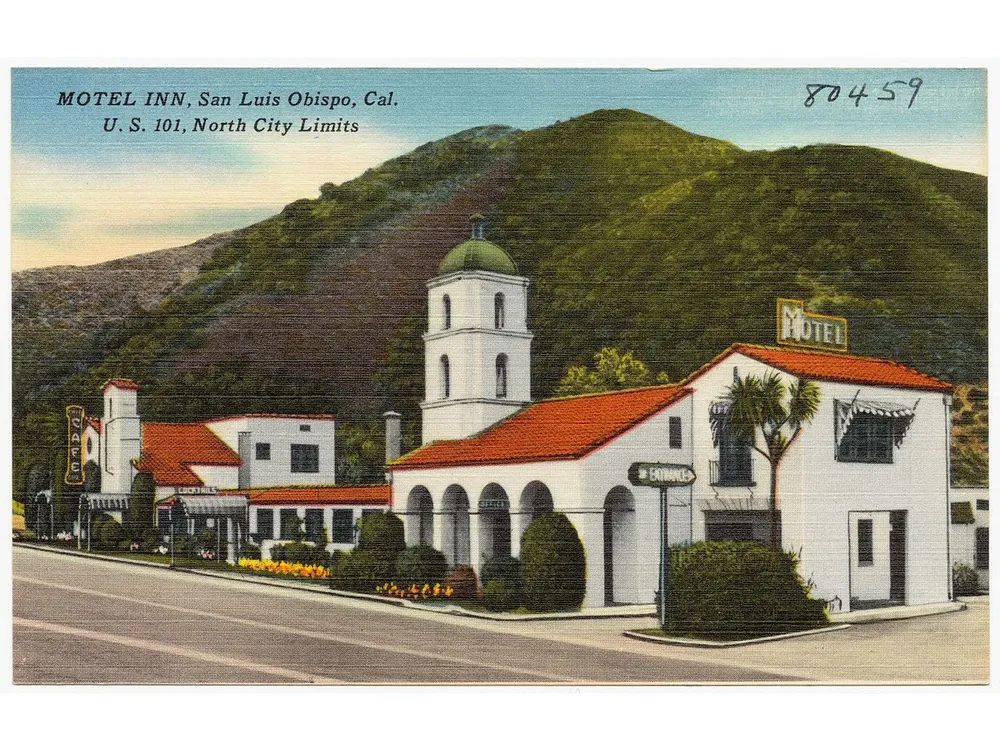 The year was 1925. Across the country, thousands were touring in their cars. Auto travel was becoming normal. 
But on this day in San Luis Obispo, a town roughly between Los Angeles and San Francisco in California, something totally new was happening. An architect and developer named Arthur Heineman had spotted a niche in the market. His response: the Milestone Mo-Tel Inn.
Heineman created a hotel designed specifically for drivers, writes Eric Zorn for the Chicago Tribune. It had small garages next to several dozen bungalows. Use of one cost a motorist $1.25 per night, about $17.00 in today's money. Heineman shortened "motor hotel" down to "Mo-Tel," and a term was born.
It was luxurious for the 1920s, wrote Kristin Jackson for the The Seattle Times two years after the motel closed in 1991. "It cost $80,000 to build in its ornate Spanish-mission style, with a three-tiered bell tower, white pillars, and a tree-fringed courtyard," she wrote. "In those days most American car travelers still were staying in campgrounds or tiny wood cabins (some about the size and style of chicken coops) that were clustered by a gas station or general store."
Up to 160 people could stay at the motel. According to David Middlecamp of the Tribune, units had modern conveniences like showers, central heating and carpet, he writes, and there were even rooms for chauffeurs.
Jackson spoke to Marcella Faust, who as a young woman was one of the establishment's first waitresses. Faust described how the waitresses were dressed—"Spanish-style," including a vest and a "big hat with roses on it"—and their varied tasks, which included handing out brochures at the roadside.
"We'd stand out there on the road in our big hats," she said. "My girlfriend would work the cars going north, I'd work the ones going south. They were Model A's and Model T's back then, so they'd have to go pretty slow up the steep hill there. We'd just stand there and wave and hand them the booklets as they went past."
It wasn't long before the Milestone had competition from other motels. Heineman had originally planned to open a chain with 18 California locations, Jackson wrote, but he wasn't successful. The Great Depression meant that motel chains opted for less luxe styling, Zorn writes. The Milestone, eventually renamed the Motel Inn, closed in 1991 and then the site fell into disrepair. Even the word "motel" has been slipping out of favor, he writes. But across the country, motels remain part of American road culture.
 "Motels opened up the American road to those who were neither rugged enough for car camping nor wealthy enough to stay in 'real' hotels," Zorn writes. "In a way that's largely unsung, they aided our transformation to a mobile culture."