Woman Finds Mastodon Tooth on California Beach
The photos she shared set off a search for the fossil, which she had left behind. Now, scientists have the tooth, just the third of its kind found locally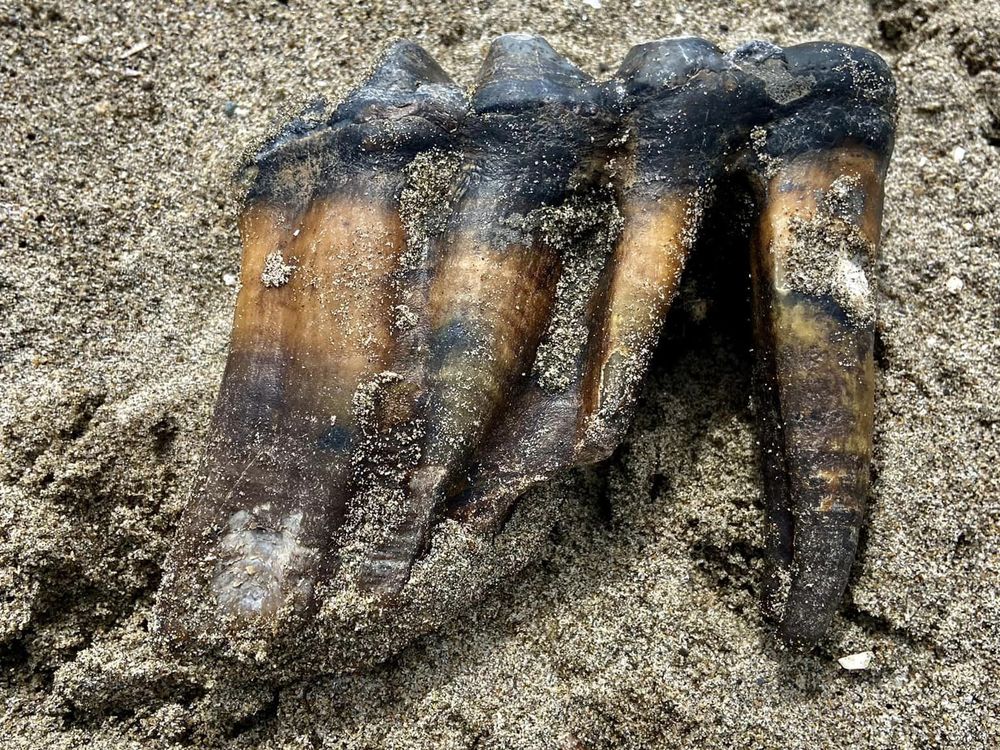 Tourist Jennifer Schuh was strolling along a California beach on Memorial Day weekend when she spotted an odd object sticking out of the sand. It was about a foot long and "looked kind of weird, like burnt, almost," Schuh tells the Associated Press. Unsure what it was, she snapped a few pictures and posted them on Facebook. 
Her post caught the eye of Wayne Thompson, paleontology collections advisor for the Santa Cruz Museum of Natural History, who quickly identified the object as a molar tooth from an extinct, prehistoric Pacific mastodon. Thompson commented that it was "an extremely important find" and asked Schuh to call him, according to a statement from the museum. But by the time they returned to where she had found the tooth, it was gone. 
"She didn't know what it was, the importance of it. It looks like a piece of old firewood," Thompson tells Amy Larson of KRON4. "So, she left it there. It's understandable." 
In an effort to find the rare fossil, the museum sent out a plea on social media asking if anyone had recovered the tooth or had information on its whereabouts. Local and international news outlets picked up the story, and a few days later, local resident Jim Smith called the museum, per the statement. Smith had picked up the bone while on a jog, thinking it might have belonged to a whale, but he recognized it as the missing tooth when he read a news story about it, the museum tweeted.
Jim Smith called the Museum on Tuesday morning to let us know that he had something we and so many others had been searching for...

(1/7) pic.twitter.com/6DELk5GIeN

— Santa Cruz Museum of Natural History (@SantaCruzMuseum) June 3, 2023
"I was so excited to get that call," Liz Broughton, visitor experience manager at the museum, says in the statement. She adds Smith was thrilled to learn the tooth belonged to a mastodon and "eager to share it with the museum."
He transferred the specimen to the museum later that day, and it temporarily went on display last weekend. Next, scientists and state park officials will study and care for the tooth.
Mastodons were hairy, elephant-like creatures that first appeared on Earth around 27 to 30 million years ago and went extinct about 10,000 years ago. These animals were distant relatives of woolly mammoths, though they were slightly smaller, standing at around eight to ten feet tall. Like mammoths and modern elephants, mature mastodon females and their young likely lived in herds, while males remained mostly solitary. 
The tooth is only the third mastodon specimen recorded locally in the Santa Cruz area, per the AP. The museum also has a juvenile mastodon skull discovered in 1980 by 16-year-old Jim Stanton on permanent display. The newly discovered tooth likely belongs to a male mastodon in its 30s or 40s, and it's thought to be less than one million years old.  
"It's super, super, super important for understanding elephant life in Santa Cruz County during the last Ice Age. There are only a few mammoth specimens, and mammoths are more common than mastodons," Thompson tells KRON4. "It's a piece of Santa Cruz history."