Someone Stole Dorothy's Ruby Slippers in 2005. Now, a Minnesota Man Has Been Charged
While the "Wizard of Oz" shoes were recovered several years ago, authorities hadn't previously named any suspects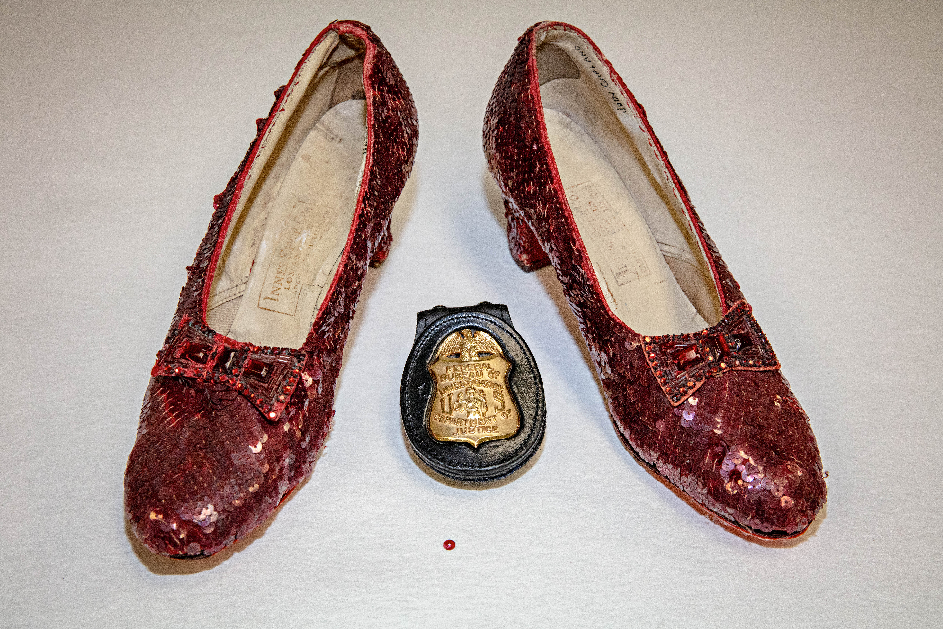 On a summer night in 2005, a pair of ruby slippers featured in the film The Wizard of Oz disappeared from the Judy Garland Museum in Grand Rapids, Minnesota. Curators returned the next morning to find that someone had smashed the display case housing the famous footwear, leaving just one red sequin among the shards of glass. With no cameras at the museum, authorities pursuing the case had little to work with.
The red shoes' whereabouts remained a mystery for 13 years. Then, in 2018, an insurance company reported someone attempting to extort money for information about the missing slippers. The FBI conducted a sting operation and recovered the missing pair, though nobody was arrested at the time.
Now, 18 years after the robbery, authorities may have found their suspect. A federal grand jury has indicted Terry Jon Martin, a 76-year-old Minnesota man who lives just a few miles from the museum, reports the Star Tribune's Paul Walsh. He has been charged with the theft of major artwork.
"It's a break in the case, which is good," Janie Heitz, executive director of the museum, tells the New York Times' Michael Levenson. "We are excited, speechless, anxious." Heitz says that she has also been trying to find out whether Martin had any connection to the museum, though she is certain he was not an employee.
Authorities haven't explained how they found Martin, and what motivated him to steal the slippers is also unclear.
The recovered shoes bear both historical significance and an expensive price tag. Federal prosecutors describe them as "among the most recognizable memorabilia in American film history," adding that they are now valued at $3.5 million—up from the $1 million they were insured for in 2005.
"I have a feeling this is just the tip of the iceberg," says Rhys Thomas, the author of The Ruby Slippers of Oz, a book about the iconic shoes, to the Times. "I don't think a single individual would have opportunistically grabbed the shoes and then sat on them for 13 years and then gotten himself involved in an extortion case."
When the stolen shoes were first recovered, the FBI brought them to the Smithsonian's National Museum of American History, which has another pair from the film in its collections. Curators spent several days carefully comparing the two pairs, ultimately concluding that they seemed to match.
"Because of our conservation work on the ruby slippers, we created basically a library of information about the shoes," Dawn Wallace, an objects conservator at the museum, told Smithsonian magazine's Erin Blasco in 2018. "And we were able to apply that to the pair the FBI brought here and gain more information."
Now, the recovered pair remains in FBI custody, reports NPR's Ayana Archie. Once the case is over, their future is unclear, Heitz tells the Washington Post's Jonathan Edwards, though she hopes they can one day return to the Judy Garland Museum.
"I feel like it would be a really, truly Hollywood ending to this sort of up-and-down life that these slippers have had," she says. "Maybe this is the best place for the slippers. They get to have a happy ending. There's no place like home, right?"