Witness the Document that Set the Trail of Tears in Motion
The Indian Removal Act is on display at the National Archives through June 14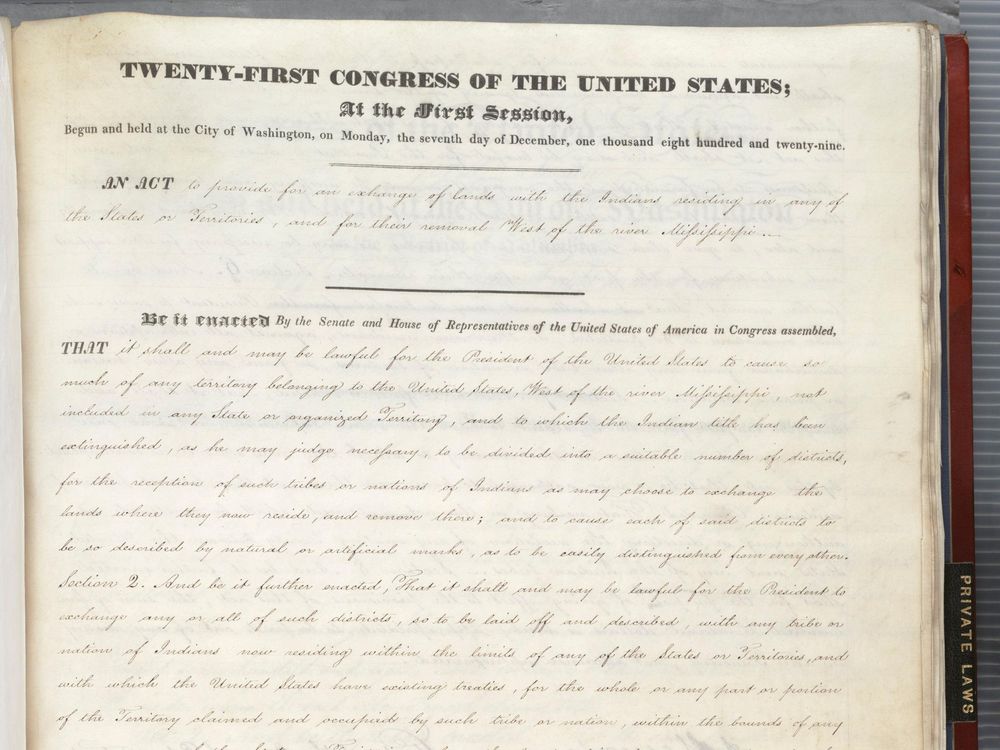 The National Archives is home to some of America's greatest achievements—its Constitution and Declaration of Independence; the Gettysburg Address. But the record of United States history isn't all uplifting, and a handwritten document now on display proves that point. It's called the Indian Removal Act, and it's a simple law with a complicated, cruel history. In 1830, it set the removal of entire groups of Native Americans from the map into motion—and as Allison Meier reports for Hyperallergic, you can see it for yourself at the National Archives through June 14.
The act was passed by Congress and signed into law in May 1830 by President Andrew Jackson. It authorized the president to trade unsettled federal lands west of the Mississippi River for settled Native American-owned lands east of the river. But though Jackson characterized the law as a benevolent one that would benefit the people he called "my red children," it had devastating consequences for Native Americans.
Those that resisted the treaties and relocations were forced out. For example, the government coerced a minority of the Seminole people into a treaty, but when the rest of the nation refused to comply, the federal government sent troops in to remove them. A full-blown war resulted. As the Tribal Historic Preservation Office of the Seminole Tribe of Florida writes on its website, 2,000 Seminole and Creek warriors are thought to have participated in the Second Seminole War, but by the time the war ended, there were only 300 Seminoles left in Florida. Remnants of the Seminole people fought another war until they were finally paid to emigrate West.
A similar fate befell the Cherokee people when a small majority signed a treaty with the U.S. government. But though they were not authorized to do so and a large group of Cherokees protested, the United States Supreme Court ignored their plea and upheld the treaty. Suddenly, the protesters were trespassers on their own land. Despite federal warnings, a majority refused to leave—and in 1838, Cherokee people were rounded up, placed in camps and stockades, and rushed from their ancestral lands in Georgia, North Carolina, Tennessee, and Alabama to what is now Oklahoma. Of the 15,000 forced on the trek, over 4,000 people perished along the way, earning the dark mark in history the name "Trail of Tears."
Forced removal was not the only legacy of the Indian Removal Act. Stripped of their ancestral lands, Native Americans were left to build new lives in unfamiliar, unsettled territory. And though they persisted, the impacts of removal can still be felt today among Native Americans who still struggle with intergenerational trauma.
It's the first time the Indian Removal Act has been on display at the National Archives, Meier reports. The document is displayed in the Landmark Document Case at the Rubenstein Gallery, where the National Archives keeps a rotating collection of influential documents.