This Is the Winning Design for the New World War I Memorial
One hundred years later, WWI will finally get a large-scale memorial in Washington, D.C.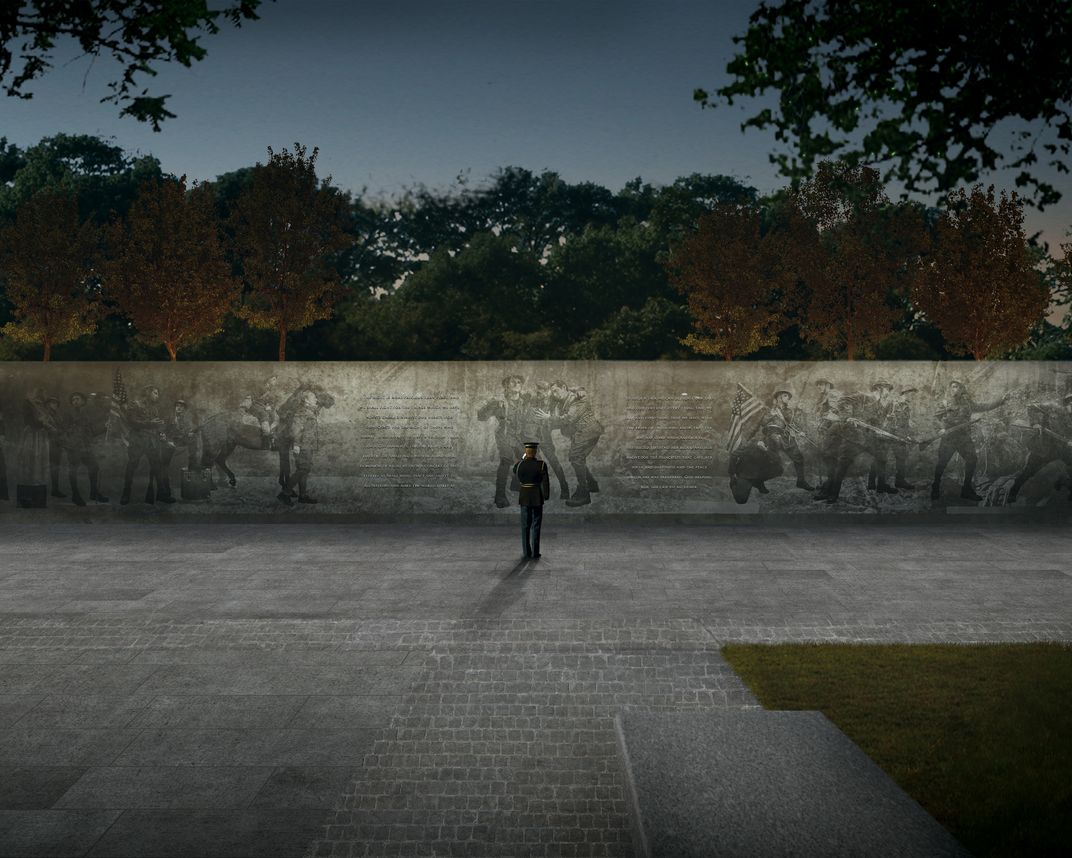 The United States military was involved in World War I for just 585 days, but during that time, the country mobilized more than 4.3 million forces. Experts estimate that approximately 208,502 of those soldiers were wounded, missing or taken prisoner, while 116,516 were killed. This number, specifically, will take on new significance through the upcoming World War I memorial to be built in Washington, D.C. Officials announced yesterday that they have selected a winning design for the memorial—which will use each cubic foot of space to represent an American soldier lost during the so-called Great War.
Joe Weishaar and Sabin Howard's winning proposal, The Weight of Sacrifice, was chosen out of more than 350 total designs. World War I is the last major war to be commemorated on a larger scale in D.C., a fact that has rankled with people who want to preserve the memory of the enormous toll the war took Americans at home and on the front.
But the park-like memorial, which features sculptures that the proposal says "stress the glorification of humanity and enduring spirit over the glorification of war," won't be on the National Mall. (New construction on the Mall is prohibited by law.) Rather, it will be located in Pershing Park near the White House—a park that already houses a smaller scale World War I memorial.
The location of the new memorial has been controversial since President Obama approved it in 2014. As Kriston Capps wrote for CityLab last year, preservationists wanted the existing memorial to be restored, instead. The New York Times' Nicholas Fandos writes that the announcement has renewed calls to protect Pershing Park, but that commission members who chose the design say to expect that the park will likely undergo significant changes.
Right now, the proposed memorial will feature a relief sculpture, quotations by soldiers and a freestanding sculpture. In a release about the proposed design, the design team writes that the memorial will both mourn the losses of the war and point to the freedoms that the soldiers who died fought for.
Chicago-based Weishaar, a 25-year-old architect who hasn't even earned his license yet, tells the Chicago Tribune's Katherine Skiba that he had never been to Washington, D.C., before being named a finalist. Rather, writes Skiba, he "scoured Google maps of the capital online and studied video of buildings near what is now Pershing Park," where the memorial will be placed. Weishaar did visit D.C. for the last round and officials say that his choice of pairing up with Howard, a veteran sculptor, was a good one. The memorial is expected to open in late 2018 to coincide with centennial commemorations of Armistice Day.