Anti-Apartheid Crusader Winnie Madikizela-Mandela Dies at 81
The activist who died Monday in Johannesburg after a prolonged illness left behind a polarizing legacy in South Africa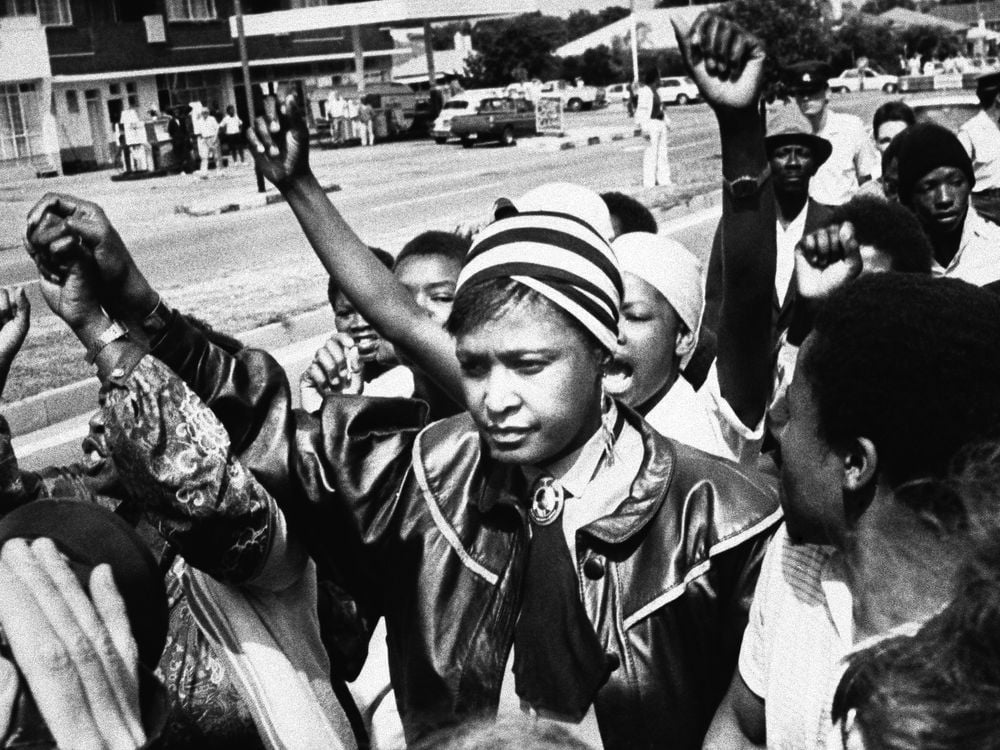 Anti-apartheid champion Winnie Madikizela-Mandela died in the early hours of Monday morning. According to a statement from her family, Madikizela-Mandela, born Nomzamo Winifred Zanyiwe Madikizela, had been suffering from an illness since the beginning of the year and was admitted to the Netcare Milpark Hospital in Johannesburg​ over the weekend. She was 81.
The activist and politician waged a courageous fight to liberate black South Africans from repressive white-minority rule, but her legacy is a polarizing one, embroiled in several high-profile scandals and crimes, reports the South African Broadcasting Company.
Born in 1936, Madikizela-Mandela trained as a social worker, and according to Blackpast.org, she was notably the "first qualified black medical social worker" ​at the Baragwanath Hospital in Johannesburg​. ​After her then-husband Nelson Mandela was imprisoned in Robben Island in 1964, Alan Cowell at The New York Times reports that Madikizela-Mandela served as his spokesman and conduit during the next 27 years of his sentence as a political prisoner.
Madikizela-Mandela was an active participant in the anti-apartheid struggle in her own right. She was arrested several times for her efforts, including being sent to prison in 1969 for 17 months, where she spent the majority of the sentence in solitary confinement, according to David Beresford and Dan van der Vat at The Guardian.
In 1977, she was banished to an area of South Africa known as the Orange Free State. The place she was forced to live in internal exile, Cowell characterizes as a "profoundly conservative white" town. There she faced poverty, police harassment and deep isolation after she arranged for her younger daughter to live a better quality of life with friends in Johannesburg. She took to drinking heavily during her enforced stay and was allegedly involved in several violent incidents, according to the Guardian.
When she was allowed to return to her home in Soweto in 1985, she continued speaking out against apartheid, but her reputation became even more linked to violence when she gave a speech endorsing "necklacing," which involved putting a gasoline-dipped tire around a persons neck and lighting it on fire as punishment for "traitors" to the cause.
Madikizela-Mandela was later accused of carrying out a "reign of terror" during this period with her protection force, the Mandela United Football Club. In 1991, she was convicted of orchestrating the 1988 kidnappings of four boys, including 14-year-old Stompie Seipei, who was found with his throat slit near the Soweto​ township. Madikizela-Mandela was sentenced to six years in prison, though her punishment was reduced to a fine. She always denied any knowledge of Seipei's murder.
During that same year in 1991, Madikizela-Mandela was also appointed to the executive board of the African National Congress (ANC), Blackpast.org notes. The following year, Nelson Mandela announced publicly that the couple had separated. After he was elected president of South Africa in 1994, Cowell reports, he appointed her as deputy minister of arts, culture, science and technology. But after just 11 months she was dismissed for bribery and misusing government funds. In 1996, the Mandelas officially divorced.
In the last decades of her life, she continued to court controversy. In the late 1990s, during Africa's truth and reconciliation period, former club members alleged she was involved in 18 cases of murder or assault. As elected head of the ANC Women's League, she was again accused of fraud and sentenced to three-and-a-half years in prison in 2003, a sentence overturned on appeal. After Nelson Mandela's death in 2013, she became embroiled in disputes with her daughters and other relatives over his estate. But her popularity among South Africans remained strong. She won a seat in parliament in the 2009 elections, which she held until her death. In 2016, she was awarded the Silver Order of Luthuli for her role as an anti-apartheid activist.
In a 2013 profile of Madikizela-Mandela in The New York Times, Rick Lyman wrote that in the last years of her former husband's life, Madikizela-Mandela made an effort to shore up her legacy by emphasizing her anti-apartheid work and her connection to Nelson Mandela. "Winnie has argued that she played 80 percent of the role in elevating his status while he was in prison," William Gumede a scholar studying the ANC told Lyman. "What she wants now is not so much political power as a place in the Mandela family."
The statement released by her family on the occasion of her death echoes this part of her legacy. Though it glosses over the complexity of her life, it articulates why the polarizing activist remains a source of inspiration for people today. "She kept the memory of her imprisoned husband Nelson Mandela alive during his years on Robben Island and helped give the Struggle for justice in South Africa one of its most recognizable faces," it reads. "She dedicated most of her adult life to the cause of the people and for this was known far and wide as the Mother Of The Nation."