Jive to the Academic Beat With This Year's "Dance Your Ph.D." Winners
Sometimes explaining complex scientific research requires a cow doing the worm, glittering e. coli and an immune cell with a killer plie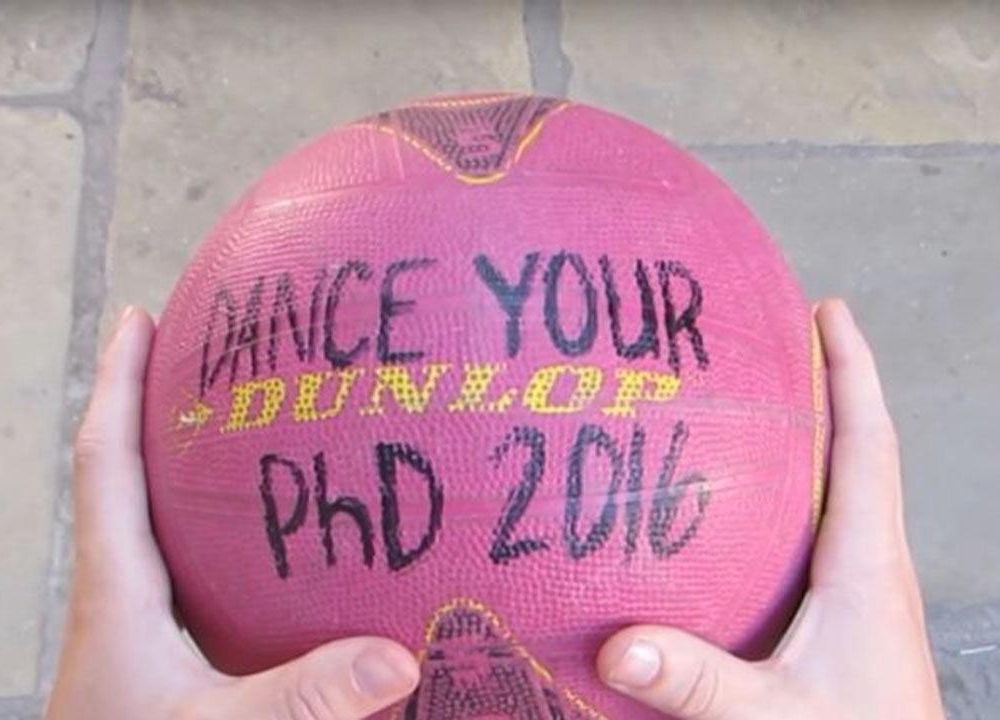 Many scientists know the pain of meeting a stranger at cocktail party or sitting down at Thanksgiving and getting this question: So, what's your research about?
Though trying to distil the function of mRNA in gene expression into a few minutes of intelligible chit chat may seem as hard as earning a Ph.D., the ability to communicate complex research to the general public is of the utmost importance.
So to help academics everywhere, American Association for the Advancement of Science launched the annual "Dance Your Ph.D." contest. Now in it's ninth year, the contest requires grad students translate their often complex research into a new format, giving them a different perspective on their work and a chance to communicate their findings with the public. It's also fun.
This year's winner, biomedical engineering student Jacob Brubert of Cambridge University explained the intricacies of his research developing a new biocompatible artificial heart valve using a salsa dancing cow and pig, tap dancers, and funky surgeon, hula-hoops and overexcited polymers. The video took "some very willing friends" a few weekends to produce, but it earned Brubert $1,000 and a trip to Boston next year to present his video at the AAAS meeting. "My adviser thought I was crazy, but he was supportive," Brubert, now at Oxford, says in the press release.
The winning entry in the biology category comes from Carla Brown at the University of Glasgow, who illustrates the development of antibiotic resistance using glitter-covered modern dancers to represent infectious bacteria engaging in dance fights with antibiotics not seen since the first Zoolander.
In the social sciences category, Margaret Danilovich of Northwestern University's Feinberg School of Medicine speeds up and slows down Daft Punk's "Harder, Better, Faster, Stronger" as dancers progressively stiffen while popping and locking to show the effects of muscle loss during aging. Training caregivers to help their patients exercise, however, helps improve frailty and quality of life, the dance shows, resulting in a chair dance between a caregiver and an "elderly" patient at the end.
Evgeny Sogorin of the Institute of Protein Research in Moscow, winner of the chemistry category, shows the highly choreographed way ribosomes prevent "jamming up" while moving along DNA strands to express genes through ballroom dance. The black-and-white film with caption cards in between scenes is reminiscent of a silent movie. But the most impressive feat is convincing so many friends to dress in tuxedos.
The people's choice award went to Emmanuelle Alaluf of the Free University of Brussels. Her study on myeloid-derived heme oxygenase-1 helps explain how cancer cells avoid detection by the body's t-cells and immune system. Her video, which looks like a charming low-budget version of Swan Lake, captures the gist of this complex process.
Last year, the prize went to Florence Metz who danced around with a giant snifter of contaminated water to represent all the parties involved in creating water policy. In 2014, biologist Uma Nagendra performed circus aerials to explain her research on how tornadoes negatively impact parasitic fungus, allowing tree seedlings to grow.