Scorched Earth from Ireland Fire Illuminates WWII-Era Sign
The site is one of more than 80 'Éire markings' that proclaimed Ireland's neutrality during the war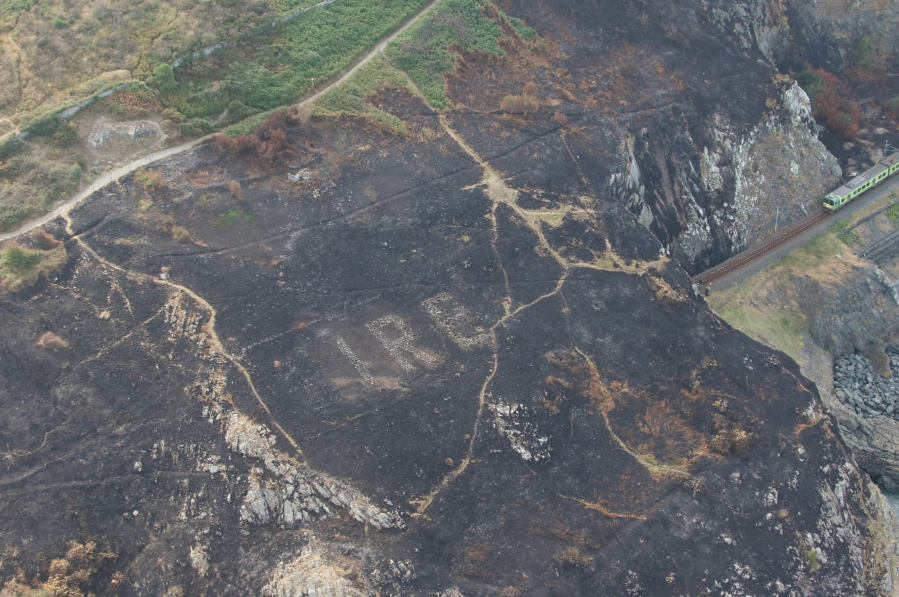 Last month, a wildfire raged across Bray Head, a rocky headland on the east coast of Ireland. The blaze burned through plant life in the area, and when the flames subsided, they revealed a surprising historic relic that had been buried for decades beneath the foliage: a World War II-era sign.
As Rachel Thompson reports for Mashable, pilots with the Garda Air Support Unit, which is part of the Republic of Ireland's police force, first spotted the word Éire, which means "Ireland" in Gaelic, carved into the headland as they worked to extinguish the fire. The block-lettered sign is one of at least 82 so-called "EIRE markings" that once dotted the Irish coast as a signal to wartime pilots.
Ireland declared a position of neutrality during WWII, and in 1939, the Irish Coast Watching Service was established to keep an eye out for activity on the sea and in the air. Watchmen were stationed in small lookout posts at various sites along the coastline, and in the early 1940s, they were tasked with making the Éire markings to let fighter pilots know that they were flying over neutral territory. The signs, which were carved into the ground and whitewashed, also included the number of the lookout post "LOPs" that was stationed nearby. The Bray Head sign was associated with LOP number eight.
Despite being officially neutral, Ireland often co-operated with Allied forces during the war, and the Éire markings were in fact used as important navigational tools for Allied pilots. According to RTE, the lookout post numbers were added to the Éire signs at the request of the United States Air Force, so American bombers would have a helpful guide as they crossed the Atlantic.
Only about a dozen of the 82 Éire markings survive today, and most of them are not well preserved. The recently discovered sign, however, is in relatively good condition, reports Avery Thompson of Popular Mechanics. Some of the Éire marking sites have been restored; it is not yet clear whether steps will be taken to preserve the newly uncovered sign from Ireland's wartime past.