Is This a Photograph of Vincent Van Gogh?
Some scholars think the camera shy artist can be spotted in an image taken by an amateur photographer, while others disagree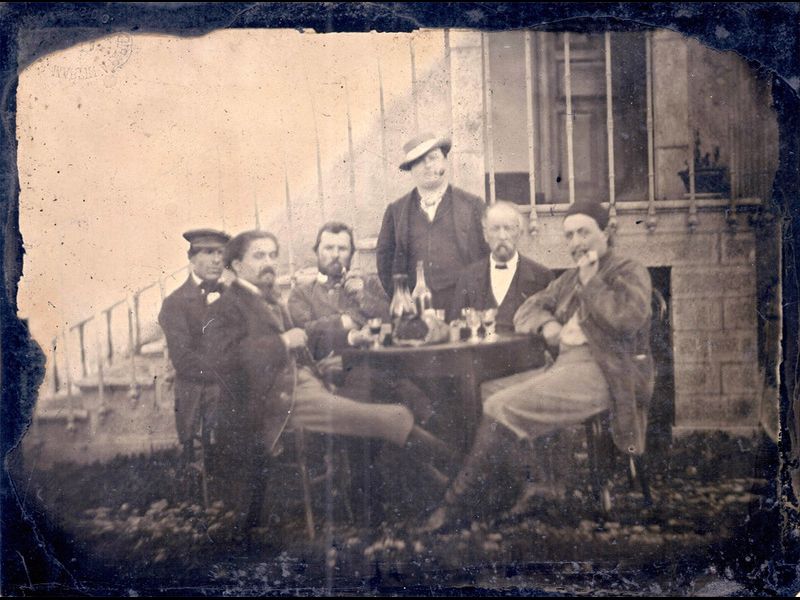 In the photograph above, the scruffy gentleman sitting to the left of the man standing might look slightly familiar. Some photographic scholars think he's Vincent Van Gogh. But if you didn't recognize him, that's okay, not everybody even agrees that it's him.
The photograph went up for auction at Romantic Agony in Brussels last week, Michael Zhang reports for PetaPixel. Two art history buffs with an interest in 19th century painters had stumbled upon it at an estate sale two years earlier, as photo historian Serge Plantureux writes for L'Oeil de la Photographie. Thinking they recognized the people in the image, they presented it to Plantureux for authentication. Plantureaux recalls:
I tried to avoid making a judgment too quickly and considered how I should react. I didn't want to start doing what Americans call "wishful thinking," that trap into which collectors and researchers fall, where their reasoning is governed only by what they want to see.
Taken in 1887, the photograph is a tintype or melainotype — a style of metal plate photography popular in the late 1800s and early 1900s. A few other famous faces are believed to be present in the image, notes Sarah Laskow for Atlas Obscura. Two of Van Gogh's post-impressionist painter pals sit at the table: Émile Bernard is second from the left, and Paul Gaugin is at the far right. The amateur photographer behind the image is believed to be Jules Antoine, brother of French actor André Antoine (standing).
But, there are a few reasons to remain skeptical, as Christopher Jobson writes over at This is Colossal: for one thing, Van Gogh does not mention the gathering in his letters. And according to Dutch News and Parool, he photo expert at the Van Gogh museum in Amsterdam simply doesn't see a likeness. Van Gogh also notoriously despised photography. As Zhang points, only two photographs of the artist exist, one taken at 13 and one at 19.
The site Photography reports that the image did not meet its asking price of $136,000, perhaps due to questions about its authenticity. Negotiations are now underway for a lower sum.