Why the Talking Heads' 40-Year-Old Concert Film Still Mesmerizes
"Stop Making Sense," known as one of the greatest movies of its kind, returns to the big screen
For a moment, the shadow of a guitar appears. It's quickly replaced by a set of white sneaker-clad feet, walking through a doorway and toward a cheering crowd. The feet stop at the base of a microphone as their owner lowers a boombox into the frame. "Hi," he says. "I got a tape I want to play."
As the music begins, the camera pans up to reveal a young man in a gray suit. He bucks his head backward and forward in a peculiar, stilted jerking motion. He stares ahead, his face locked in a stiff deadpan. He's David Byrne, frontman of the Talking Heads, and he's about to make music history.
This is the opening scene of Stop Making Sense, which is widely considered one of the best concert films of all time. Released in 1984, it features footage from three nights of performances in December 1983. Now, to mark the concerts' 40th anniversary, production company A24 has released a 4k restoration of the film. It arrives in theaters on September 29, allowing a new generation to witness the show on the big screen.
"Looking at my younger self is a really strange experience," Byrne, now 71, tells the New York Times' Jon Pareles. "He's doing things that are profoundly odd, but kind of inventive. But also, he's very serious and intent on what he's doing."
Directed by Jonathan Demme, Stop Making Sense was made while the band was promoting its fifth album, Speaking in Tongues. The meticulously choreographed production introduces one core band member with each song. After Byrne finishes a solo rendition of "Psycho Killer," bassist Tina Weymouth joins him on stage for "Heaven." Drummer Chris Frantz arrives next for "Thank You for Sending Me an Angel," with guitarist and keyboardist Jerry Harrison finally appearing for "Found a Job." A number of backup singers and musicians also feature in the show.
In just under 90 minutes, the band members stage a dreamlike performance that pairs technical finesse with visual invention. The film is known as much for its music as it is for the images it emblazoned in cultural memory, such as Byrne dancing with a floor lamp or donning his famous oversized suit. Because the live audience is rarely shown, film audiences feel as if they're watching a performance staged just for them, rather than a recording of a performance staged for faraway crowds on an evening in 1983.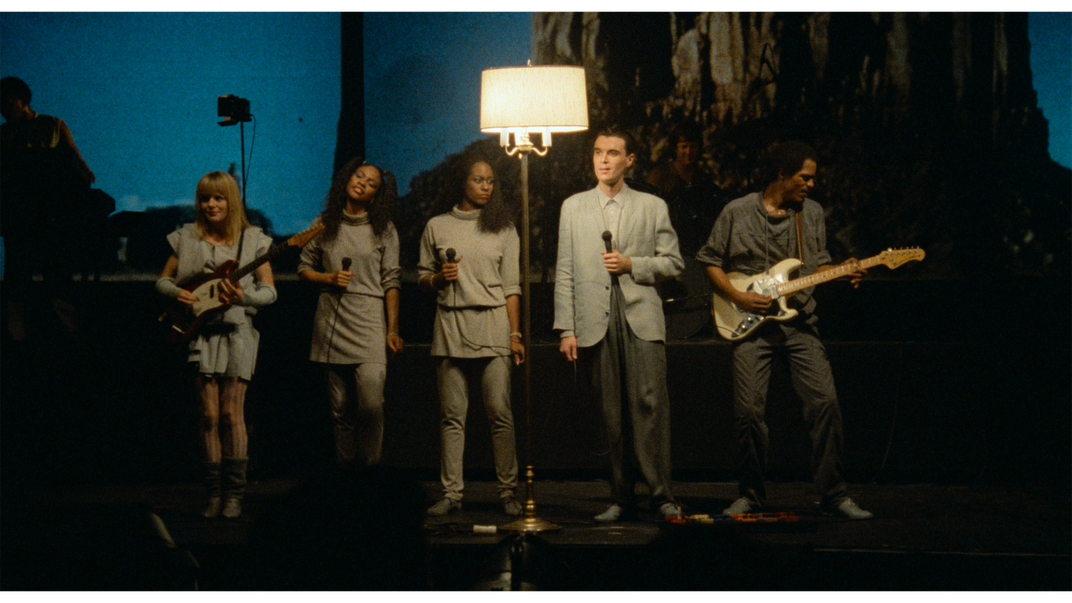 "We exude that we're having fun on stage, and that comes out to the audience," Harrison, 74, tells USA Today's Patrick Ryan. "In a lot of concert films, it's interesting to zero in on a guitar player's hands, but it's not exactly fun. Jonathan did a wonderful thing of capturing the personalities and the interactions between [us]."
With 40 years of hindsight, Byrne's reflections are slightly different. He now realizes that he didn't smile much, at least not in the film's beginning chapters. As he tells the Times, "The joy is not visibly apparent, but it's there."
New #4K restoration of STOP MAKING SENSE opens this Fri, 9/29! https://t.co/f7jEwICpuu

— AFI Silver (@AFISilver) September 27, 2023
To restore Stop Making Sense, A24 hired a forensic film expert to track down the original negatives, per the Times. The new remaster premiered in early September at the Toronto International Film Festival, where the former band members gathered to discuss it in a live Q&A. (The group's breakup in the 1990s was messy, and the four hadn't appeared together since 2002, when they were inducted into the Rock & Roll Hall of Fame.) The premiere was also livestreamed to audiences at more than 150 theaters, becoming IMAX's highest-grossing live event ever after bringing in $640,839.
Byrne hasn't seen the film in about a decade. "I'm kind of looking at it and thinking, 'Who is that guy?' I mean, I'm impressed with the film and impressed with our performance," he tells NPR's Steve Inskeep. "But I'm also having this really jarring experience of thinking, 'He's so serious. He's very intent. He kind of loosens up toward the end, but in the beginning, he's really focused.'"
These days, Byrne is "a little bit more easygoing" and "a little more comfortable talking to people," he adds. Still, he acknowledges that the theatrical angst was perhaps part of the appeal: "I think there might have been something attractive about watching this guy going through this struggle in front of your eyes."