Why JFK Kept a Coconut Shell in the Oval Office
During this week in 1943, a 26-year-old Kennedy and his crew were marooned on a deserted island and then rescued thanks to two daring men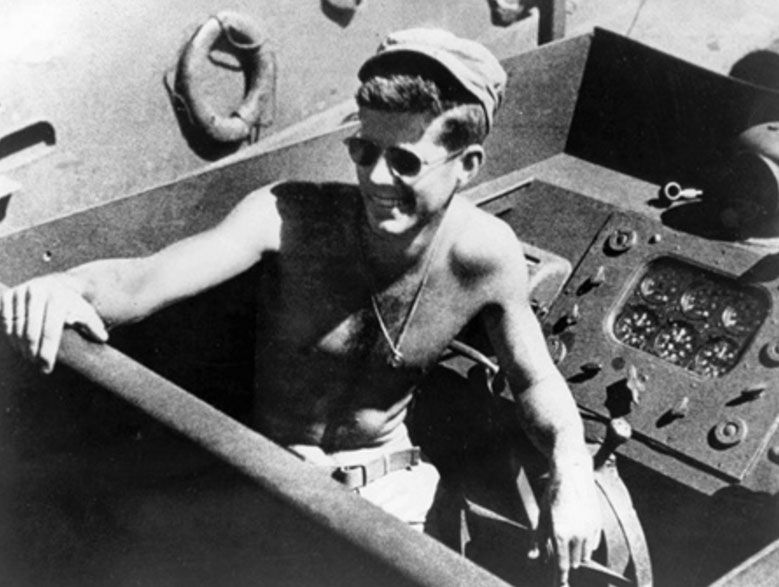 Throughout his brief presidency, John F. Kennedy kept a paperweight on his desk made out of half a coconut shell preserved in a piece of wood. Carved into the shell was a message: "NAURO ISL… COMMANDER… NATIVE KNOWS POS'IT… HE CAN PILOT… 11 ALIVE… NEED SMALL BOAT… KENNEDY." It was one of two mementos Kennedy retained of the most dramatic moment in his World War II service. The other, more constant reminder was his back.
During the war, Kennedy commanded a patrol torpedo boat in the South Pacific. On August 2, 1943, his boat was rammed by a Japanese destroyer. The future president swam more than three miles to the nearest island, towing an injured crewmate by holding the strap of his life jacket in his teeth.
After an exhausting swim, Kennedy arrived at a small unoccupied island with his remaining crew–including the injured companion, according to Rob Brown for the BBC.
The men stayed on the island for two days with only coconuts to provide nourishment, Brown writes. As it was unlikely they would be rescued from such a remote locale, they struck out again, ending up on a bigger island that was also uninhabited.
While foraging for food and water on August 5, Kennedy and a crewmember saw two Solomon Islanders in a canoe. The two men, Eroni Kumana and Biuku Gasa, thought the pair were Japanese and so paddled away, but fortunately encountered the rest of the stranded crew.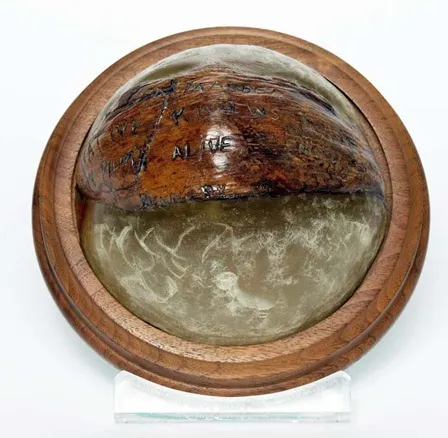 Some of the men cried when they were found by the pair, Kumana recalled. Others shook their hands. 'When Kennedy saw us… he ran and embraced us."
"Kumana and Gasa worked with the Coastwatchers, a network of agents based across the Pacific islands during WWII, tasked with keeping an eye on the enemy and reporting back to Allied forces," writes Brown. They carried the lieutenant's message, etched on that coconut shell, back to the Allied troops at great personal risk. They had to take their boat through Japanese-occupied waters and could have been sunk or even caught with an Allied message.
After the crew was rescued, Kennedy received the Navy and Marine Corps Medal as well as a Purple Heart, writes the John F. Kennedy Presidential Library and Museum. The heroic story followed him into politics, writes the library, "and provided a strong foundation for his appeal as a leader." Kennedy also kept in touch with Kumana and Gasa throughout the years, exchanging letters with them. They were even invited to come to his inauguration, although local politics prevented them from coming. But Kennedy kept a memento of their meeting on his desk in the Oval Office throughout his presidency, and the two men never forgot him, Brown writes.
The incident had lasting physical effects, as well. Kennedy had been plagued by back problems since he was first injured as a Harvard undergraduate, probably playing football, according to a new study that examined Kennedy's health records. The collision and rescue "exacerbated the future president's back problems," according to a press release about the study, which was conducted by T. Glenn Pait and Justin T. Dowdy and published in Journal of Neurosurgery: Spine. He would ultimately undergo four spine surgeries between 1944 and 1957.
Despite the youthful image that he presented during his presidency, Kennedy "was probably one of the unhealthiest presidents we've ever had," said Pait.