Why an Irish Stamp Has Reignited a Decades-Old Debate About Che Guevara's Controversial Legacy
The commemorative stamp was issued to mark the 50th anniversary of the death of the guerrilla revolutionary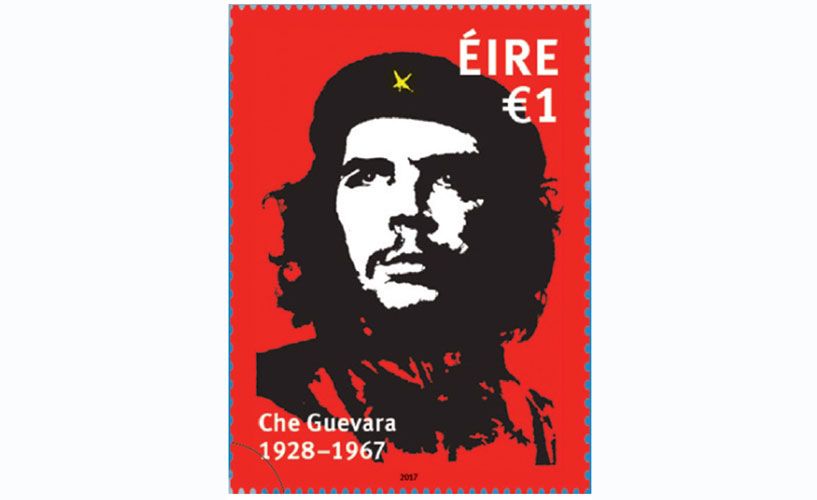 On October 9, 1967, Che Guevara was executed in Bolivia, following a failed attempt to foment a movement against the government there. To mark the 50th anniversary of the revolutionary's death—and to honor his ancestral connection to Ireland—the Irish government recently released a 1-euro stamp featuring a now-iconic image of Guevara. But, as Kyle Swenson reports for the Washington Post, the move has been met with outrage among Guevara critics in Ireland and beyond, reigniting a decades-old debate about Guevara's controversial legacy.
Ernesto (Che) Guevara de la Serna was born in 1928 in Rosario, Argentina, but his roots extend back to two prominent aristocratic families in Ireland. According to a 2012 New York Times article by Maureen Dowd, Guevara was "descended from the Lynches and Blakes, two of the 14 original tribes of Galway," a city on Ireland's west coast. One of Guevara's ancestors immigrated to Argentina in the mid-18th century, and his father, Ernesto Guevara Lynch, was proud of the family's Irish heritage. "The first thing to note is that in my son's veins flowed the blood of Irish rebels," Guevara Lynch told an interviewer in 1969, Dowd reports.
The newly released Irish stamp is adorned with a famous black-on-red silkscreen that shows Guevara looking off into the distance, a beret perched atop his dark hair.  
The image was created by Irish artist Jim Fitzpatrick in 1968 based on a picture by Cuban photographer Alberto Korda.
"A famous revolutionary of Irish descent and the artwork by an Irish artist that became one of the world's great iconic images, all come together in a stamp which has just been issued by An Post," Ireland's postal service said when it announced the new stamp.
But not all Irish citizens have welcomed the sight of Guevara's image on their mail. As Fiach Kelly reports for the Irish Times, Irish senator Neale Richmond has written to the country's minister of communications, demanding an explanation for the decision to honor Guevara with a stamp.
"Although Che Guevara seems now to be classed as a romantic revolutionary figure and that some of his political ideals might be shared by some in this country, it is my belief that he is most definitely not a suitable candidate for such an honour," the letter read. "Minister, as you will be aware, Che Guevara was a violent revolutionary whose legacy has been greatly glossed over."
Richmond's complaint taps into a long-running debate over the legacy of Guevara, who is viewed as a pioneering socialist hero by some, a ruthless killer by others. Guevara helped Fidel Castro overthrow Cuba's brutal Batista regime, leading guerilla troops against government forces. When Castro took power, Guevara was put in charge of the La Cabaña Fortress prison, where many opponents of the revolution were held. According to History.com, it has been estimated that Guevara ordered the extra-judicial executions of between 156 and 550 people during his tenure at the prison.
The new Irish stamp has consequently struck a nerve overseas—particularly in South Florida, which is home to a large Cuban-American community. U.S. Representative Ileana Ros-Lehtinen, a Havana-born Republican who represents the Miami area, called the stamp a "grotesque insult to the many lives [Guevara] slaughtered."
The Irish government is not the first to reproduce Guevara's likeness. The revolutionary's face adorns countless posters, T-shirts, hats, key chains and other knick-knacks. Fitzpatrick stands by his now-ubiquitous black-on-red silkscreen of Guevara. He told the Irish Times that it was an "honor" to produce the image. Unfazed by the controversy surrounding the new stamp, he maintained that Guevara was an admirable figure, who "gave it all up to fight for poor and the dispossessed."