Why Internet Ads Are Taking Over New Zealand's Real-Life Wild Spaces
'People who liked this also like…'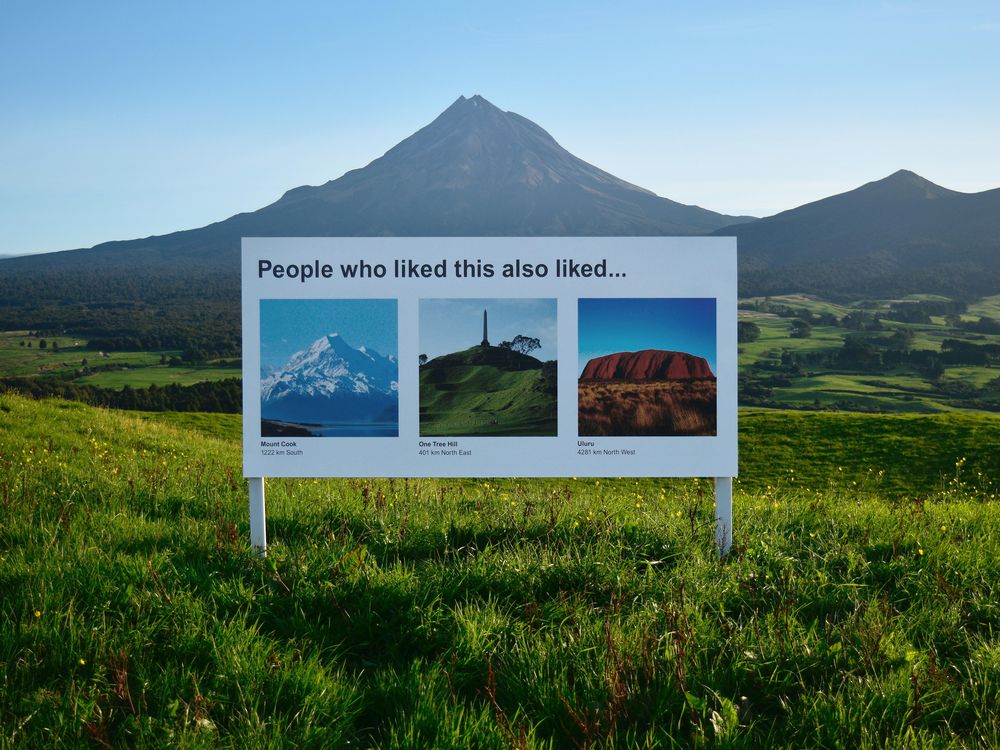 It's a ubiquitous part of searching for shows to watch on Netflix, restaurants to eat at or stuff to purchase online nowadays—recommendations. Now, physical signs bearing a striking presence to their digital cousins have cropped up in key locations across the New Zealand island of New Plymouth​ "recommending" real-world destinations.
It's all part of a public art project that's looking to draw attention to the ubiquity of these recommendations, which double as advertisements, and influence the stuff you eat, watch and consume, ​reports James Martin of Lonely Planet.​
"Perhaps you're worried that as your life moves online and Alexa moves into your living room, your decisions are essentially being made for you," artists Scott Kelly and Ben Polkinghorne ​write in an statement on "Signs of the Times." "Perhaps you're worried you live in a bubble. Perhaps you've never thought about it. Hopefully, you are now."
The highly visible signs mimic the now ubiquitous online recommendations, with one in front of the stunning Mount Taranaki suggesting "people who liked this also liked" with a list of three other mountainous wonders: New Zealand's Mount Cook, the extinct volcanic peak of "One Tree Hill," (known to the Maori People as "Maungakiekie"), ​and Australia's famed Uluru rock.
Below a picture of each recommendation is the distance to each site, similar to a Google Maps search for restaurants. Other signs at a beach, garden and a suburban playground take similar tacks with their own tailored suggestions.
The artists tell Andrew Liptak of The Verge the project sought to make people aware of how the algorithms behind these recommendations can affect daily life.
"Who run the world?" the creative partners ask in their statement. "Collaborative filtering recommender algorithms."
This isn't the first time the duo has tried their hand at zooming in on commonplace observations, writes Isabel Narea for designboom magazine. Past projects by the duo include collecting fallen petals stamped with shoeprints, and mocking up library book stamp cards of influential pieces of literature showing the names of famous people who've been influenced by them.