Stop Calling Flibanserin "Female Viagra"
As the FDA weighs the merits of a new drug to boost female libido, it's clear this is not a little blue pill for women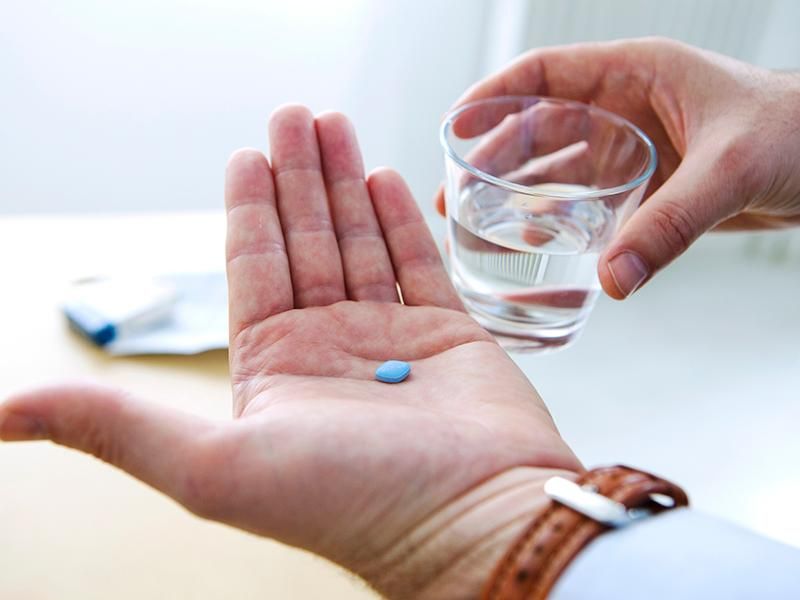 A drug to treat low libido in women is on track for approval by the U.S. Food and Drug Administration. Yesterday afternoon, an advisory panel voted to recommend approval of the drug in question, flibanserin, Rob Stein reports for NPR. While the FDA doesn't have to follow their advice, most of the time they do.
Though some have questioned the drug's effectiveness, flibanserin has been nicknamed by many media outlets as "Viagra for women." But, there's one key problem with that characterization: The two drugs work in completely different ways.
Viagra works by increasing blood flow to the genitals. In contrast, flibanserin's target lies in the brain, as Clare Wilson reports for New Scientist. In animal studies, it increases levels of two neurotransmitter molecules in the brain: dopamine, which controls the brain's reward pathways, and norepinephrine, the hormone that helps the brain focus in stressful situations. At the same time, the drug causes a decrease in levels of serotonin, the so-called "happiness" hormone. Researchers aren't entirely sure why this combination of chemical levels results in an increased libido, but studies suggest that it does.
In fact, the German drug firm Boehringer Ingelheim initially developed the compound as an anti-depressant, but it flopped in that department. When women reported feeling an increase in libido, though, the company refocused their efforts. But, they had trouble showing that the drug had a significant effect, as Amanda Holpuch explains for The Guardian. In 2010, the FDA rejected Boehringer Ingelheim's proposal to market flibanserin in the United States, so they dropped the drug. Sprout Pharmaceuticals picked it up and again submitted it for approval in 2013. The FDA nixed it, again.
In clinical trials, women taking the drug reported having one more "satisfying sexual encounter" per month than normal. Given that the drug also comes with side effects like sudden drops in blood pressure, sleepiness and fainting spells, it's unclear whether the benefits outweigh risks, Wilson writes. That's what has kept flibanserin off the market in the past. With the support of women's groups and politicians, this time around Sprout hopes to change that by recasting the drug as the feminist counterpart to the infamous little blue pill. (Not all women's health groups are on board, though.)
Not only do the two drugs work on entirely different mechanisms, they also treat totally different sexual issues. Viagra and similar drugs for men treat impotency, often caused by a drop in blood flow to the genital area. It's an easy enough thing to fix. Thus, the drug corrects the issue by simply increasing circulation to the region. Viagra does nothing to increase desire in the brain.
Both men and women can suffer from a loss of libido for due to things like trouble in the relationship, stress, depression, aging and even genes. While roughly 40 percent of women are dissatisfied with their sex lives, the causes might be slightly different in each case. Rather than treating a clear-cut medical problem, the drug aims to correct a hodgepodge of personal and societal issues by tweaking brain chemistry. For that reason, some psychologists argue that chemistry is the wrong approach to treating low sex drives. Instead, therapy might be a better option.
Pharmaceutical companies have long searched for a pill to make women with low libido more sexually excited. But, many times, the search is misguidedly framed by Viagra's success. In fact, Sprout's campaign seems to be built on the idea that women need a libido drug because so many exist on the market for men. 
Flibanserin isn't the first "female Viagra" on the block, though. Actually, that was plain, old Viagra. In 2008, research suggested it could help women on antidepressants orgasm. While Viagra does increase circulation in women's' genitals it doesn't actually boost their desire to have sex, as Wilson points out. Studies suggested that a lack of testosterone in the brain might cause low libido in some women, so they tested testosterone patches to increase female arousal. The FDA did not approve.
Back in 2013, Smart News' Colin Schultz wrote about other desire drugs that still being assessed in women experiencing low sexual desire: Lybrido and Lybridos. Lybrido is a combination of testosterone and the main ingredient in Viagra, while Lybridos combines testosterone with an anxiety medication called busiprone.
The FDA advisory committee approved flibanserin by a vote of 18 to 6, with the caveat that Sprout must devise a plan to address safety concerns. Regardless of the drug's fate there's one key thing to take away from its time in the spotlight: Calling it "Viagra for women" suggests a basic misunderstanding of women and of Viagra.