Why British Lawmakers Are Fighting Over a Bust of Oliver Cromwell
It started in the fall of 2017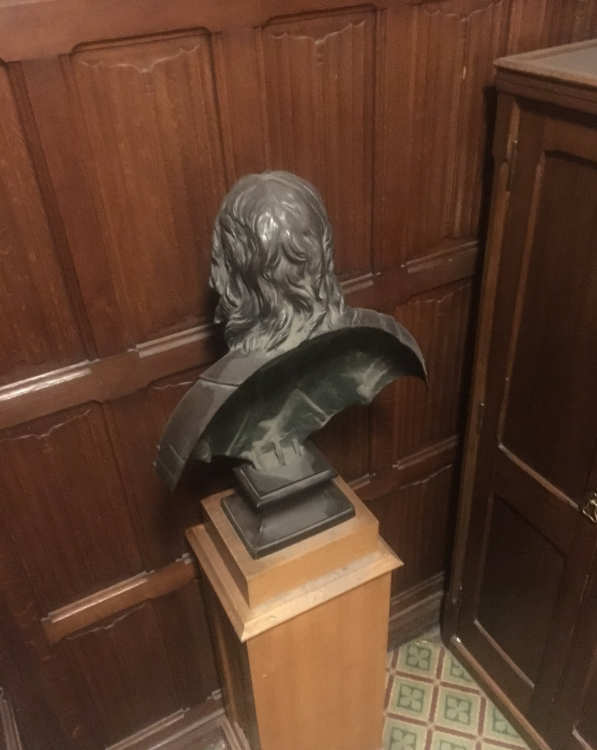 Beginning in autumn 2017, a bust of Oliver Cromwell in the Members' Tea Room in Parliament's London House was repeatedly turned toward the wall in a decidedly undignified fashion.
Commons officials eventually cordoned off the statue with a sign saying "Fragile—please do not touch," but their efforts were to no avail. The bust was continually moved to face the wall.
If you aren't too familiar with British history, Cromwell, the lord protector who oversaw the governance of England, Scotland and Ireland following the English Civil War is a deeply divisive figure whose polarizing status stems from his brutal conquest of Ireland during the mid-1600s. As Naomi Rea reports for artnet News, he is alternately lauded as the "heroic military and political leader" who defended Parliament and vilified as a ruthless war criminal responsible for the deaths of thousands of innocent Catholics.
Labour Party Member of Parliament Stephen Pound sides with the latter group. Writing for the Times, Sam Coates notes that the MP for Ealing North and shadow minister for Northern Ireland has objected to the bust's presence in the House of Commons for years.
It may not surprise you, then, to learn that the small act of defiance was spearheaded by Pound, who was spurred to take action upon the bust's recent move to the stairwell beside the MPs' tea room. A break in the case arrived when colleagues outed Pound as the culprit behind the rotating bust.
But the story isn't over. As Harry Yorke writes for the Telegraph, Commons officials recently escalated the disagreement by moving the statue to a new home—namely, just outside of Pound's private office.
The move, reportedly sparked by "health and safety concerns," was accompanied by a stern warning from a Commons spokesperson, who told press that "individuals on the parliamentary estate are asked not to touch any statues, paintings or other works of art on display, due to the risk of damage to the artworks."
Commons officials also installed an alarm on the controversial bust, likely in hopes of deterring those with anti-Cromwell sentiments from further tampering with the likeness.
Pound, however, remains committed to the cause, wryly telling James Tapsfield of the Daily Mail, "I don't know about health and safety, but [Cromwell] had better watch out for his health and safety."
He remains in "negotiations" to secure the statue's removal once and for all.