Why Andy Warhol Peed on This Portrait of Jean-Michel Basquiat
One of the iconic Pop Artist's "oxidation" paintings, the work will go up for auction at Christie's next month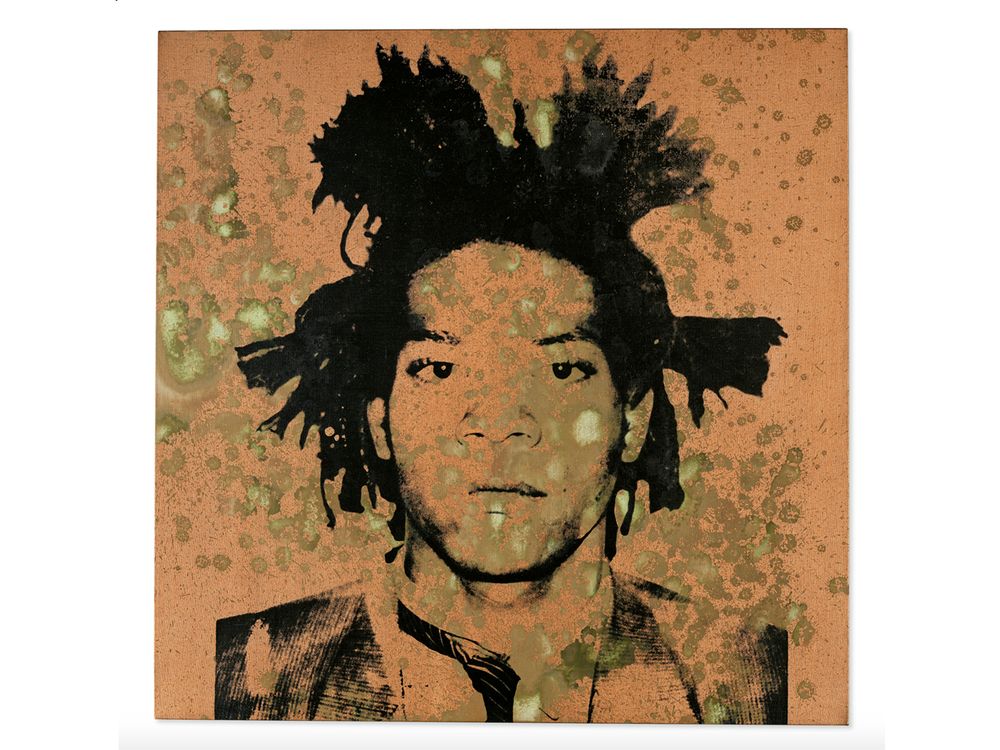 Most of Andy Warhol's screenprints and sculptures reproduce instantly recognizable icons of American pop culture: Campbell soup cans, Brillo soap pads, Elvis, Marilyn Monroe.
But the Pop Art pioneer, inspired by the sparse creations of predecessors Barnett Newman and Ad Reinhardt, also dabbled in abstract painting. Working in the 1970s and '80s, Warhol rendered some of his lesser-known abstract canvases with an unusual set of materials: namely, his own urine and semen.
One of these so-called oxidation paintings, Jean-Michel Basquiat (1982), is set to go on auction at Christie's next month, reports Tom Seymour for the Art Newspaper. The portrait, which features a black-and-white silkscreen image of Basquiat covered with green splotches, is expected to fetch upwards of $20 million.
To create Jean-Michel Basquiat and other oxidation works, Warhol coated canvases with copper or gold paint and either peed on them himself or invited friends and assistants to urinate directly onto the canvas. Acid from the urine reacted with the metallic paint, oxidizing to create an "abstract shimmering effect," per Shira Wolfe of Artland.
Warhol once wrote in his diary that he preferred the "contributions" of assistant Ronnie Cutrone "because he takes a lot of vitamin B so the canvas turns a really pretty color when it's his piss." The artist also experimented with splashing, brushing or pouring various bodily fluids onto his paintings.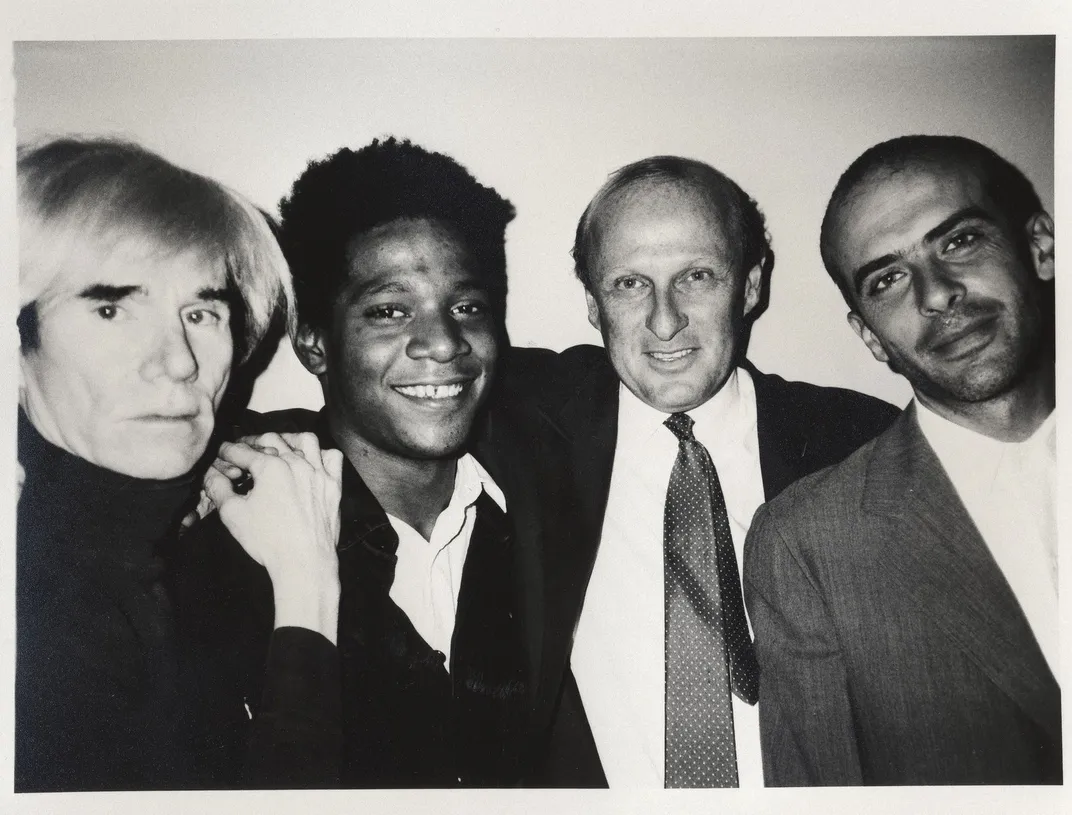 As Christie's noted in the 2008 lot description for a similar creation, Warhol's use of taboo bodily fluids in works of art was likely inspired by practices in New York's underground fetish scene. These "'piss paintings' insist on a frank carnality in their method of execution," the auction house added. "Turning the body into a brush, Warhol alchemically transforms waste into artistic creation."
The artist's oxidation works also took a playful dig at Jackson Pollock, the Abstract Expressionist whose commanding personality dominated the modern art world until his death in 1956. Pollock was an early devotee of "allover painting," in which artists covered compositions in layers, splotches, drips and stains of paint.
"Warhol's use of an allover drip technique can be seen as both an homage and a queer send-up of the machismo of Jackson Pollock's canonical Abstract Expressionist works," wrote the Whitney Museum of American Art in its 2018 exhibition, "Andy Warhol: From A to B and Back Again.
Warhol created the soon-to-be auctioned, 40- by 40-inch portrait of friend and fellow artist Basquiat in 1982. He transferred a Polaroid image of the young artist to the canvas, then peed on its surface.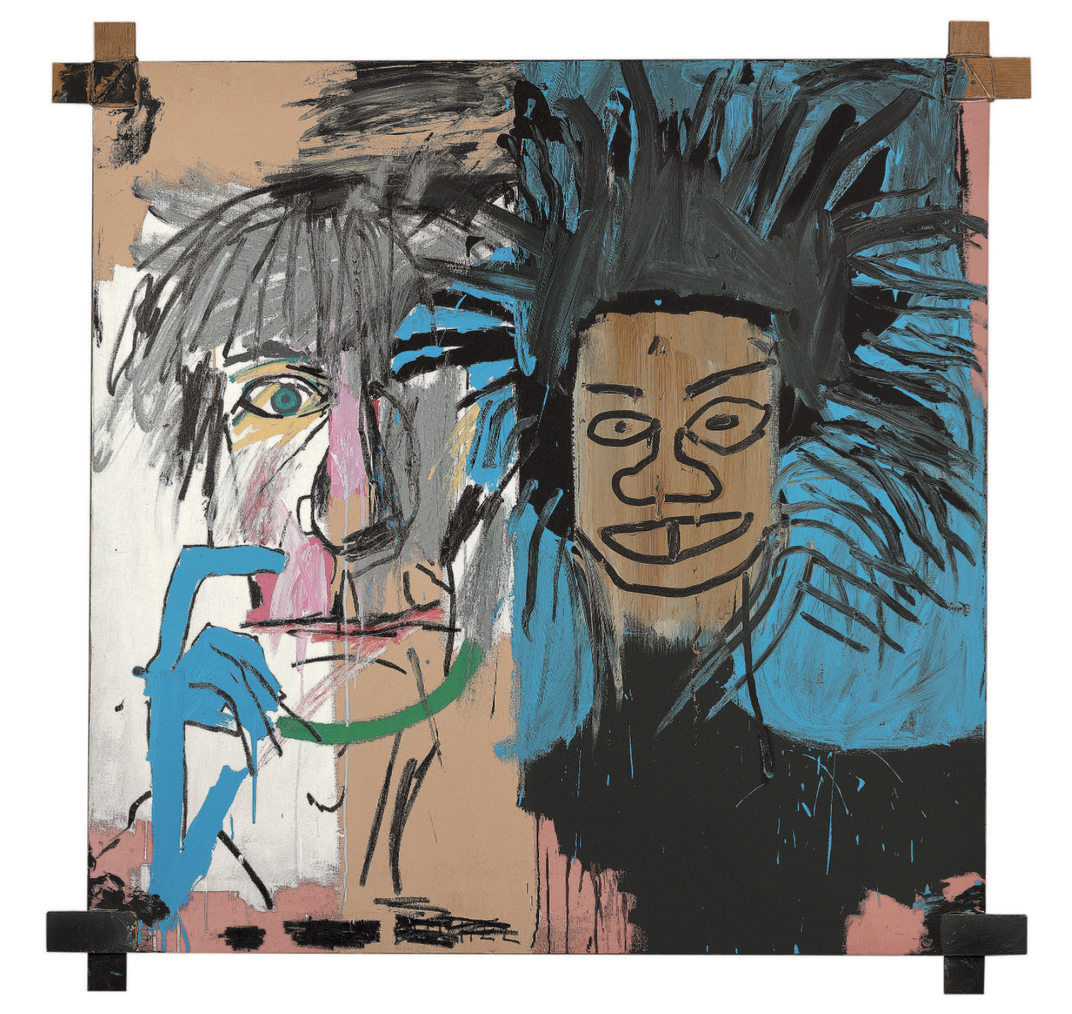 "The uric acid from Warhol's body discolored the metal, creating pockmarks of rust, black and green, and fusing the bodies of the two men in both form and content," notes the Art Newspaper.
Though the pair ran in similar New York City social circles, Warhol and Basquiat only began collaborating on October 4, 1982, when their shared agent, Bruno Bischofberger, organized a meeting.
Within hours of the gathering, Basquiat had painted a vibrant joint portrait, Dos Cabezas, that placed the newly acquainted artists' looming heads side by side. ("While Basquiat's expediency may have been motivated in part by an eager desire for Warhol's approval, ... his delivery mere hours later may also have been intended to alert Warhol to just how little time was spent working on it," wrote art historian Tony Morris in a 2020 article.) In response, Warhol created his oxidization portrait, which Morris argued "should be read in the same spirit of competition, admiration and clever insult expressed by Basquiat."
The younger artist, for his part, hung Warhol's portrait of him in his apartment. It was the only work not by Basquiat on view in the residence. "I didn't know it was a piss painting," Basquiat later told Anthony Haden-Guest of Vanity Fair.
The 1982 portrait exchange launched an intense friendship and creative partnership that endured until a failed joint exhibition in 1985. The former friends failed to reconcile before Warhol's sudden death in February 1987; Basquiat died of a heroin overdose in August 1988 at just 27 years old.
"[T]his portrait of Jean Michel-Basquiat was created when the young artist was at the precipice of entering the New York art world and changing it forever," says Alex Rotter, Christie's chairman of 20th- and 21st-century art, in a statement. "From Brooklyn to China, Basquiat symbolizes a new generation, and Warhol recognized this earlier than anyone. His unmatched ability to capture celebrity, fame, glory, and tragedy culminates in this portrait."