Why a String Quartet Set Sail on a Giant Violin in Venice's Grand Canal
Local artist Livio De Marchi views the wooden replica as a symbol of the Italian city's rebirth following Covid-19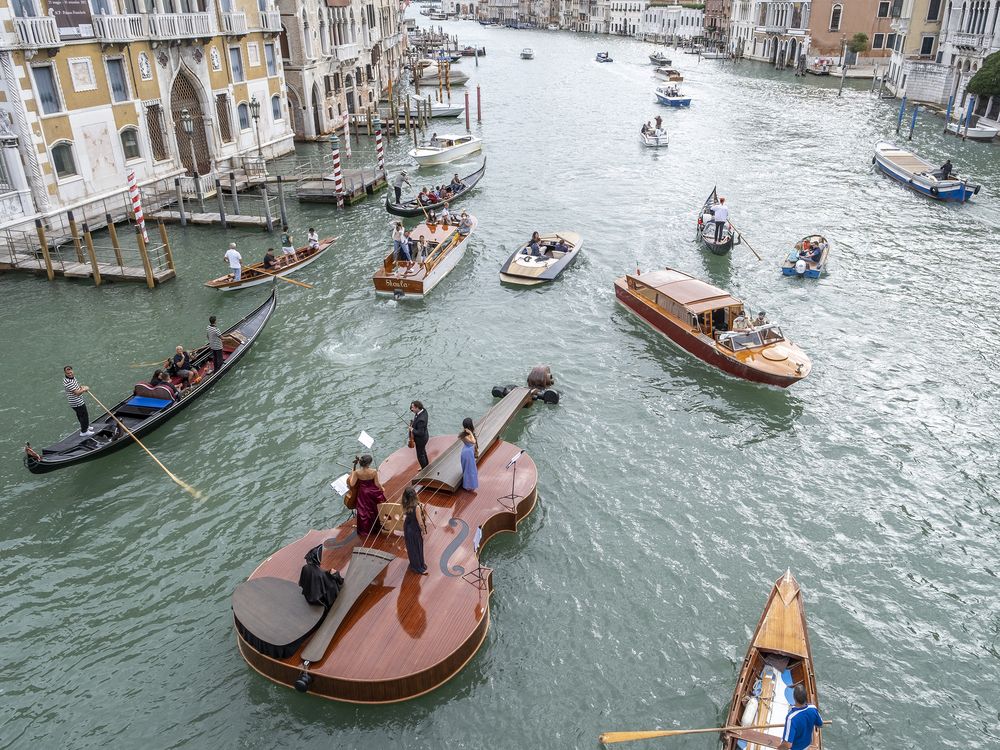 Last Saturday, a larger-than-life, violin-shaped vessel wound its way down Venice's famed Grand Canal. The brainchild of Venetian artist Livio De Marchi, who is known for his fantastical giant sculptures, the 39-foot-long boat carried a string quartet that played Antonio Vivaldi's Four Seasons, among other compositions.
As Elisabetta Povoledo reports for the New York Times, "Noah's Violin," as the replica instrument is called, embarked on its journey alongside a handful of gondolas. Soon, a small fleet of motorboats, water taxis and traditional flat-bottomed vessels called sandoli joined the procession.
"Let's just say that between the wind and the waves, it was challenging," viola player Caterina Camozzi tells the Times.
Cellist Tiziana Gasparoni adds that "as a Venetian and a musician, it was the most moving experience of my life."
Starting near Venice's city hall, the violin's journey concluded at the Customs House, across from Piazza San Marco. At the end of the one-hour voyage, a reverend blessed the boat and expressed his desire to see it "travel the world as a message of hope."
According to NPR's Rachel Treisman, the violin was made from around 12 different kinds of wood. It features nuts, bolts and enough room for an inner motor.
Local craftspeople constructed the boat on a nearby island, where it immediately attracted attention, notes Cailey Rizzo for Travel + Leisure. Companies and residents not affiliated with the endeavor asked how to get involved, and some even volunteered to help build the boat.
De Marchi came up with the idea for the unusual vessel last year, during Covid-19 lockdown. He views the giant instrument as a symbol of Venice's rebirth, telling Venezia Todaythat "as Noah put the animals on board the Ark to save them, we will spread art through music on this violin."
The artist collaborated with the Venice Development Consortium to bring his vision to life. The team's choice of instrument, in addition to the waterside concert's emphasis on Vivaldi, clearly reference the city's "historic connection to music," writes Kyle Macdonald for Classic FM. Vivaldi, who is renowned as one of the Baroque period's greatest composers, was born in Venice in 1678 and wrote many of his famed works for the local Ospedale della Pietá's all-woman music ensemble.
De Marchi, meanwhile, studied art and drawing at Venice's Accademia di Belle Arti. Per his website, the artist initially created sculptures in bronze and marble, but he decided to specialize in wood because "it gives him a vitality which other materials do not."
Beyond the violin, De Marchi has sculpted a giant shoe, a floating vintage car and an oversized origami hat. Now, reports the Times, businesses in Italy and a museum in China have expressed interest in acquiring his latest creation.