Who Is the Mysterious Subject of This Alice Neel Portrait?
A journalist has cracked the case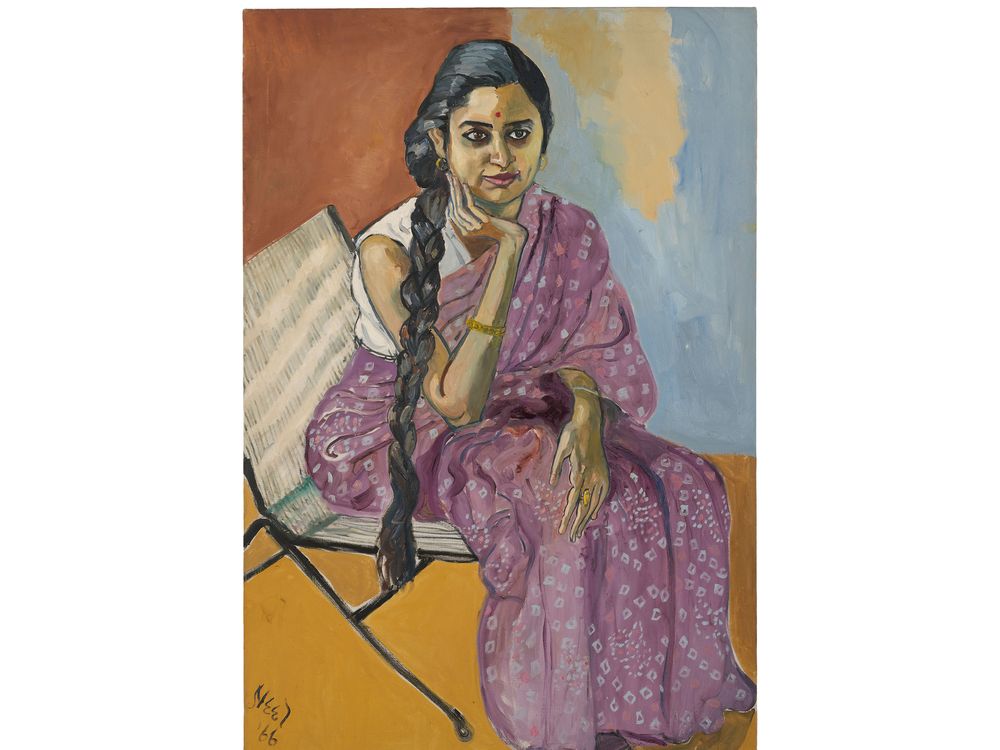 Throughout her long and prolific career, the American artist Alice Neel painted intimate, often strange portraits of family and friends, writers and poets, artists and activists. Most of these paintings are titled with the names of their subjects: there is Phil, and Hartley, and Marisol, and Pregnant Maria. But one 1966 portrait has no name. Neel simply called it Woman.
The portrait depicts a young Indian woman dressed in a purple sari, her long, black braid dangling over her shoulder. Saudamini Jain, a reporter for Scroll.in, recently set out to uncover the identity of Neel's mysterious sitter.
Internet searches yielded no results, Jain writes, adding that the woman "also remains conspicuous by her absence in the art historian Pamela Allara's Pictures of People: Alice Neel's American Portrait Gallery, which chronicles Neel's life and work." But an archivist at the David Zwirner Gallery in Manhattan had answers.
The gallery recently displayed the portrait in an exhibition titled Alice Neel, Uptown. Curated by Pulitzer Prize-winning critic Hilton Als, it explores Neel's time living and working in Harlem, a vibrant neighborhood that she loved deeply. The archivist told Jain that Woman's sitter was the daughter of the Indian social-realist author Bhabani Bhattacharya, who penned several acclaimed novels.
Jain was able to track down the novelist's daughter, Ujjaini Khanderia, in Ann Arbor, Michigan. Khanderia is now in her 70s. Not long after she moved to America to study at the University of Michigan, she met Neel through a friend of her father. Khanderia told Jain that she remembers sitting for the portrait, but hasn't thought much about the experience since that day. She had no inkling that the woman who rendered her likeness is now regarded as one of the most important figurative painters of the 20th century.
Neel's portrait of Khanderia is emblematic of the considered, critical attention that the artist bestowed upon her many minority subjects. According to the David Zwirner website, Neel moved to Spanish Harlem in 1938. She was a white woman living in a fiery, diverse, and poverty-steeped neighborhood. Neel was enthralled by the world that she found there.
During the five decades she spent in New York, Neel often painted prominent figures of the city's artistic and political scenes. She is perhaps best known for an aching portrait of a middle-aged Andy Warhol, who wears a girdle to suck in his belly, his chest marked by the scars of an assassination attempt. But much of the artist's efforts were devoted to painting her Harlem neighbors, many of whom were immigrants and minorities.
Neel rendered her "ordinary" subjects with bright colors and an empathetic eye. As Jason Farago writes in The New York Times, her "portraits of black, Latino or Asian New Yorkers, quite unlike those of other midcentury leftist painters, were never exercises in social realism. They were something else: efforts to afford the same status and consideration to her neighbors that earlier portraitists reserved for popes and princes."
Evidently, one of the many characters to catch Neel's eye was Khanderia: a young Indian woman dressed in a soft purple sari, just starting her life in a new country.
While Alice Neel, Uptown is now closed at the David Zwirner gallery in New York, it will open on May 18th at the Victoria Miro gallery in London.  You can find the catalogue Alice Neel, Uptown here.