How the Internet Tracked Down the Designer of the Beloved Jazz Paper Cup
Meet Gina, the woman behind the iconic paper cup pattern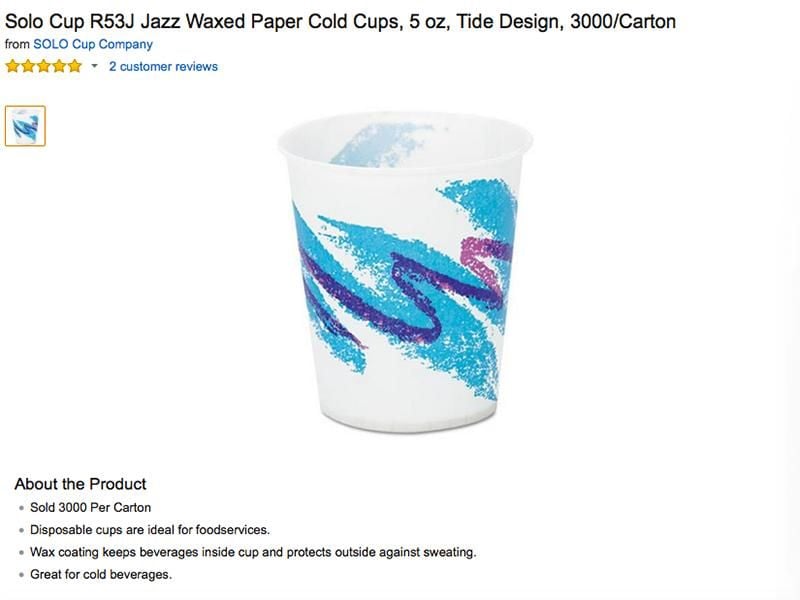 This iconic teal and purple design has been gracing the sides of paper cups since the 1990s, as designer Khoi Vinh explains on his blog Subtraction.com. And since its introduction, it has been bulding a steady team of fans. Today, the pattern shows up on cars, t-shirts and pillow cases of enthusiasts. But for a long time, nobody knew the origins of the design.  
Three weeks ago, one fan turned to fellow Reddit users to track down what Google could not. The hivemind came through, to some extent: Gina, once a designer at the Sweetheart Cup Company in Springfield in the 1980s and 1990s, had dreamed up the teal and purple brushstrokes of Jazz. 
Curious to find out more about Gina, Thomas Gounley for the News-Leader in Springfield, Missouri​ kept digging. After many calls and emails, he stumbled upon a Tweet claiming the Gina in question was the user's mother. After messaging the user with no response, he turned to the phone book and tracked Gina to Aurora, Missouri, a few towns over from Springfield. Finally, he found himself at Gina's doorstep. "She wasn't expecting me to just show up, but invited me in," Gounley writes.
Jazz had been her submission to a 1989 internal company design contest for a new stock image. It appeared on paper plates and cups beginning in the early 1990s. Ekiss left the company in 2002 when the art department transferred to Baltimore. When she left, "she was told by Sweetheart that Jazz was the company's top-grossing stock design in history," Gounley writes.
Today, it's hard to find the Jazz cup in the wild. The company doesn't make them anymore, and wants to redesign them to be more modern should they release them again. "It just doesn't really fit out there anymore," a representative from the company that now owns the facility where the cups were made told Gounley. But to fans of the Jazz cup, Gina's design is perfect as is.