When Breathtaking Rock Billboards Dominated the Sunset Strip
A new exhibition showcases the Sunset Strip's "rock 'n' roll billboards"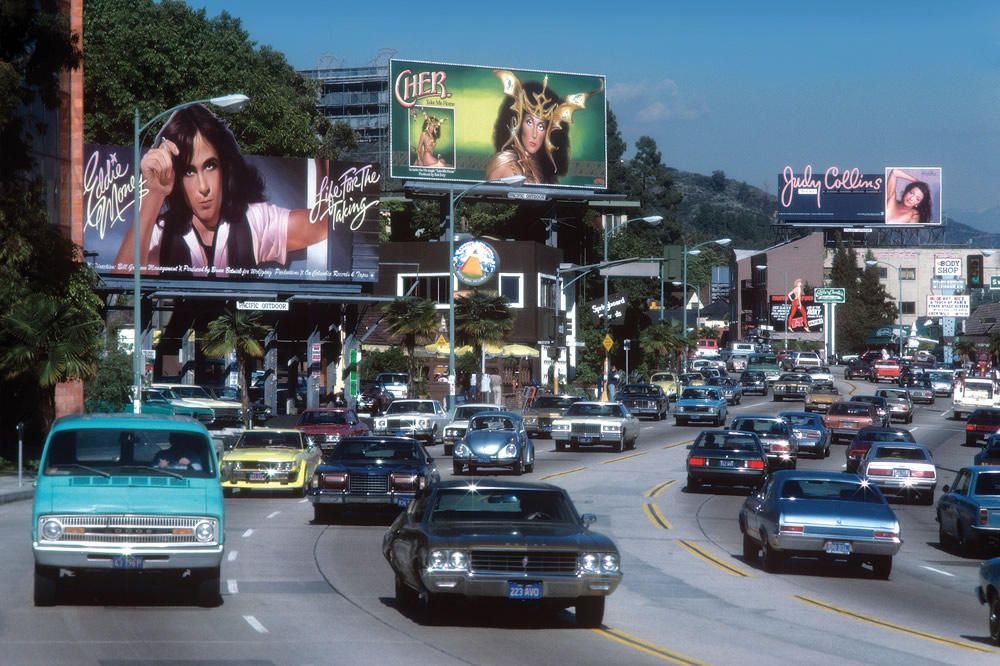 Let's take a drive down the Sunset Strip of the late 1960s and 1970s. It's an era of bell-bottoms, draft dodgers, drugs and rock music, and West Hollywood's trendy strip is the center of it all. As you relax in your soon-to-be-classic car, you take in the scenery—palm trees, shops, clubs, and record companies. You're in the heart of California's booming music scene—and everywhere you look, you see eye-catching, breathtaking, hand-painted billboards for your favorite acts.
Today, they're a thing of the past, but in a time before music videos, hand-painted billboards were some of the most striking advertisements for a band. They were also big business, explains Hunter Oatman-Stanford of Collectors Weekly:
In the 1970s, you knew you'd made it big if your record label paid for a hand-painted billboard on the Strip: From psychedelic fantasies to larger-than-life portraits, the billboards were visual interpretations of a musician's ethos, spirit, and vibe. These giant artworks were often variations on album art, relying on eye-catching imagery and minimal text to remind passersby of the music they needed to hear immediately—while it was still cool.
Robert Landau is a photographer who wandered the Strip with his camera, capturing images of the splashy, ephemeral billboards as they came and went. A new exhibit of his billboard photography, "Rock 'n' Roll Billboards of the Sunset Strip," opens at Los Angeles' Skirball Cultural Center on March 24.
"Because all the record companies were in L.A. and most of the artists were living there, they were all trying to outdo each other," Landau told Oatman-Stanford. There were billboards that lit up at night and ones that changed over time (like a brick wall that changed brick by brick to reveal the album cover of Pink Floyd's "The Wall.") Record companies spent fortunes on the billboards, which supplemented album art and built buzz for upcoming albums.
Landau treasures his photographs as documents of a time before digital everything. "The painted ones have a sheen and depth to them, and a personal touch you only got from an artist hand-painting them," he tells Collectors Weekly in an extensive interview. If you can't make it to the Skirball Center, you can see more of Landau's billboard images in his coffee table book, also entitled Rock 'n Roll Billboards of the Sunset Strip.