The Hard Labor of Apple Picking
A skilled farm worker can pick six tons of apples a day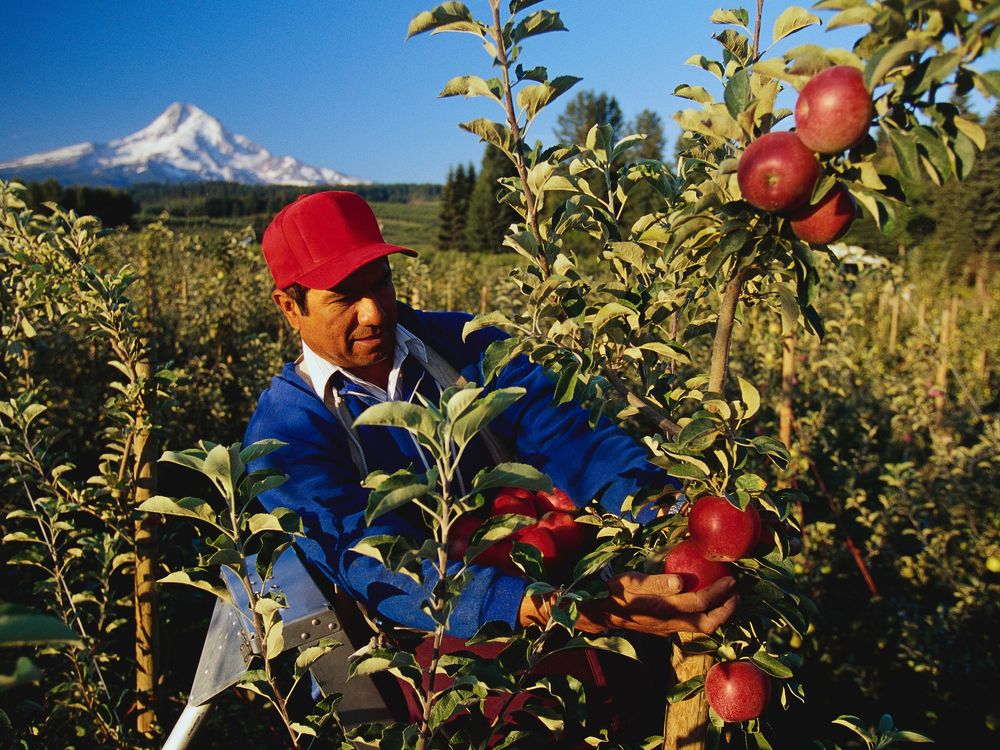 Every year, autumn means people flocking to apple orchards across America, from New England to Washington state. But for tens of thousands of farm laborers, the harvest isn't an excuse to eat donuts and drink hot cider. It's a crucial opportunity to make money, reports Dan Charles for NPR:
Teams of men, and a few women, trot into the orchards with ladders in hand, then clamber up those ladders and lean into the trees. Their hands move as quickly as a boxer's, grabbing apples and dropping them into bags strapped to their waists. Most work quietly, focused on the task. A few chatter in Spanish.
"You should be able to look at a group of apples and decide, okay, I can grab three of these per hand, or two of these. Never just one, though." Jose Martinez, an apple picker working in Pennsylvania, tells Charles. Pickers get paid per 1,000-pound box of apples, so speed determines pay. A skilled worker can able to pick about 12 boxes a day, according to Martinez. That's six tons of apples.
For Grist, Nathanael Johnson breaks down the math: A supermarket apple costs 30 cents on average, and every one is picked by hand, which means roughly half of one cent is paid to the picker.
Martinez, like many agricultural workers, is an immigrant. Each year, he and his family travel across the country: to Michigan for blueberries, to Florida for strawberries, to Pennsylvania for apples and back again. The constant relocation is tough, Charles reports. Their 3-year-old, Betsy, has leukemia, so the family decided to move early this year to be closer to a good hospital in Pennsylvania. "My older kids, they keep asking when we're going back to Florida," Martinez tells Charles. "If it was up to them, we'd go to Florida tomorrow."
It brings to mind that common phrase: "as American as apple pie." The story of a young immigrant, raising his family by picking apples, is a reminder that America's food comes from work—and those workers matter.