What Is Eclampsia? Olympian Tori Bowie May Have Died From the Rare Pregnancy Condition
The 4x100 gold medalist died in May, bringing attention to high maternal mortality rates among Black women in the United States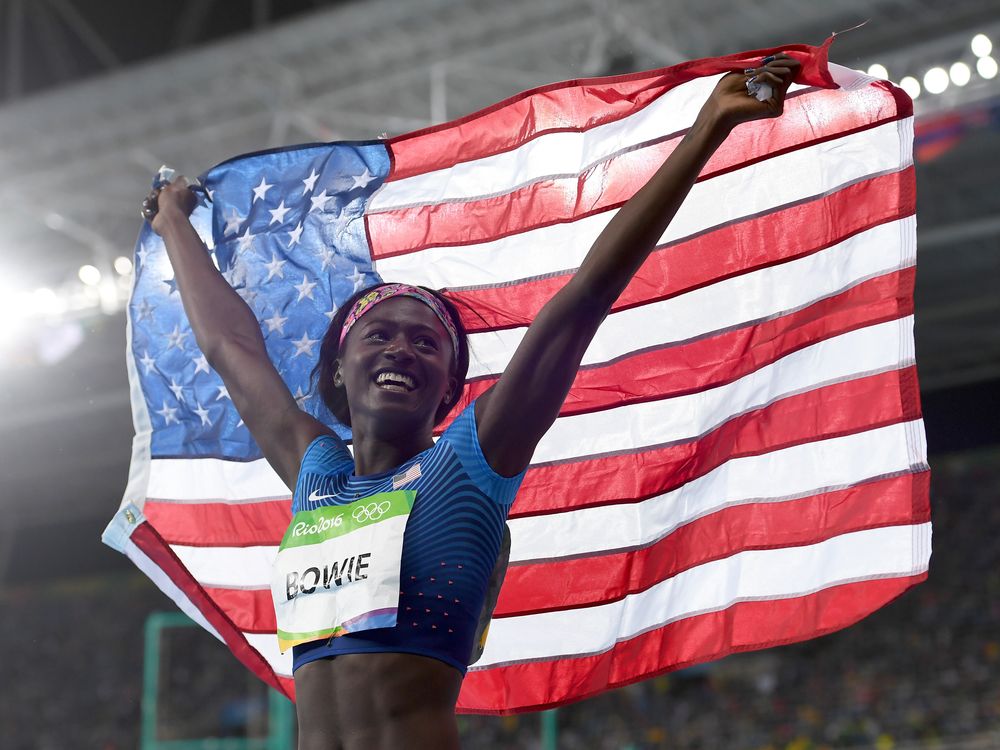 Three-time Olympic medalist and world champion sprinter Tori Bowie died at her home last month. At the time, U.S.A. Track and Field released a statement confirming her death, but the group did not give any further information.
Now, an autopsy has confirmed the 32-year-old athlete died in childbirth, with possible complications of respiratory distress and eclampsia, reports USA Today's Jordan Mendoza. 
Bowie was found on May 2 when sheriff deputies conducted a wellness check at her Florida home after she had not been heard from in several days. Her autopsy, which was reviewed by USA Today, revealed she was eight months pregnant and undergoing labor at the time of her death. Her daughter did not survive. 
"We've lost a client, dear friend, daughter and sister," Icon Management Inc. wrote on Instagram at the time. "Tori was a champion…a beacon of light that shined so bright! We're truly heartbroken and our prayers are with the family, friends and everyone that loved her."
Eclampsia is a severe complication of preeclampsia—a high blood pressure condition that can happen after the 20th week of pregnancy or after giving birth. Preeclampsia occurs during about 1 in 25 pregnancies in the United States, per the CDC. In rare cases, the condition can lead to seizures, a medical emergency called eclampsia.
"They are related conditions," James J. Walker, a specialist in high-risk obstetrics and preeclampsia at the University of Leeds in England, tells the Washington Post. "Convulsions or seizures … that's the main differentiation."
The U.S. overall has an elevated maternal mortality rate compared to other high-income countries. In 2021, the nation saw 32.9 maternal deaths per 100,000 live births, more than ten times the rate of countries including Australia, Israel, Japan, Austria and Spain, reported NPR's Selena Simmons-Duffin and Carmel Wroth in March. 
But even among U.S. women, Black women have a disproportionately high maternal mortality rate, at almost 70 deaths per 100,000 live births in 2021—more than 2.5 times that of white women. Black women are also 60 percent more likely to develop preeclampsia than white women are, in the U.S.
"There are systemic barriers that we face in regard to racism, sexism and income inequality, and that shows up in our healthcare system," Regina Davis Moss, president and CEO of In Our Own Voice: National Black Women's Reproductive Justice Agenda, tells Elise Preston and Analisa Novak of CBS News. 
Black women especially often have their symptoms or pain dismissed by clinicians. Despite being one of the greatest athletes and tennis players of all time, Serena Williams almost died from medical complications after childbirth in 2017. She was forced to advocate for herself after medical professionals didn't believe her when she recognized symptoms of a life-threatening pulmonary embolism—she has said one nurse even called her "crazy."
Bowie competed at the Rio de Janeiro Olympics in 2016, taking home a silver medal in the 100-meter dash, a bronze in the 200 meters and a gold as the anchor of the 4x100-meter relay. The next year, she won gold in the 100-meter sprint at the World Athletics Championships, earning her the title of "world's fastest woman," says her Rio de Janeiro 4x100-meter relay teammate and 11-time Olympic medalist Allyson Felix to Time magazine's Sean Gregory. 
Felix also had preeclampsia and complications during the birth of her daughter in 2018, resulting in an emergency C-section at 32 weeks. She tells Time that three of the four gold medalists on the 4x100 relay team—all Black women—set out to become mothers, and all had serious complications during pregnancy. 
"We're dealing with a Black Maternal Health crisis. Here you have three Olympic champions, and we're still at risk," she says to Time. "This is America, in 2023, and Black women are dying while giving birth. It's absurd. I'm hopeful that things can get better. I'm hopeful that Tori, who stood on the podium at Rio, gold around her neck and sweetness in her soul, won't die in vain."