This is What the First Home Pregnancy Test Looked Like
"Predictor" gave results in just two hours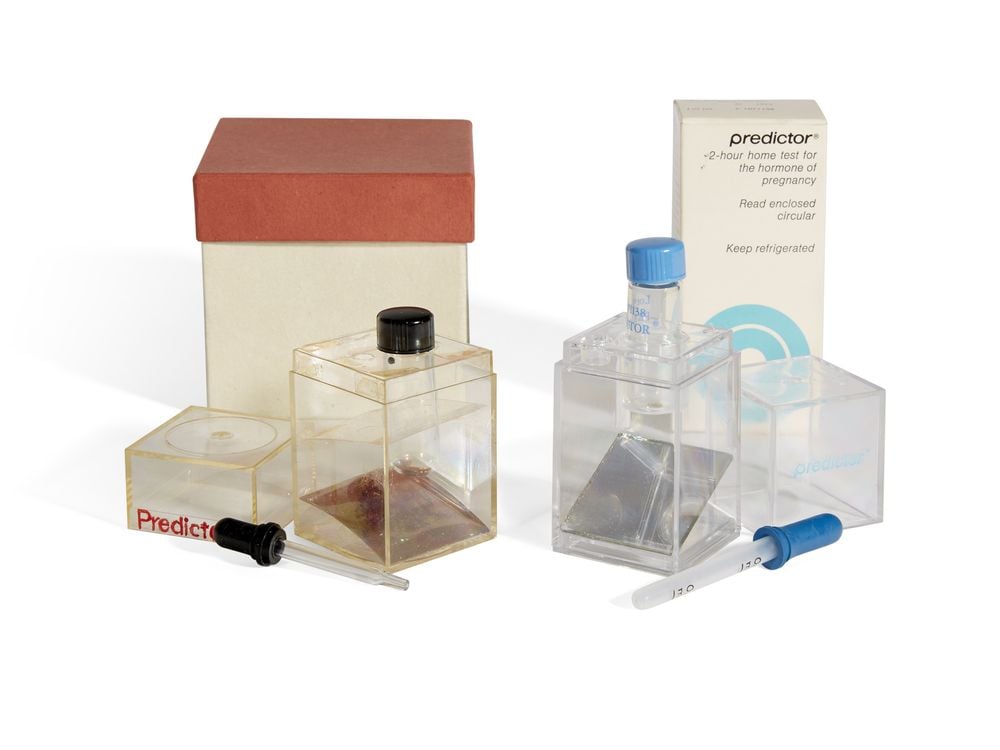 Today, many women take it for granted that they can determine whether or not they're pregnant in the privacy of their own homes — often in the very early stages of pregnancy. But things weren't always so simple. In the 1960s, the only way to test for pregnancy was to make a doctor's appointment, give a urine sample, and wait up to two weeks for the results. The long wait didn't just inspire nervousness: it inspired graphic designer Margaret Crane to invent "Predictor," the first at-home pregnancy test.
Crane was a freelance graphic designer at a pharmaceutical company when she noticed a line of test tubes over a mirrored surface. When she asked what they were, she was told they were tubes filled with urine and reagents that would eventually show a red ring that was reflected in the mirror. The simplicity sparked something in Crane, who went home and started to experiment.
"I was absolutely certain that [a home pregnancy test] would be very useful," she told a curator at Bonhams, who will auction off her original prototype later this month. "A woman should have the right to be the first to know if she was pregnant, and not have to wait weeks for an answer." Crane kept fiddling around with a design, but failed until she spotted a paper clip holder on her desk that could hold all of the components for a test women could conduct at home. The test kit came with a dropper, a vial with reagents, a rack and a mirror so women could replicate the test at home.
In 1971, Crane was issued a patent for her design, which she called Predictor (she eventually assigned them to her parent company and was never compensated for her invention). It would be years before pregnancy tests like Predictor would hit the market. The first ads weren't released in the United States in 1978. (You can view a few of those ads below.)
Years later, Crane's invention seems unwieldy to women used to today's quick, stick-like devices. But in fact, the laboratory pregnancy tests of the 1960s were a big improvement on past tests. The pregnancy hormone hCG was only discovered in the 1920s, and before 1960 women's urine was injected into animals like rabbits, mice and toads, a process that the Office of the National Institutes of Health calls "expensive, required the sacrifice of several animals, and slow, often taking days to get results."