What Did These Two Ticket Holders See on the Night of Abraham Lincoln's Assassination?
A rare pair of Ford's Theatre tickets—for seats across from the president's box—have sold for $262,500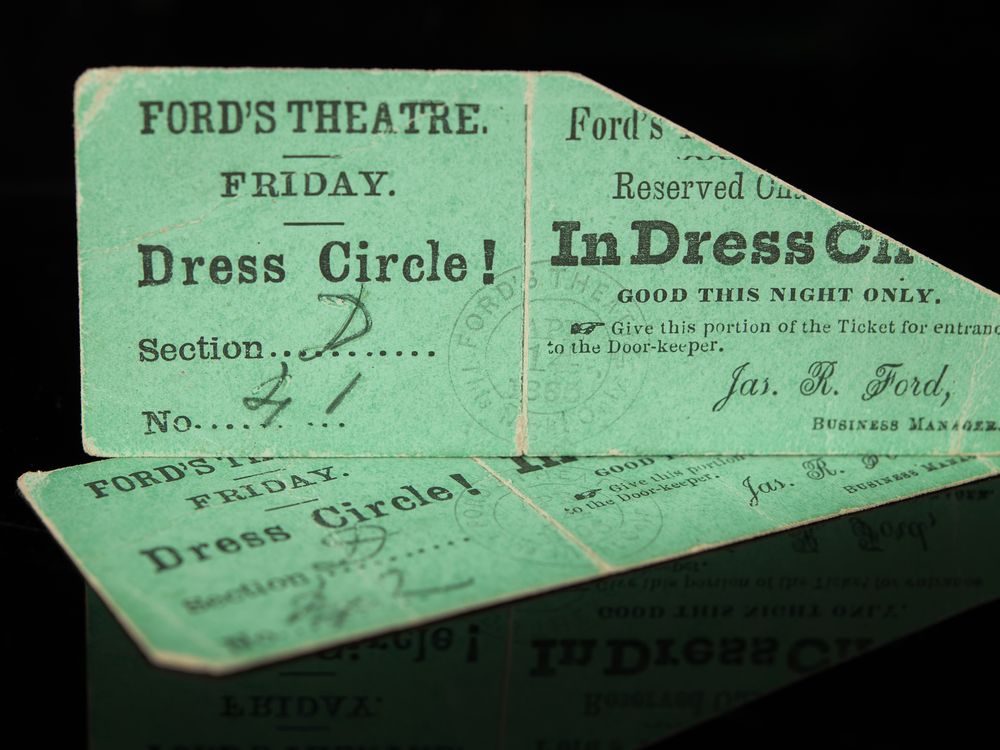 On the night he was assassinated, Abraham Lincoln didn't particularly feel like going to the theater.
His spirits were high, and his thoughts were elsewhere. News of the Confederate surrender at Appomattox, which effectively ended the Civil War, was less than a week old. All day, Lincoln had spoken to his inner circle in anticipation of a renewed future. He wouldn't have minded skipping Ford's Theatre, where Our American Cousin was playing.
Yet his presence was expected—his attendance had been announced in the papers—and the president was a man of his word. "It has been advertised that we will be there," he told one of his bodyguards, "and I cannot disappoint the people."
Who were the people who filed into the theater that night? History remembers only a few: Lincoln and his wife, Mary, who sat in a private box on the second level; John Wilkes Booth, who entered the box and shot Lincoln with a pistol; and the president's guests, Clara Harris and Henry Rathbone, who was wounded while trying to apprehend Booth as he fled.
Across the theater, two others witnessed the scene from seats D41 and D42. They played no role in the evening's tragic events, apart from being among the public Lincoln refused to disappoint. But they held onto their tickets, which eventually ended up in an envelope labeled "Front Seats, Dress Circle, Reserved, Complimentary, Ford's Theatre, April 14, 1865. (Night of assassination of President Lincoln.)"
Over the weekend, those tickets sold at auction for $262,500.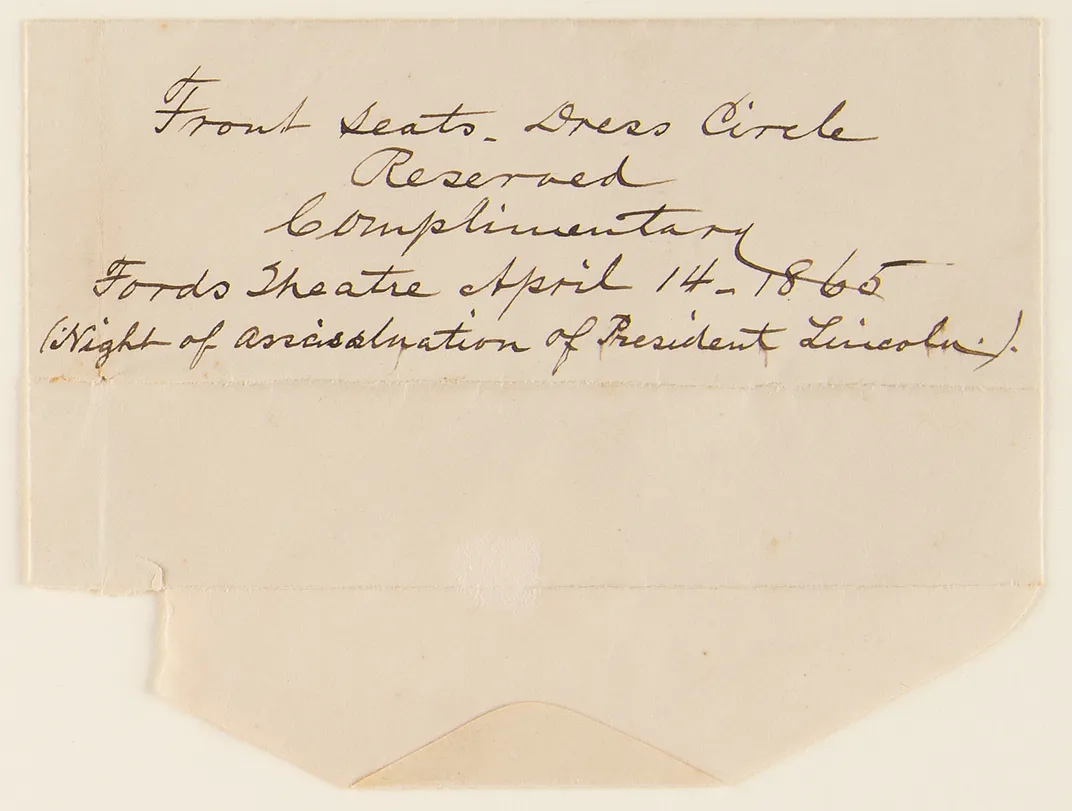 Originally priced at only 75 cents, the tickets are green, emblazoned with the words "Dress Circle!" and stamped with the date. They also feature instructions in smaller lettering: "Give this portion of the ticket for entrance to the doorkeeper." Both tickets' corners are missing, presumably torn by the doorkeeper in question.
The seat and section numbers are handwritten. Based on historical seating charts, they correspond with a coveted front-row spot on the same level as the president's booth, though they're on the other side of the theater.
Unfortunately, the names of the ticket holders are "lost to history," Bobby Livingston, executive vice president of RR Auction, tells the Washington Post's Michael E. Ruane.
"Whoever they were, they never would have seen the actual assassination," he says. "But they certainly would have seen Booth jump out of the box," snagging his boot on a flag and injuring his leg. "They would have a perfect line of sight to that, I believe."
In most accounts, the moments after the assassination were filled with confusion. Audience members knew something had happened, but few realized an attacker had fired a gun or that Lincoln had been his target.
"No one knows how the people in seats D41 and D42—who had front-row seats to the tragedy—reacted. What did they hear and see?" writes the Washington Post. "Their second-tier seats might have made it hard to make their way down to the exits and escape the building. Because the tickets stayed together all these years, the patrons may have been a couple. All that is known for sure is that the tickets were saved."
Today, tickets to the fateful performance are quite rare. According to RR Auction, these two artifacts match one of the only other surviving ticket stubs, which is housed at Harvard University's Houghton Library.
The two tickets were sold by an unidentified manuscript collector from Southern California, who purchased them for $83,650 in 2002. The new buyer, who also asked to remain anonymous, is a top collector of Americana.
One of the bidders was Mark Zaid, a lawyer and collector. (He didn't win, telling the New York Times' Victor Mather that he "realistically didn't have a shot.") Zaid believes that few items tied to that night have as much historical significance.
The tickets are "as close as you can get to that evening," he says. "The paper is an eyewitness to history."